2021 Ram 1500 TRX: Because Why the Heck Not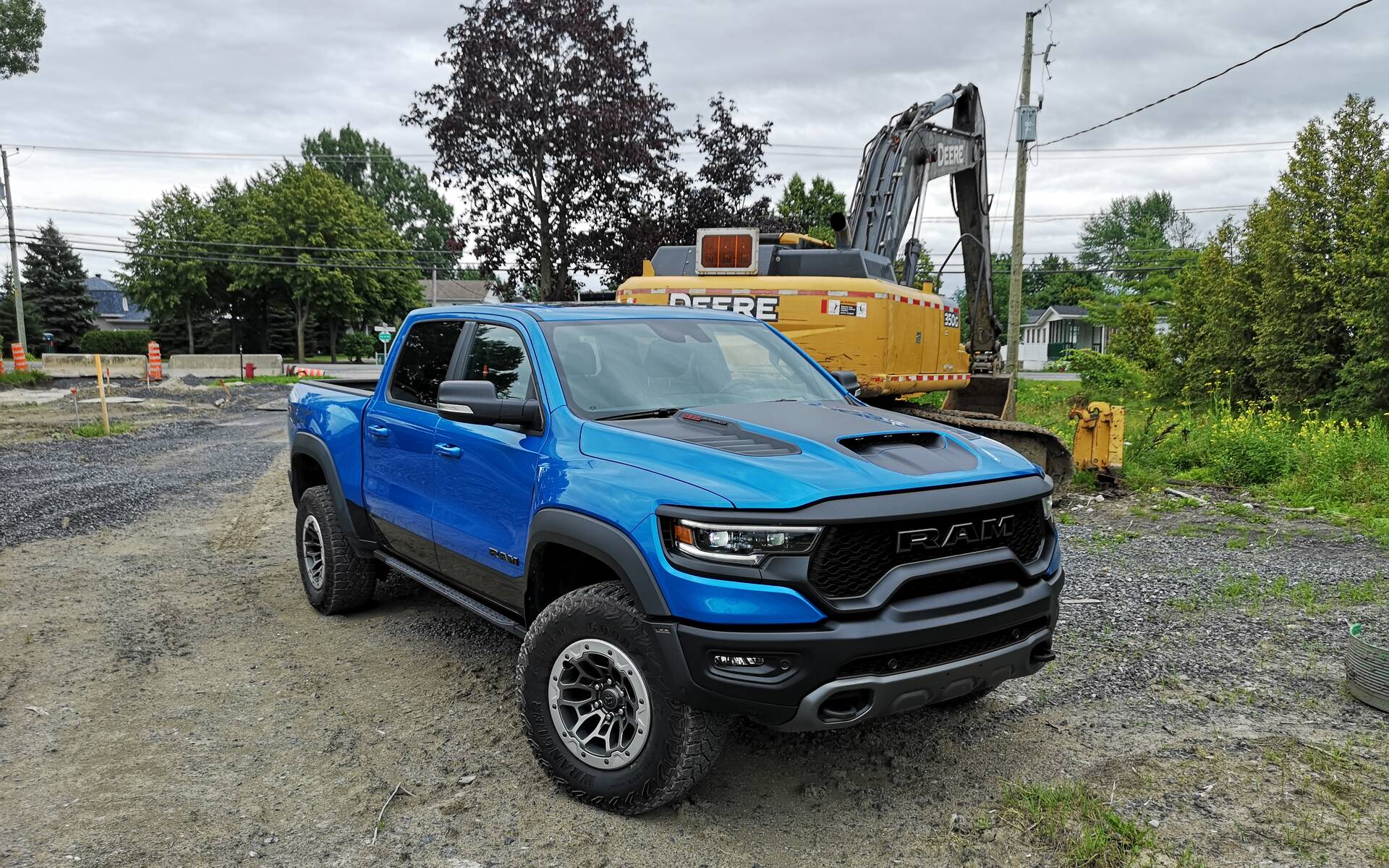 Strong points

Obscene amounts of power and torque
Looks terrific

Weak points

One of the most expensive trucks you can get
Towing is better with other Ram 1500 models
Climate change? What climate change?
Full report
The Ram 1500 lineup has a whole lot of trims to choose from. You can get anything from the good ole Pentastar 3.6-litre engine all the way to the 700+ horsepower subject of this here review. What's even more baffling is that everything in between is both powerful and comfortable, which is what Ram trucks have always been known for.
While other truck makers have been struggling with delivering quality interiors, Ram is still ahead of the game in this regard, which somewhat helps to justify the sometimes over $80,000 price tag for a decently loaded truck.
The Ram 1500 TRX isn't about towing capacity or fuel economy. It exists thanks to the philosophy of Ram's sister company, which is to cram as many horses under the hood as possible. Thus, the Ram 1500 inevitably inherited Dodge's 6.2-litre supercharged Hellcat technology with all 707 horsepower and 650 lb-ft of torque that comes with it (because why the heck not?)
Interior and Design
Trying to sell a $100,000 truck with a plasticky interior is a tall order. However, the TRX's entrails are up to the brand's standards and offer a blend of rugged and comfortable. It's nothing luxurious or refined, but you'll forget about that once you slam the accelerator pedal.
The big vertical infotainment screen includes everything we like about Stellantis' UConnect system as well as many other features specific to the TRX.
These features range from controlling the power output modulation of the differentials and even track timing if you're the kind of person who wants to take a full-size truck to the racetrack.
As you may have guessed, the rest is all about branding. In this very aggressive truck, everything is branded TRX, including the seats and center console, so your passengers and you know that you're not sitting in a basic work truck.
Outside, our Ram 1500 TRX came with a setup for a spare tire in the back. This full-size tire limited pretty much everything you would normally do with a full-size pickup truck, although the payload for the Ram 1500 TRX is up to 1,450 lb.
Power, Performance, and Driving Impressions
Waking up the Ram 1500 TRX is a ritual in and of itself. The engine emulates the sound of a supercar as it roars to life. Selecting the gears through the rotary knob feels a little flimsy for this type of truck, but we have grown accustomed to it and that's the way Ram trucks are made.
The TRX can speed from 0 to 100 km/h in 4.5 seconds, which means all hell will break loose when the driver slams on the accelerator in. Even though the TRX is high off the ground, the driver can feel in control as long as they have a good grip on the steering wheel.
The transmission does a great job of plowing through the gears as you ride the torque curve and get the impression that this mammoth will never stop.
Obviously, Ram planned for this kind of situation (in which one needs to tame the beast) to stop every single pound of this truck thanks to its massive 15-inch front brakes. The Ram 1500 TRX is geared with pretty much everything you can get from a Ram in terms of safety. The passive and active safety systems can help, but will not save you if you're coming in too fast with your truck and get over excited.
The subject of fuel consumption verges on sacrilege with the Ram 1500 TRX when it's not transporting anything that is rated at 22.4 L/100 km in the city or 16.5 L/100 km on the highway. This is pretty devastating considering how many dinosaurs gave their lives to be able to feed this truck named after one of their own.
Getting your hands on a Ram 1500 TRX is not going to be easy if you want one. For $120,000, you won't get a capable pickup truck in terms of work, but you'll get a pickup truck worthy of bragging rights!
Share on Facebook