2022 Nissan Pathfinder: Ironing Out a Few Snags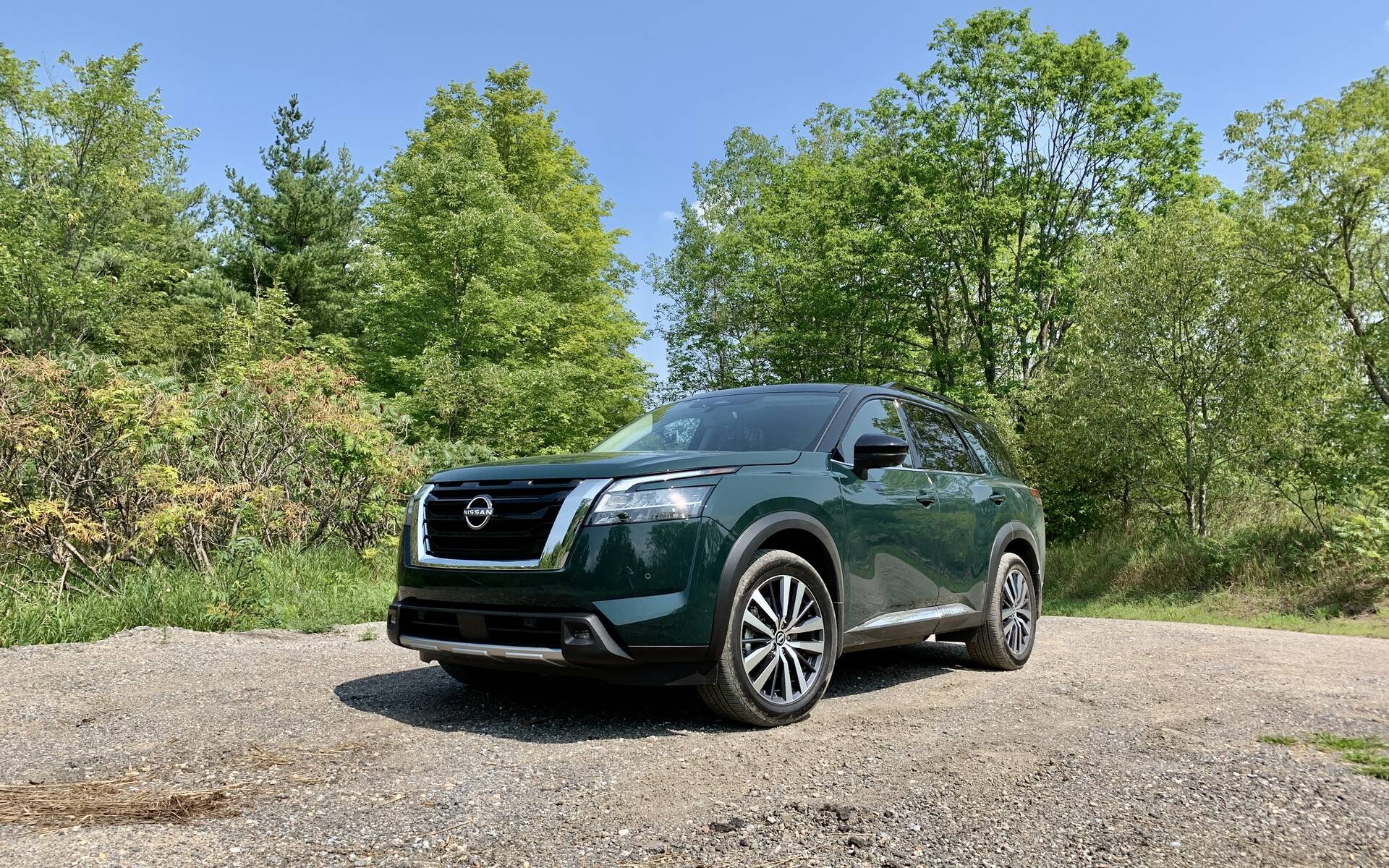 Strong points

Bold new looks
Max towing capacity of 6,000 pounds
No more CVT
Proven V6 engine

Weak points

No hybrid variant
Third row is tight and hard to access
Uncomfortable driver's armrests
Full report
Over the past few years, Nissan has often been criticized for its aging product lineup. But now with the all-new Sentra, Versa and Rogue, the automaker is taking big steps to fix that. And don't forget about the upcoming Frontier or the next-generation Z coupe to be revealed on August 17.
The Pathfinder is completely new for 2022. The Car Guide attended the Canadian media launch in Kingston, Ontario where we got to put the midsize SUV to the test both on and off the road.
So Long, CVT!
Under the hood of the 2022 Nissan Pathfinder is the same 3.5-litre V6 engine that delivers 284 horsepower and 259 pound-feet of torque. There's nothing exceptional or particularly refined about this unit, but it has proven to be effective and dependable over time.
The biggest change is arguably the transmission. Nissan is bucking its own trend of fitting CVTs in every single model and we're glad. The number of customers who have experienced issues and frustrations with the brand's Xtronic transmission is quite alarming. The new Pathfinder instead gets a nine-speed autobox and it makes a solid difference. While not any more exciting, the drive has a bit more rhythm than before.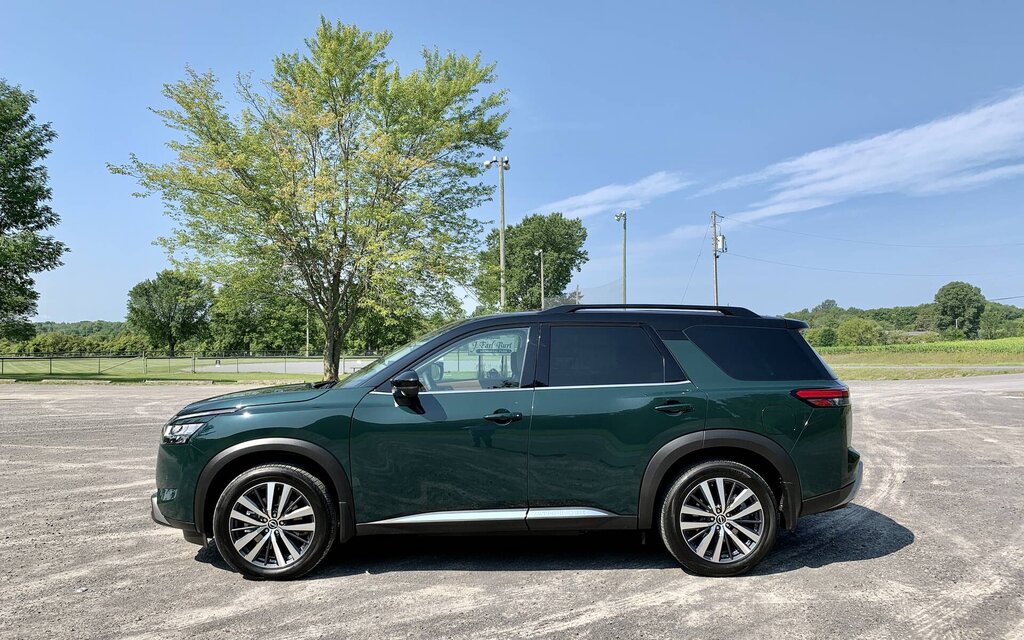 And get this: although CVTs are typically known for their fuel economy, the 2022 Pathfinder is actually slightly more efficient than its predecessor. Natural Resources Canada rates the vehicle at 10.5 L/100 km in combined city-highway driving. At the end of our 240-kilometre test drive, the on-board computer read 10.4 L/100 km.
By the way, all Pathfinders sold in Canada come standard with all-wheel drive. While not the best system out there, it did a really nice job as we traversed dirt and gravel roads.
Making the driving experience more pleasant is the significantly revised interior layout. Our top-line Platinum tester featured a beautiful, easy-to-read digital instrument panel and a fairly user-friendly infotainment system.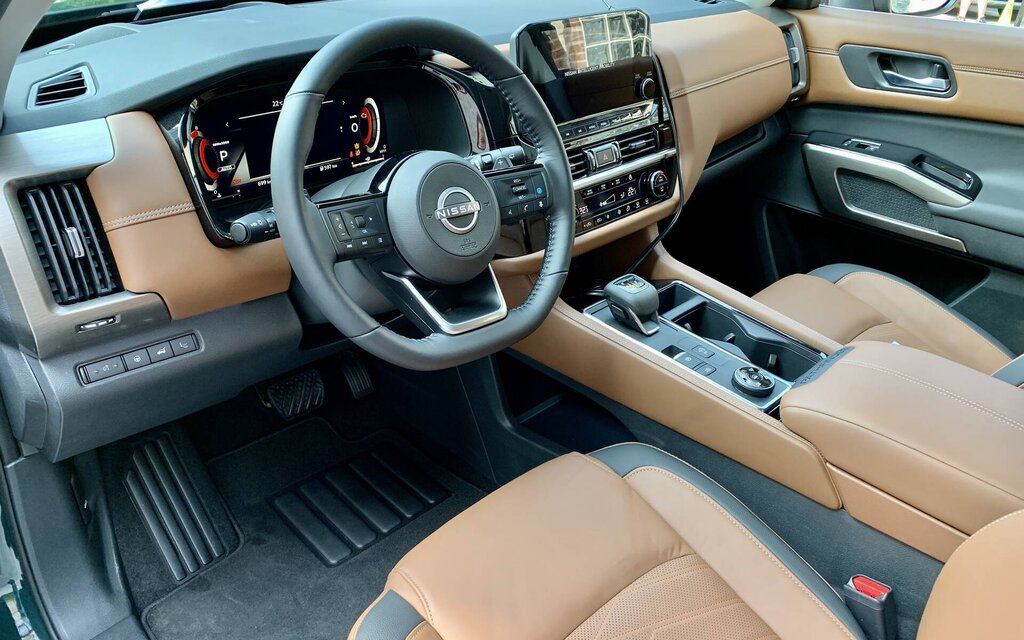 As for safety, all 2022 Nissan Pathfinders are equipped with the company's Safety Shield 360 suite of advanced driver assistance technologies including automatic emergency braking with pedestrian detection, blind spot warning, rear cross traffic alert, lane departure warning, high beam assist and rear automatic braking.
What about the return of the Pathfinder Hybrid, which was sold back in 2014-2015? Don't hold your breath, but Nissan did tell us that it's not closing the door forever.
Fresh New Looks
From a design standpoint, the 2022 Pathfinder is a clear departure from the outgoing generation. While still based on a unibody architecture (it's been the case since 2013), the new model sort of pays tribute to the original, body-on-frame Pathfinder with diagonal C-pillars. The body colour selection, which includes Obsidian Green Pearl and Scarlet Ember Tincoat as well as four two-tone options, also adds much need character and appeal.  
Sadly, the adventurous-looking Rock Creek Edition is gone, which is a rather curious move as models aimed specifically at off-road and outdoor enthusiasts are increasingly popular. Hopefully it will make a comeback at a later date.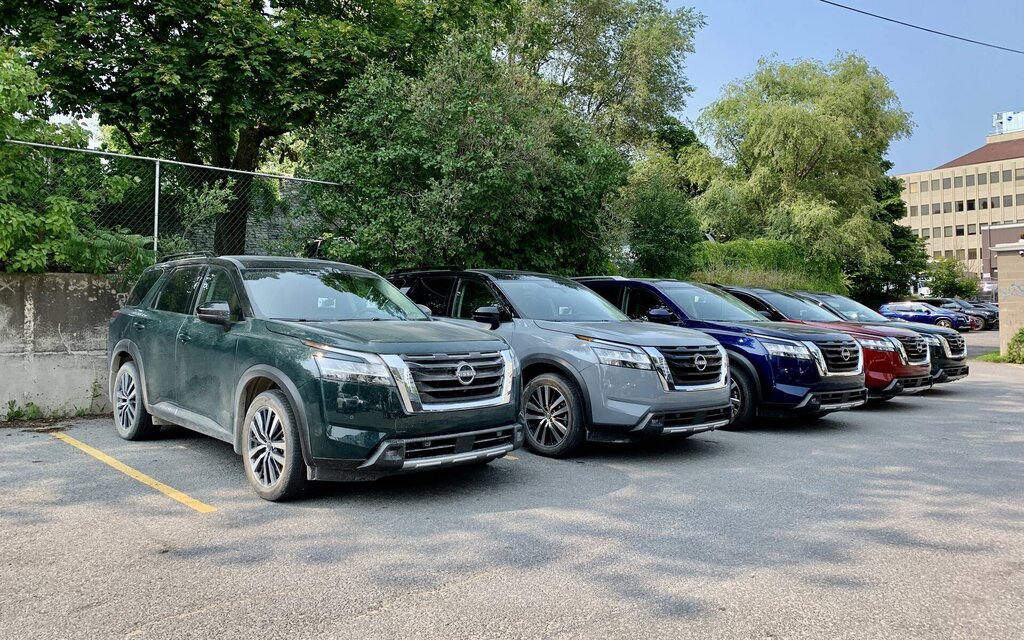 For the first time, the Pathfinder can accommodate up to eight passengers. The third row sits three instead of just two. However, don't plan to use it extensively. Access is a real challenge and comfort is nowhere to be found. The seat cushions are well too short and space is sorely lacking. If you're a family of six or more, you'll be better served by a minivan.
The second-row bench can be replaced by a pair of captain's chairs with a removable console in the middle.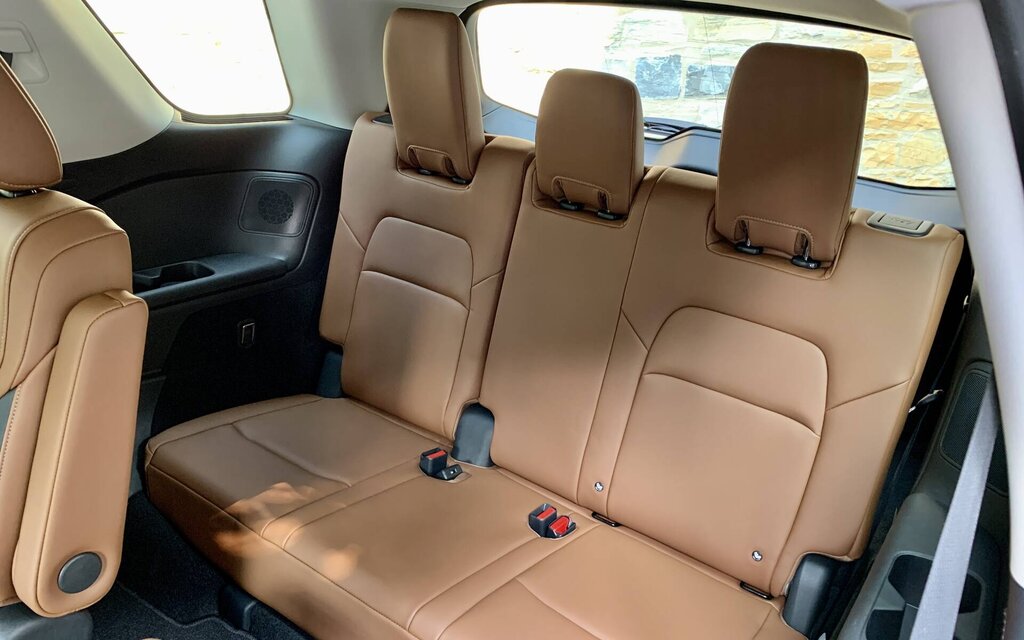 A Towing Leader
With a maximum capacity of 6,000 pounds, the 2022 Nissan Pathfinder continues to rank among the segment leaders in the towing department. On paper, at least. Most rivals with similar dimensions and power have a limit of 5,000 pounds. In our opinion, Nissan's calculations are a bit too optimistic, as if to sway potential customers. In reality, a pickup or full-size SUV is a more appropriate vehicle for towing more than 5,000 pounds.
Nissan says it worked hard to improve the Pathfinder's suspension, making it stronger at both ends and thus helping with towing. Unfortunately, we didn't get the opportunity to pull any kind of load during this media event. Maybe another time.
How Much?
The 2022 Nissan Pathfinder starts at $43,798 in base S trim (plus $1,860 destination charges). Due to the lack of a transmission cooler, this is the only model that can tow just 3,500 pounds. A mid-range Pathfinder SL carries a price of $50,398. If you want to get the most luxurious model, prepare to pay $54,398 for a Platinum.
Share on Facebook