Canoo Unveils Cute EV Pickup Workers Will Appreciate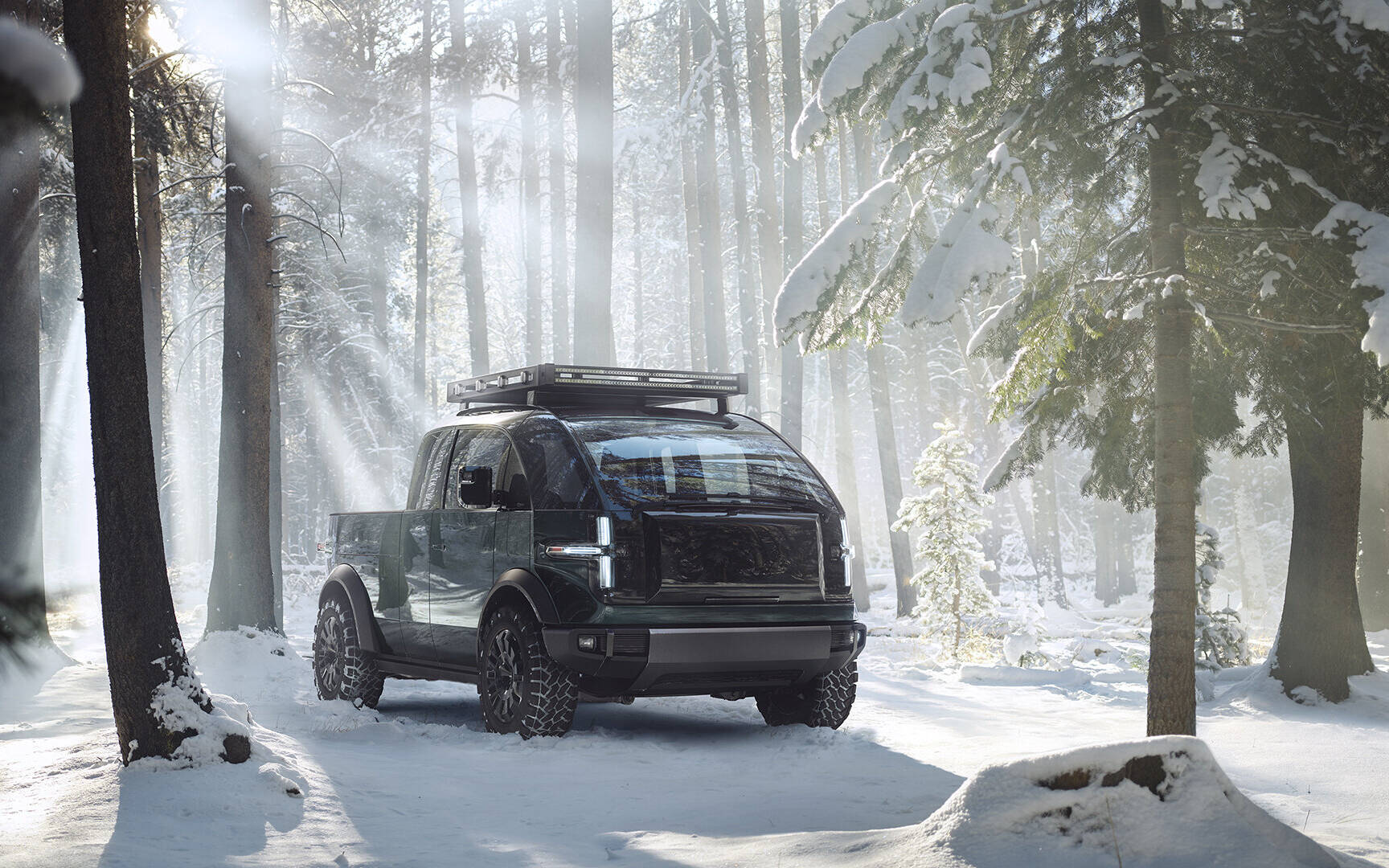 Another company is jumping on the electric pickup bandwagon. Los Angeles-based startup Canoo, which is also known for partnering with Hyundai on EV technology, yesterday announced a new open-box model based on the same modular platform as the two other vehicles it has unveiled so far.
The Canoo pickup, which doesn't have an official name yet, is slated to begin production and sales in 2023 for the U.S. market. Other countries will likely follow. Pre-orders will start as early as this spring.
Immediately by looking at the pictures, we can see a much different truck than the ones shown up until now—from the GMC Hummer EV to the Rivian R1T to the wildly polarizing Tesla Cybertruck. Similar to Canoo's urban lifestyle vehicle, the pod-like front end has a large glass area and an extremely short overhang allowing great angles for off-road driving.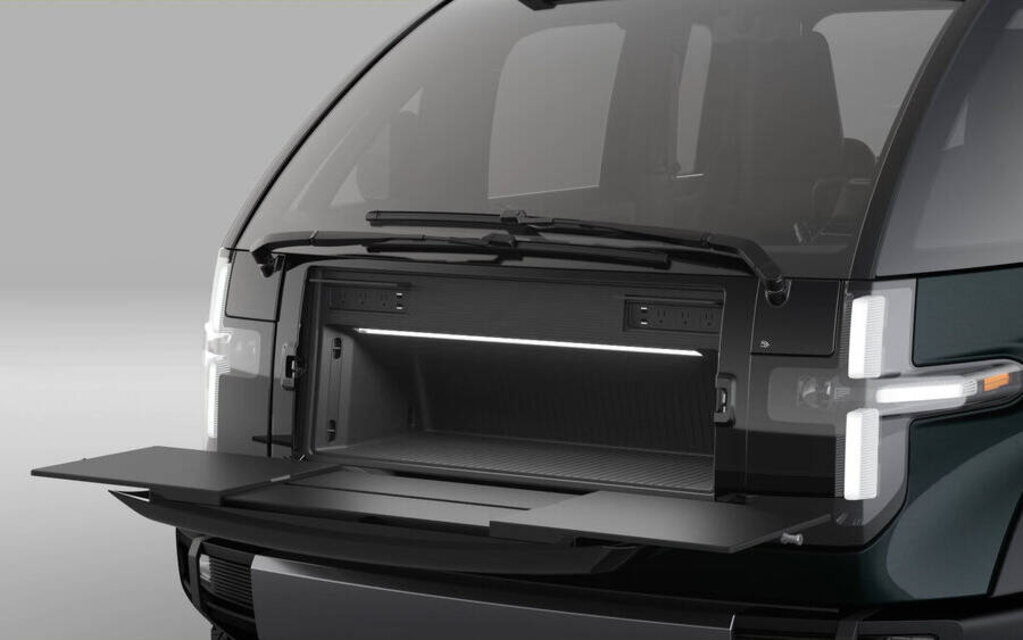 The pickup features a front cargo storage area that can hold tools or gear, also includes a fold-down worktable with electrical outlets. The workstation table is extendable to allow customers to have maximized work surface on the go, in addition to providing an area to put on gear before heading out exploring.
The modular bed offers space dividers, integrated lighting and a pull-out extension that expands the bed from six to eight feet, allowing big items such as a 4'x8' sheet of plywood to easily fit inside while also helping with loading and unloading the truck. When the bed is extended, a second layer of tailgate doors can be swiveled out.
Both sides of the vehicle house a flip-down table in two expandable depths. Built into the side panel of the truck bed, the flip-down side table becomes a workbench with multi-functional power sources in close proximity. A hidden step on the driver's side allows easy access to the bed, and underneath is a similarly hidden drawer for small items.
Canoo's pickup is optionally available with an illuminated roof rack, as well as a hard bed cover and long platform allowing owners to set up a tent for camping.
When it comes to performance, there are single- and dual-motor configurations to choose from, the latter providing up to 600 horsepower and 550 pound-feet of torque. Maximum payload is rated at 1,800 pounds, which is a bit more than the Jeep Gladiator. The 18-inch wheels can be fitted with all-terrain tires. As for range, Canoo claims 320 kilometres or more, so competitors don't have to worry.
Full specifications and pricing will be revealed closer to production. What do you think?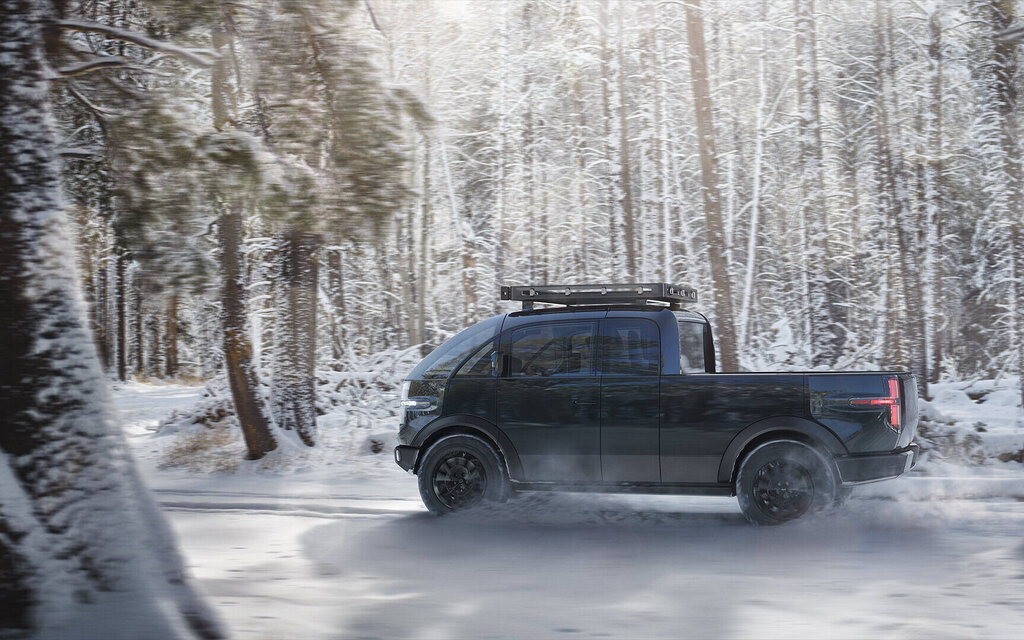 Share on Facebook