2019 Buick Envision: Premium, Not Luxury
Strong points

Torquey and refined turbo engine
Ergonomically laid-out cabin controls
Comfort and rear-seat space

Weak points

Super unleaded required (turbo engine)
Bland design
Lacklustre brand perception
Full report
If the Buick brand is doing well on the Chinese market, it's been in search of an identity in North America for quite a while now. Which is ironic, since it's one of the oldest domestic brands still in business.
What is Buick anyway? Can it be considered a mainstream brand, or a luxury one? General Motors likes to call it a premium brand, but is there room between Chevrolet and Cadillac for attracting potential buyers?
If it's the case, then the 2019 Buick Envision should be examined by premium-vehicle shoppers. It's posher than a Chevrolet Equinox, but not as fancy as a Cadillac XT5. Stepping inside the Envision, we immediately notice the quality fit and finish, although nothing screams utter luxury here. There's just a right amount of brightwork, the woodgrain panelling will fool no one, and the control layout is ergonomic without being truly modern. The important thing here is that everything feels solid.
The seats are comfy and rear passengers will enjoy plenty of legroom as the floor is completely flat. Cargo space is rated at 761 litres with the rear seats in place, or 1,622 litres when the seatbacks are folded down. That's good, although some rivals such as the Infiniti QX50, the Acura RDX and the aforementioned XT5.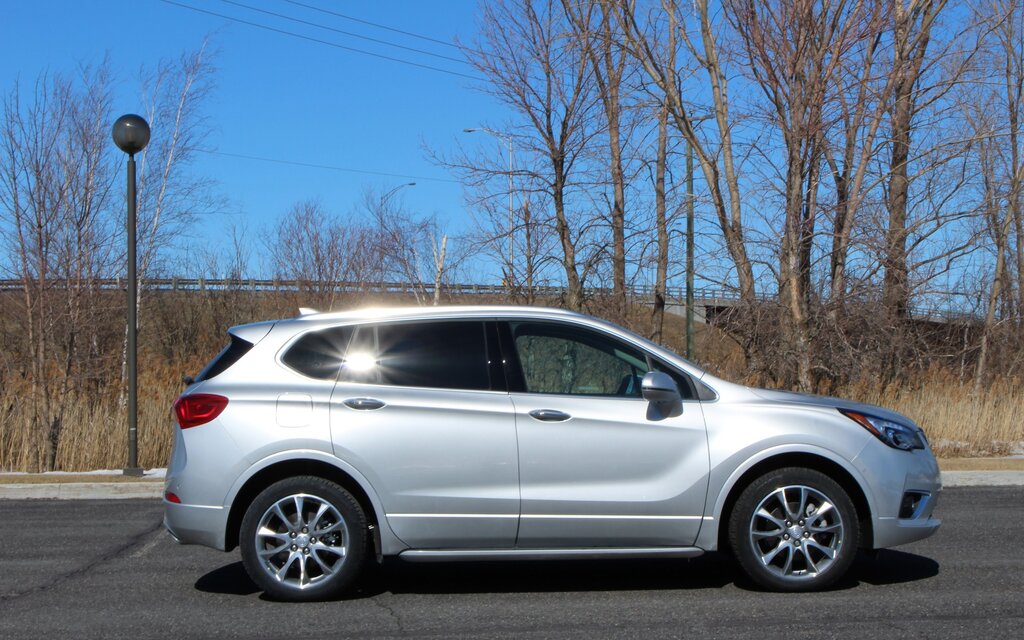 An eight-inch touchscreen is standard in the Envision, with button zones big enough to be usable while driving. Apple CarPlay and Android Auto integration is also included, in addition to four USB ports—two in front, two in back—and a built-in Wi-Fi hotspot (data subscription required). We have no complaints about this system.
So far, so good. Under the hood, the 2019 Buick Envision features a 2.5-litre, four-cylinder engine that develops 197 horsepower, and that's where the SUV falls a little short. Oh, it's fine for the daily commute, while city/highway fuel economy is rated at 11.1/8.6 L/100 km, for a combined figure of 10 L/100 km.
However, since we're in the market for a premium product, the optional turbocharged, 2.0-litre engine makes much more sense. It develops 252 horsepower and well as 295 pound-feet of torque at 3,000 rpm, smartly managed by a nine-speed automatic transmission.
We like this engine quite a bit because it's gutsier than GM's new-generation 2.0-litre turbo that powers the Cadillac XT4, in addition to being more refined and quieter. On the other hand, super unleaded is required and the combined fuel consumption rating climbs to 10.7 L/100 km. During our test in the month of March, as the winter season was winding down, we averaged 11.0 L/100 km. Not great, not bad either.
Also not great is the Envision's towing capacity, which is limited to 680 kilograms or 1,500 pounds. In comparison, the Audi Q5 powered by a 248-hp, turbo 2.0-litre four can pull a load of up to 4,400 pounds.
All-wheel drive is standard in every Envision, and unlike some other recent GM utility vehicles, this system doesn't need to be manually activated via a console-mounted button. Oh, the Buick's ride and handling is perfectly balanced—not too soft, not too firm.
A bunch of improvements were performed in the Buick for the 2019 model year. Powertrain tweaks make the turbocharged Envision slightly quicker off the line, the brakes have more bite and the start/stop system can be deactivated manually. In addition, the rearview camera display is better than before, a wireless phone charging slot has been added and the seat heaters are quicker to warm up our posteriors in winter.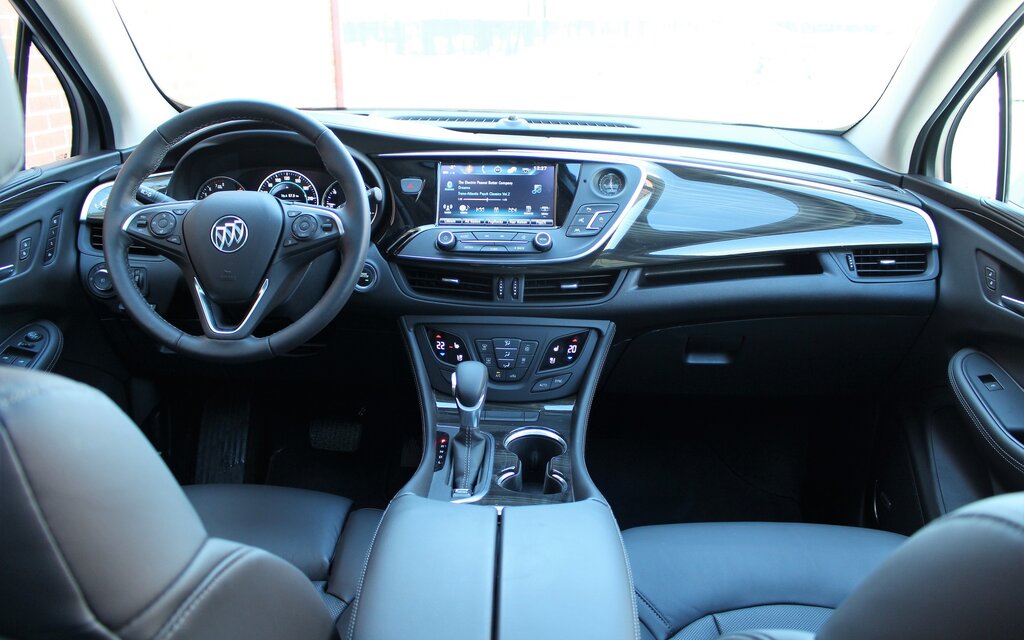 There are styling changes, too, with sportier bumpers, new alloy wheel designs, LED daytime running lights and LED taillights. Variants equipped with turbo engine also get LED headlights. Not many people will notice these visual enhancements, but a little more character certainly doesn't hurt here, as the Buick's design is pretty generic.
Base price is set at $38,300 before freight and delivery charges for the Preferred trim, which includes power-adjustable and heated front seats, an intelligent key system, a remote engine starter and dual-zone climate control. Our top-shelf Premium II tester checks in at $56,670 with a few added options such as the panoramic sunroof, the 19-inch wheels, the forward collision warning system and the surround vision camera system.
If the Envision can be seen as a good deal at under $40K, once we hit the $50K to $60K range, we're seriously stepping into German luxury SUV territory. The aggressively priced Audi, along with the BMW X3 and the Mercedes-Benz GLC, are more desirable vehicles because they're sold by more desirable brands. Also, the Buick's resale value isn't great, at least compared to that of the Lexus NX, for example.
That's the problem with many of Buick's products—they're good, but completely off the radar of luxury vehicle shoppers, and that's the difference with a premium brand like Buick. It's a shame, because the Envision is actually engaging to drive with its turbo engine and feels solid—despite our preconceptions that vehicles built in China are cheap.
Yes, the Envision is assembled on the other side of the planet, where consumers perceive Buick as a luxury—and desirable—brand.
Share on Facebook