2020 Mercedes-Benz GLC: Refreshed and Rejuvenated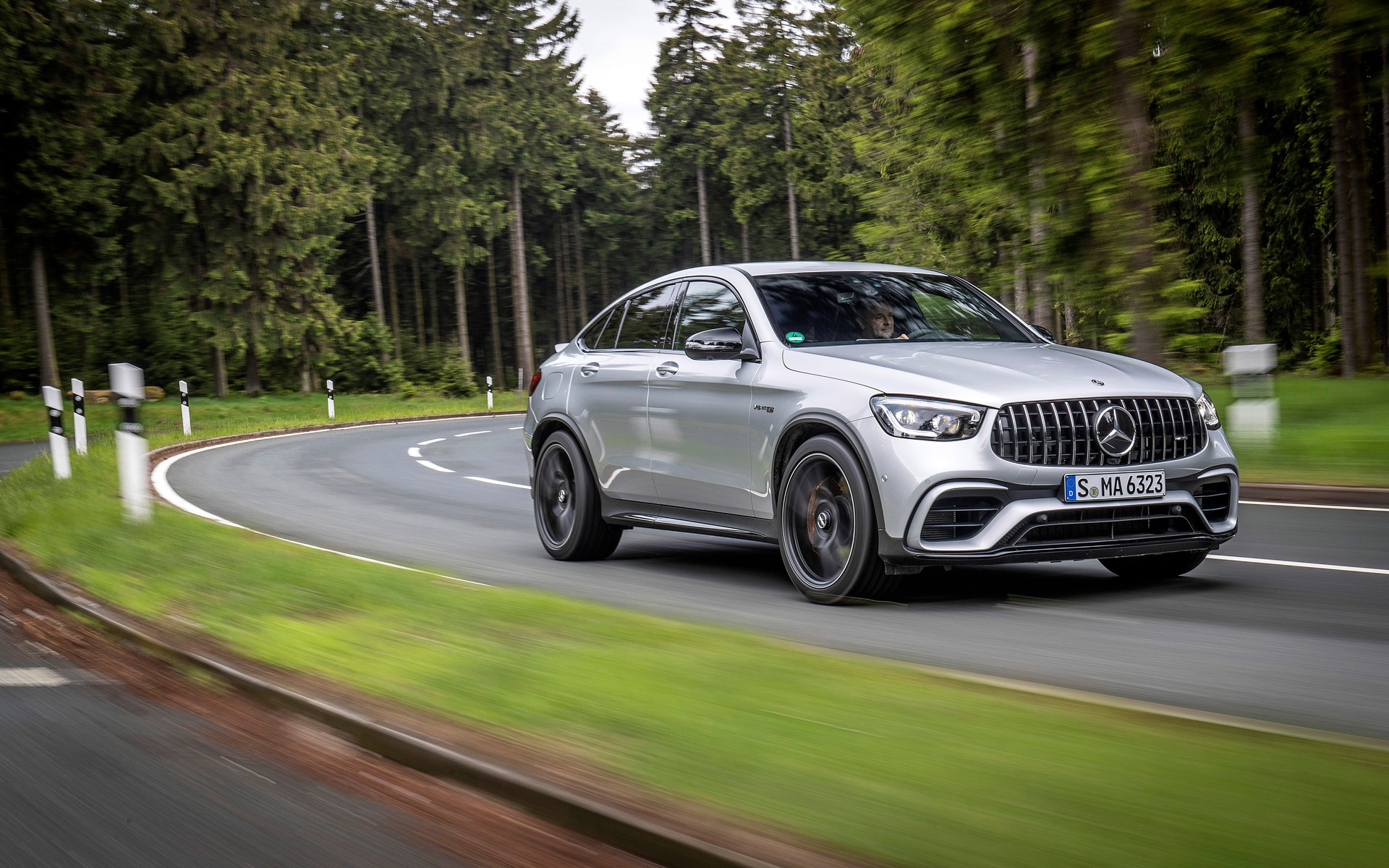 Strong points

Irresistible AMG GLC 63 S model
Solid, surefooted handling
Flawless interior presentation
Quiet, comfortable ride

Weak points

Transmission lacks smoothness (GLC 300)
Limited rearward visibility (GLC Coupe)
Expensive options
Optional side steps are poorly designed
Full report
FRANKFURT, Germany—Don't think for one second that Mercedes-Benz is going to rest on its laurels when it comes to compact luxury SUVs, a market segment that's still growing rapidly. The GLC is the venerable automaker's most popular SUV and a class leader everywhere in North America.
After four years as the successors to the GLK, it was time for both the traditional GLC and the sportier-looking GLC Coupe to hit the gym, get a lifting and bolster their arsenal of technologies. With such fierce competition, Mercedes-Benz simply could not afford to go to war lacking ammunition.
The changes are not extreme, mind you. The project chief for the 2020 Mercedes-Benz GLC told us that he and his team made no modifications to the structure. In fact, the vehicle is the exact same size as its predecessor. There are many subtle revisions, however, enough to say that the designers, engineers and technicians in Stuttgart must have been working around the clock to nail this new generation.
A Familiar and Diversified Quartet
Globally, the lineup consists of four models. The GLC 300 4MATIC is coming soon to Canada with a new turbocharged 2.0-litre four-cylinder engine that produces 255 horsepower compared to 241 in the outgoing GLC.
In Europe, there will be a mild hybrid version with a 48-volt belt alternator starter that supports the combustion engine and helps reduce emissions. Because North American standards are not as stringent, Mercedes-Benz decided not to offer this high-tech system that would otherwise increase the price by $2,000.
Two high-performance AMG models will follow later this summer. The company has yet to provide details, but we can expect the AMG GLC 43 to come back with the same twin-turbo 3.0-litre V6 rated at 362 horsepower.
Meanwhile, the top-line AMG GLC 63 S will continue with the only V8 in the segment, namely a twin-turbo 4.0-litre unit generating 503 horsepower. It's a brawny and expressive performer, especially in Sport or Sport+ mode or when pressing a button that frees up the exhaust system. Not a single tweak was made to this engine and that's perfectly fine.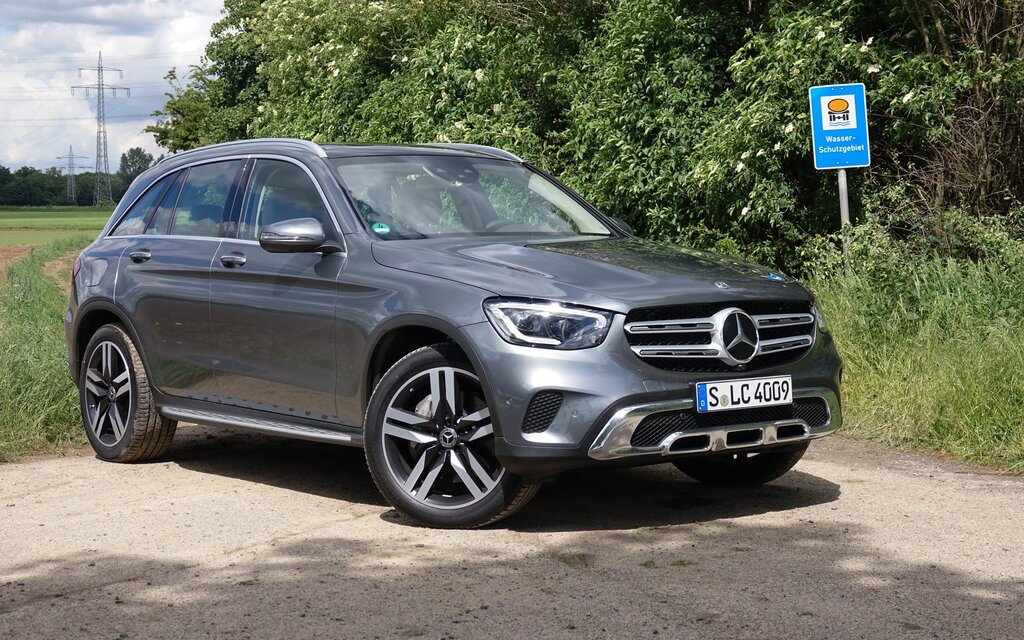 The AMG GLC 63 S does get a new all-wheel drive system that constantly adjusts torque distribution from a 0/100 split to an even 50/50. Connecting the two axles is the returning nine-speed automatic transmission that uses a multi-plate clutch instead of a traditional torque converter.
In the fall, Mercedes-Benz will add the GLC 350e 4MATIC EQ plug-in hybrid model. Blessed with an electric motor that delivers 120 horsepower and 325 pound-feet of torque, it will hit the road with a total of 315 horsepower and a whopping 516 pound-feet of torque. The 13.5-kWh lithium-ion battery should provide a range of nearly 40 kilometres in EV mode based on the more realistic North American testing protocol.
Minor Nip and Tuck
All 2020 Mercedes-Benz GLC models feature slightly refreshed front and rear fascias. The grille and air intakes are a little bit more sculpted and prominent—minor differences, sure, but they are nicely executed.
By the way, we only got the opportunity to test drive the GLC 300 and AMG GLC 63 S, but there are over 20 different versions and trim levels to choose from including 10 or so in Coupe configuration.
New, thinner LED headlights and taillights add to the cosmetic rejuvenation of this compact SUV. Optionally, active multi-beam headlights use 84 mobile LEDs to better illuminate the road ahead as you turn the steering wheel. It's like venturing into a dark trail with a flashlight.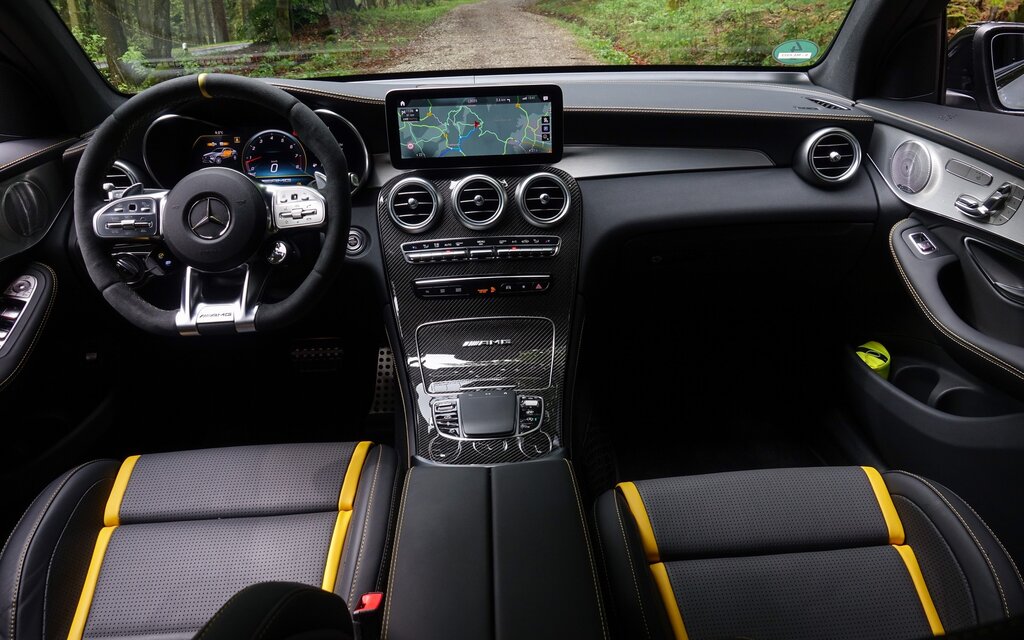 The GLC 300 obviously looks tamer than the AMG GLC 63 S, which sports a huge grille (either chrome or black) inspired by SL cars from the Panamericana rally. We bet many customers will opt for the Sport Package that enhances styling and adds some bite to the vehicle. Included are large front intakes, an AMG-style grille, a rear diffuser, 19-inch AMG alloy wheels, plus a set of 360-mm front and 320-mm rear discs clamped by four-piston and single-piston callipers, respectively.
Inside, the list of updates is impressive and seemingly endless. There's an available 12.3-inch digital display to replace the standard instruments and a 10.25-inch centre screen if you find the basic seven-inch screen too small. The pair makes up the new MBUX interface that offers improved, AI-powered voice control.
The centre console now features a flat and compact touchpad in lieu of the big rotary dial that used to accompany the old system. Fortunately, there is a series of physical buttons to help you navigate through the various menus.
Variable Intensity
Our first contact with the 2020 Mercedes-Benz GLC took place on the roads and highways surrounding Frankfurt. We had a blast driving the AMG GLC 63 S: rock-solid handling, powerful acceleration, addictive sound effects—it's all there, even when the pavement is soaking wet. And you can enjoy all of that in a comfortable and superbly appointed cabin.
Naturally less intense, the base GLC 300 still delivers a pretty satisfying driving experience—kind of like a softcore AMG without being too soft. We drove this same SUV on an off-road course at ADAC and it easily tackled some fairly steep climbs and banked corners. It's a shame we won't get the available air-spring suspension that increases ground clearance to 245 mm.
At the end of the day, it became clear that the refreshed and rejuvenated 2020 Mercedes-Benz GLC has the necessary looks and tools to go head-to-head with any competitor, mostly those from its home country.
Share on Facebook