2019 Toyota Avalon: Not Letting Go Without a Fight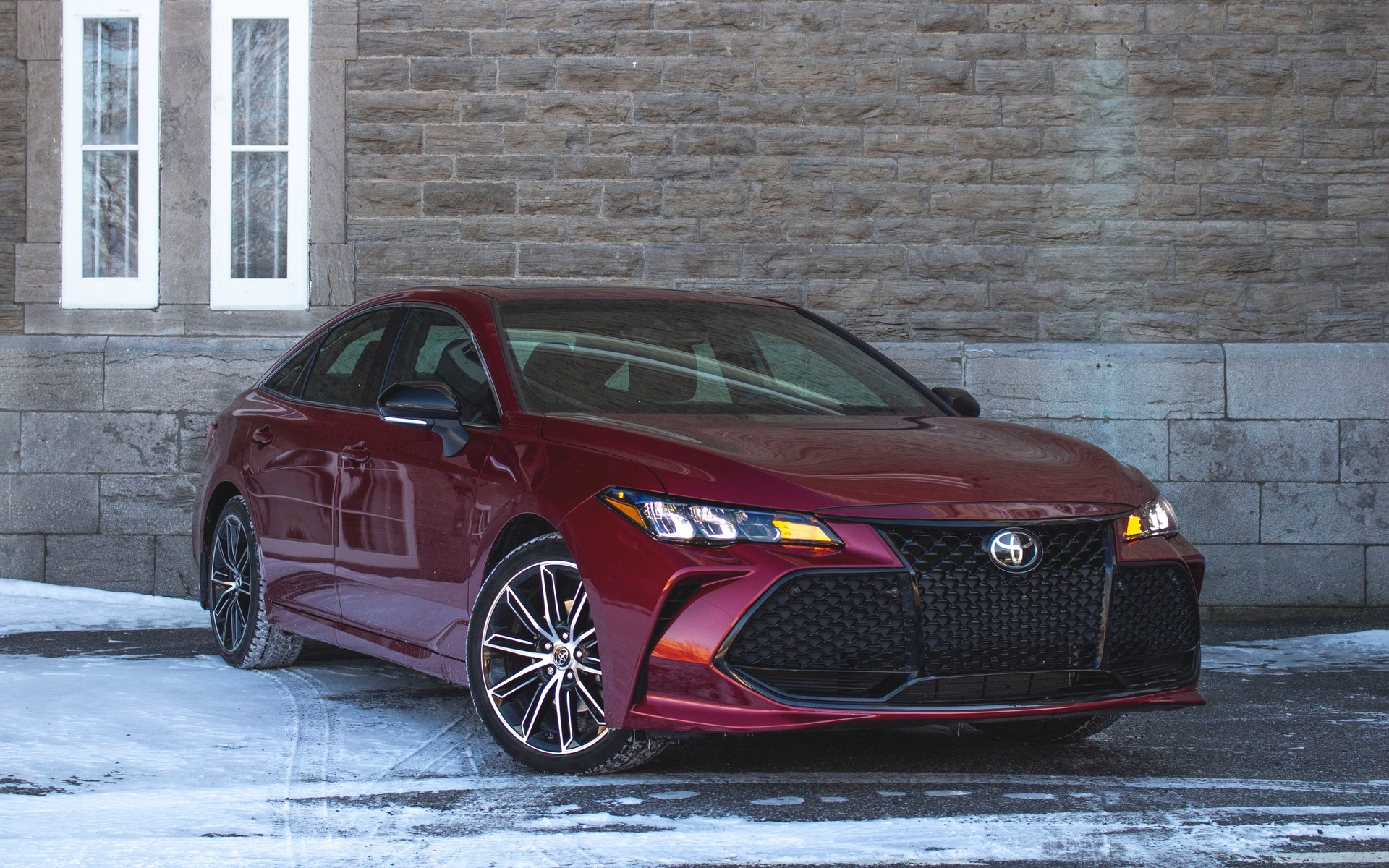 Strong points

Looks the part (XSE trim)
Spacious and confortable
Great chassis and suspension tuning

Weak points

Laggy transmission
No heated steering wheel (XSE)
Priced close to a Lexus
Full report
For 2019, Toyota's full-size sedan gets a redo. A major redo. There's even a sporty version called the XSE. And the car is very, very good. So good in fact, that it walked away with a Best Buy award for the full-size sedan segment here at The Car Guide. Sadly, nobody seems to care.
Tell people you're driving an Avalon, and they'll most probably answer with an "I'm sorry, a what?"
And that's too bad, really, because while consumers continue flocking towards their beloved SUVs, sedans have never been so excellent. The Avalon may very well be Toyota's last stab at the thing, but before it leaves us to join the Chevrolet Impala and the Ford Taurus in automotive paradise, it'll give one heck of a fight.
Not a Rebadged Lexus
The first and immediate reaction you get when speaking to people about the Avalon tends to be "why not just get a Lexus?" Indeed, along with its only real competitor, the Nissan Maxima, the Avalon sits in an awkward vortex squeezed between the Toyota Camry and the Lexus ES.
And yes, with a base price of $42,790 (before freight and destination), the Avalon is awfully close to its Lexus cousin, which rides on the same platform.
But the Avalon isn't trying to be a luxury car. It's a Toyota, which means it's a full-size sedan without pretention or desire to make your life feel more special than it already is. It's also large, very large. With a total length of 4975 mm (195.9 inches), the Avalon sits on a wheelbase that's been stretched almost two inches over a Camry's. The entire car is almost three inches longer overall leading to a rear bench that's significantly more spacious comfortable.
Ok, fine, the Avalon has the exact same dimensions as a Lexus ES, but its interior isn't as creamy as that car. The Avalon, especially in XSE trim, has a functional cabin instead. It's fanatically well put together, the way you'd expect a Toyota interior to be, and the seats hold you nice and cozy in place. Toyota's Entune infotainment system has also been simplified, and will finally connect to Apple CarPlay (still no Android Auto).
This isn't a sedan that attempts to seduce you with fancy leather surfaces, veneers or brushed aluminum. The Avalon is a "normal" car in every respect. It looks like a car—a very mean-looking one at that—it sounds like a car, and it feels like a car. A car that will never let you down.
In Canada, there are only two trim levels to choose from, XSE and Limited, but the XSE is the most intriguing one. First, it's marketed as a sports sedan, which is ironic considering the consumers from this segment desire everything but sportiness. But more importantly, the package actually works at making the car more athletic, rather than simply being a styling kit conceived by self-loving marketing "experts."
Apart from blacked-out grille, wheels, mirrors and badges, which we admit makes the Avalon look rather dashing, the XSE gets a stiffer suspension, which essentially consists of changes made to the dampers, springs and anti-roll bars. There's also an engine sound enhancement system—a gimmick, yes, but a cool one—as well as a quad-exhaust system, which looks rad, but is actually fake. We personally dig the JBL sound system that comes with the package. It sounds really good.
Mechanically, the Avalon is the same across the board; only one engine powers it on our market, a naturally aspirated, 3.5-litre V6, the same unit that also powers the Camry and—ahem—Lexus ES. It's good here for a healthy 301 horsepower and 267 lb.-ft. of torque, connected to an eight-speed automatic. Front-wheel drive is the only way to get the power down for all Avalons.
Camry Plus
So, inevitably, the Avalon drives a lot like a Camry largely because of the TNGA platform shared between both cars. That's not a bad thing, however, as it's a platform that significantly reduces the car's centre of gravity all while incorporating improved suspension components to reduce friction.
The result is, like the Camry, rather impressive, and abnormally sporty for a car of this segment.
As with all Toyota products, there's an overall sense of smoothness and solidity in the way the Avalon behaves over rough surfaces, with not a hint of unwanted suspension rattles or cabin squeaks, it's all well buttoned down. And the XSE makes an actual case for sports sedans, with precise turn-in, a stiff ride and reflexes you'd typically find in something Bavarian. Granted, this remains a large and heavy sedan—the long rear overhang is felt when pushing the car hard into a corner—but there's a willingness to play here, a quality we appreciate in any machine. Even in an Avalon.
Nothing to say either about that V6 engine, which provides plenty of nice, high-revving power and a sufficient amount of low-end torque, all while emitting a satisfying intake snarl as it climbs the tachometer. Unfortunately, as is common in Toyota/Lexus products of late, the transmission's gearing is too long for this power band, so extracting all the power from that high-strung V6 requires several downshifts before finding the sweet spot.
Luckily, you get paddle shifters mounted on the steering wheel to do that, but this remains a gearbox that takes its time to drop a cog. We preferred leaving it in automatic, in S mode, and let it do its own thing. While smooth all the time, there's a considerable delay before gunning the throttle and actual downshifting happening. But once it finds out what it wants, the Avalon XSE is a respectfully quick sedan.
Remember that word, sedan, as it's suddenly becoming an endangered species. Inside a sedan such as this one, you'll be sitting low, but will never run out of leg- or headroom, because its cabin is so enormous. The trunk will fit 456 litres of your gear, which is comparable to the cargo hold of a subcompact SUV, and when you'll mash the throttle on a cool winter morning, the front wheels will undoubtedly squirm for traction.
These are the qualities, or faults, of a car that once dominated the automotive landscape. Long the number one choice for North American families, the sedan has now become a thing of the past. And while the 2019 Toyota Avalon may seem like a dinosaur to SUV-addicted consumers, who prefer their all-weather traction and high ride height to the low-slung, driver-oriented configuration of a car, the truth is, this could be the most exciting large front-wheel-drive sedan the world has ever seen. If this is the Avalon's last hurrah, we say it's a darn good one. It's the best car Toyota has ever built.
Share on Facebook