2019 Volvo S60 and V60: Scandinavian Sport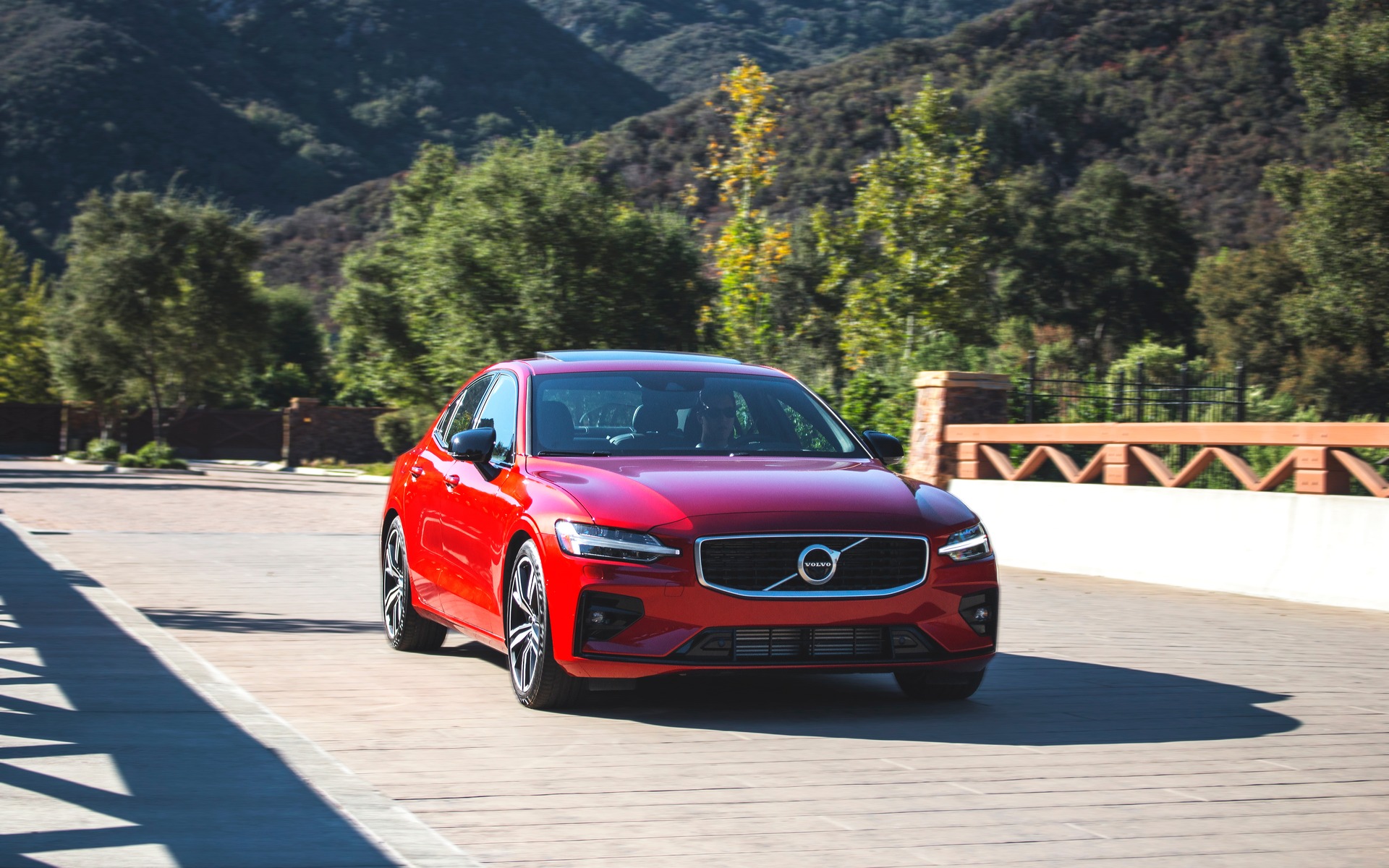 Strong points

Sports sedan-grade handling
Comfortable and premium cabin
Comes as a wagon too!

Weak points

Shady brake-by-wire pedal (T8)
Polestar Engineered not all that quick
Slow-reacting infotainment system
Full report
SANTA MONICA, California – While the latest crop of Volvo cars and SUVs have struck styling, comfort, safety and technology home runs, we're still yearning for a performance-oriented machine from the brand.
Volvo claims its 2019 S60/V60 sports sedan and wagon are here to fit the bill. Now in its third generation, and assembled for the first time on American soil, in Charleston, South Carolina, this all-new iteration of the popular Swedish compact is here to take on ferocious rivals such as the BMW 3 Series, Mercedes-Benz C-Class, Audi A4, Lexus IS, Infiniti Q50, Jaguar XE, Alfa Romeo Giulia and even the Tesla Model 3.
We were in Santa Monica, to drive the car under a blazing California sun, for its global launch.
Three Engines, Two Body Styles
Just like the rest of the Volvo family, three engine choices are offered, T5, T6, and T8, all based on the same 2.0-litre turbocharged four. For the S60/V60, the T5 equips the entry-level, front-wheel-drive Momentum variants, pumping out a claimed 250 horsepower and 258 lb.-ft. of torque.
The T6 adds a supercharger and standard all-wheel drive for a total output of 316 horsepower and 295 lb.-ft. of torque. The T8, on the other hand, is a plug-in hybrid, also fitted with all-wheel drive. It's good for a range-topping 400 combined horsepower and a total EV range of 35 km. As we're writing this, the T8 is only offered in the S60. An eight-speed automatic is the sole transmission for the entire lineup.
A modified version of the S60 T8, called the Polestar Engineered, should hit showrooms later in 2019, with a bump in horsepower to 415 and a significant increase in torque to 494 lb.-ft., without losing its EV capabilities. The package also includes upgraded brakes, adjustable Öhlins dampers, stiffer and lowered springs, as well as a front strut bar, all in the name of improving driving dynamics.
Our testers were T6 and T8 Polestar Engineered cars.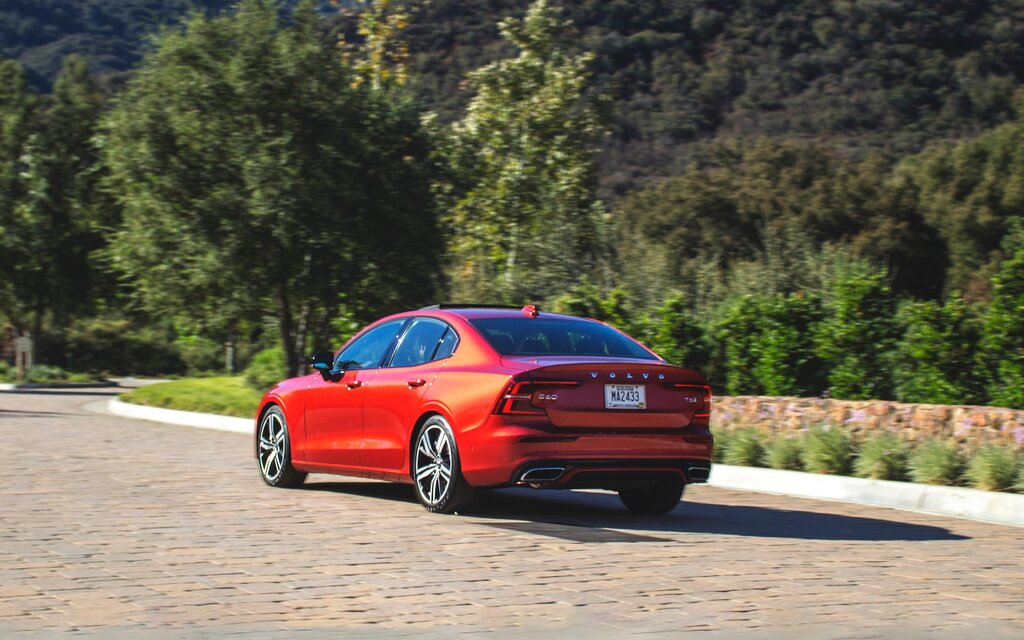 The Best Roads in the World
Volvo had prepared us quite a drive route. We would take off from Santa Monica and drive off into the canyons located north of L.A., attacking some of the best roads in the world such as Mulholland and Angeles Crest, just to name a few.
As we strapped ourselves inside our stunning sedans and wagons, the Volvo people, confident they had a serious sports sedan in their hands, recommended we set our cars to Dynamic mode so we could exploit the car's full potential. Spirited driving was the theme throughout the entire event; the engineers were eager to find out our impressions at the end of the day.
On the winding roads, between the canyons, the S60 proved to be an admirable performer. The double-wishbone suspension allows it to be well grounded at all times, even during extremely tight hairpins. Being powered by a four-cylinder means the front end is lighter and livelier than six-cylinder-powered competitors, and steering, while electric, is satisfactory, with a pleasing heft and a smidge of feedback through the wheel. Turn-in is sharp, a nice feature in the twisties.
Up there, within the dry California mountains, you meet all sorts of interesting cars. Porsches, Lamborghinis, Mustangs, motorcycles dominate the scenery. Everyone drives fast, with local drivers moving off to the shoulder to let you pass. Even the cops leave you alone.
And our Volvo had no trouble fitting in. The T6 pulls hard, giving the S60 more than ample acceleration, even during uphill ascents. But we couldn't get around the engine's lag, despite packing both a turbo and a supercharger. But once they do, the four-pot never lacks power.
Unfortunately, the transmission also suffers from a similar delay. It hesitates before downshifting, which prevents it from being as lightning quick as its German rivals. We however have no gripes with the way it skips from one cog to the next. It's a smooth gearbox, well suited for everyday use.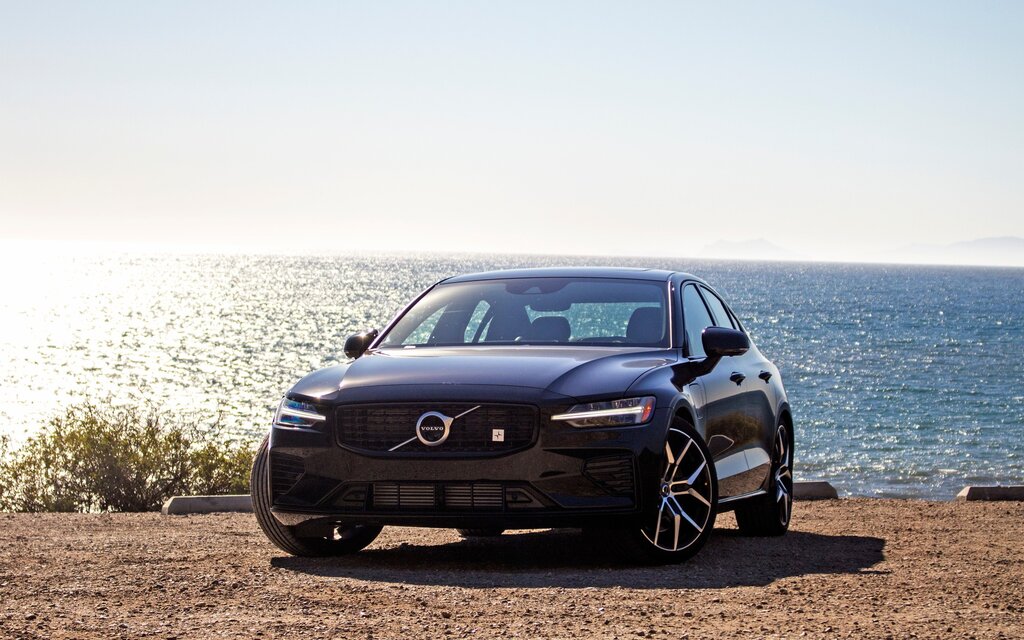 The Black One is Badass
Following a quick lunch in a gorgeous vineyard located in Ojai, not too far from Santa Barbara, we then took the Polestar Engineered S60 for a spin. Painted black with more aggressive bumpers, a sporty stance, 19-inch Polestar wheels, enormous golden brake callipers and equally golden seatbelts, the car looked properly badass.
As a matter of fact, we all agreed between journalists that once dressed that way, the S60 is one of the most beautiful sports sedans we had ever set our eyes on. Styling is something the Swedes understand very well. The S60 is incredibly desirable.
On the road, the improvements made to the car's chassis, suspension and brakes are immediately recognizable. The Polestar Engineered S60 has a solid chassis, significantly stiffer and more reactive than the T6, and the levels of grip are on an entire different planet, allowing the car to carry speed much faster in the bends than its brethren. However, we were disappointed with the brake-by-wire pedal, which was either too sensitive, or not enough at times. It's just impossible to modulate it during performance driving, quickly making things irritating, and a bit scary.
The T8 has lots of power on tap, but it's plagued with the same problem as other Volvos that are propelled by it. There's an important lack of harmony between gas and electric motors, leading to clumsy acceleration and a straight-out lack of coherence. It's also a heavy drivetrain, largely due to the batteries on board. Hence, the car never feels like a 415-horsepower car. You never have a sense that the S60 T8 is fast, but rather that the poor little four-cylinder is working overtime to get the car moving.
We give credit to Volvo for offering the T8. During daily driving, it's a technological masterpiece for its efficiency and zero emission capabilities. It's just not the engine of choice for a sport sedan deemed capable of brawling with Mercedes-AMG and BMW M machines.
So yes, Volvo has put together a formidable sports sedan/wagon, as long as it's powered by the T6.
To sum it all up, what you have here is a distinguished luxury compact that's both comfortable and incredibly sexy. And its driving dynamics definitely pass the test to take on its German rivals. Also, don't forget the V60, which inherits all these qualities in a more practical wagon package—Wink wink compact luxury SUV buyers.
Arriving in dealerships this December, the 2019 Volvo S60/V60 introduces the Care by Volvo subscription service to Canadians for the first time. The car can be yours starting at $949 a month, in Momentum trim, under a two-year term. Volvo then, has done its homework with its all-new Scandinavian bombshell.
Share on Facebook