2018 Mercedes-Benz C 300 Wagon: Canada's Little Darling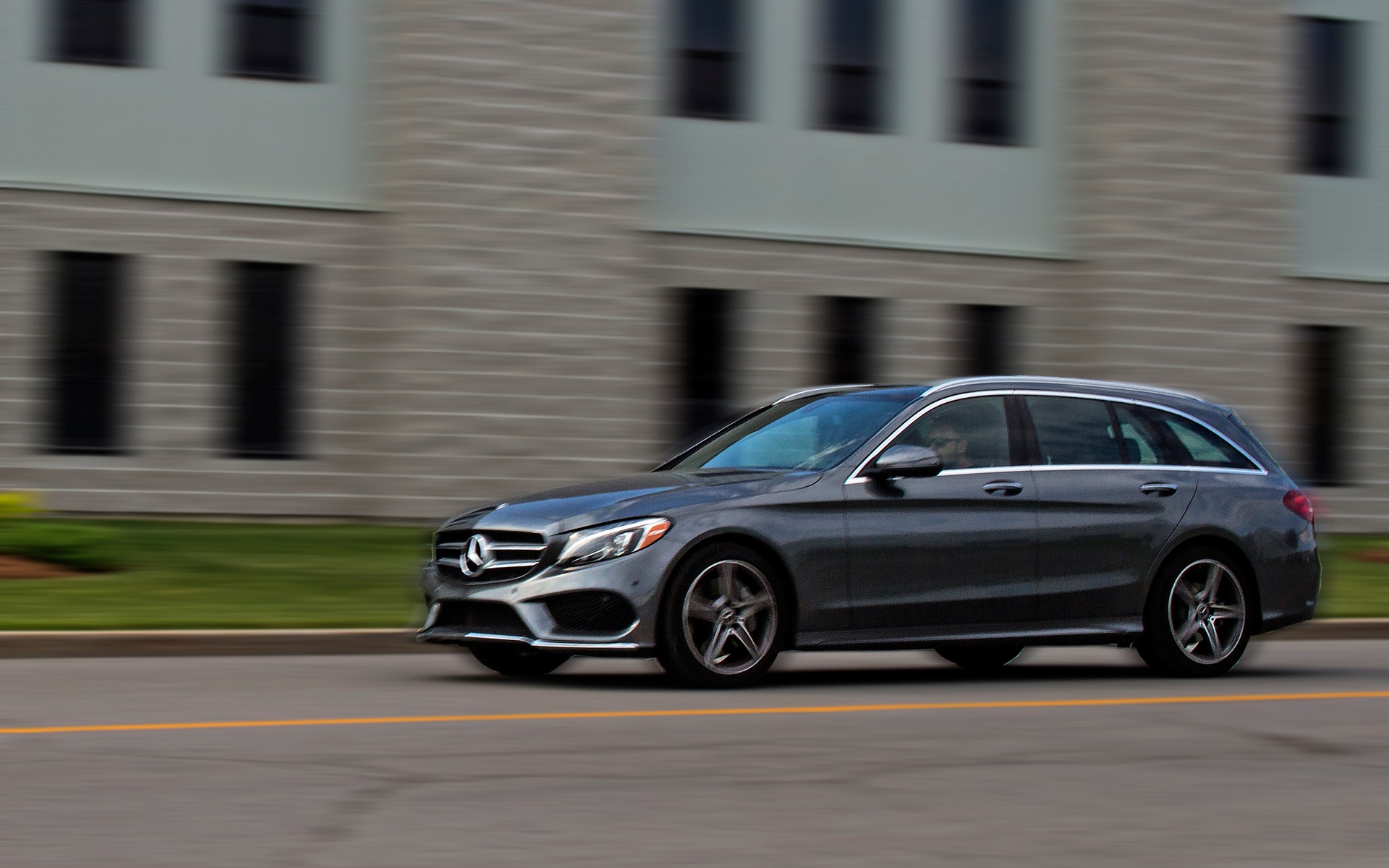 Strong points

Nimble and fun to drive
Peppy and fuel efficient drivetrain
SUV-grade practicality, sports sedan handling

Weak points

Sounds like a diesel at idle
Some flimsy interior components
Complicated infotainment system controls
Full report
As I'm writing this, the 2018 Mercedes-Benz C 300 wagon is only available in Canada for the North American market. I should have your attention now. Because if you've got one ounce of automotive enthusiasm left inside you, you should be rushing into your local Mercedes-Benz dealership to place an order for one immediately. Consider yourselves lucky the Germans still care about cars.
SUV Sucker Punch
I'll let you in on a little secret. Ask any automotive journalist what the perfect car is, and chances are they'll tell you it's a wagon. Presumably brown, with all-wheel drive and a manual transmission. This Mercedes-Benz doesn't get the latter, but it does have all-wheel drive. And that shade of grey conveniently shifts to a brownish hue when sitting under bright sunlight. So it's almost perfect.
The reason we're so in love with wagons is because they harmoniously blend the convenience of a utility vehicle with the driving dynamics of a car. And in some cases, especially the European ones, wagons tend to look even better than their sedan counterparts.
While everyone's all hyped up over SUVs, the reality is that no lifted contraption can offer the well-planted-down handling feel of a car. This in turn arguably makes the wagon a safer all-around vehicle. In other words, sport utility vehicles provide a false sense of security, inflating the driver's confidence, further explaining why they tend to be the first vehicles to hit the ditch during an early snowfall.
Of course, the Europeans understand the benefits of a wagon way better than we do. Over there, pretty much any car can be had in this configuration. On this side of the pond, however, wagons are a rare breed. The Canada-only Mercedes-Benz C 300 then, with its 1510 litres of total cargo space (with rear seats folded flat), is somewhat of a unicorn.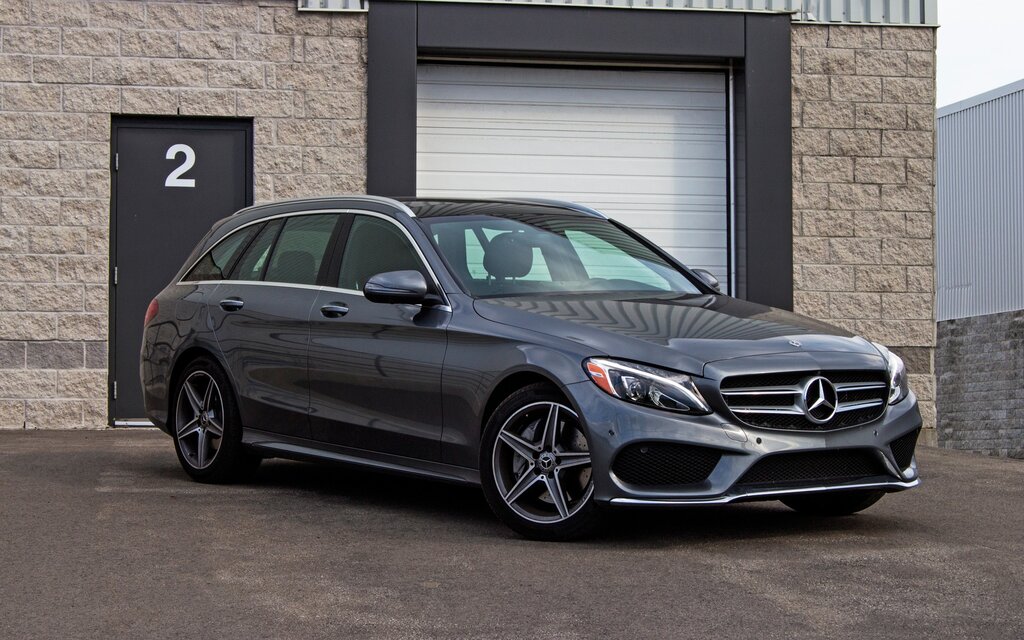 The Little One is Best
We only get one trim level for 2018, the C 300. Yes, Germany builds a fire-breathing, V8-powered AMG C 63 variant of its family hauler. Over here, at least for now, the only super wagon to get a diamond star slapped onto its grille is the Mercedes-AMG E 63 S. Our compact elongated Benz is therefore only available with a 2.0-litre turbo four rated at a humble 241 horsepower, with 273 lb.-ft. of torque. Rear-biased 4MATIC all-wheel drive comes standard, and so does a nine speed automatic transmission. Mercedes-Benz claims its baby wagon can sprint to 100 km/h in 6.1 seconds which is, in our opinion, quick enough.
That's actually the standout feature of this C 300, the feeling that you don't need more than that to be content. Being based on the C-Class sedan means it's a nimble and spirited little thing, a buttoned-down and solid German automobile that carries speed effortlessly, eats up corners, and gets off the line in a jiffy. Fuel economy is also its best quality, where we averaged an 8.2 L/100 km rating during an extreme summer heat wave, air conditioning on full blast. For an all-wheel-drive compact luxury car, that's more than decent.
The four cylinders also significantly reduce the vehicle's unsprung mass. A smaller engine means the components hooked up to it, such as the driveshaft, wheel hubs and suspension components are smaller, therefore lighter. A smaller engine sitting on top of the front wheels also leads to less understeer, further improving the car's handling characteristics.
So the C 300 feels much lighter on its feet than the previous-generation, V6-powered C 350.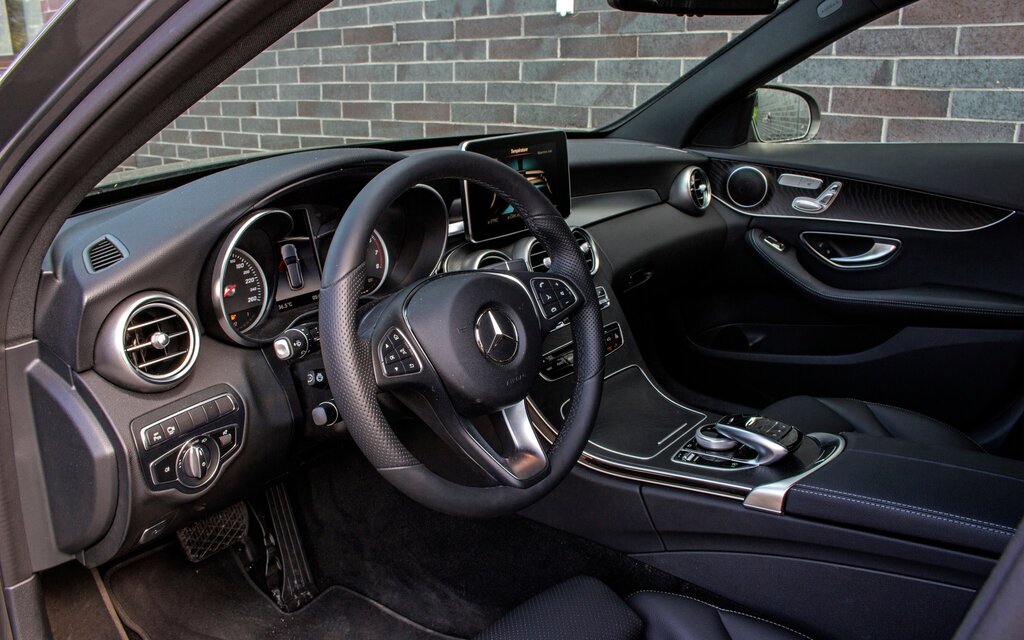 The utilitarian Benz
Typical of the rest of the C-Class lineup, the C 300 wagon is a beautifully styled luxury compact, complete with a nicely stanced demeanour, and a well-put-together and simply styled cabin adorned with comfortable seats.
It does, however, come with some irritating flaws. A few interior components, such as the plastic cover that flips over the cupholders, as well as some of the dashboard's core materials, are tacky and of questionable quality. Here's the thing: with the Koreans now dishing out premium sedans with interiors of sublime build quality, all at a lower price, the expectation bar has been raised for stalwart names such as Mercedes-Benz.
I get it, this is the "entry"-level model, but it's still a Benz. And flimsy plastics have no reason to be in it.
Then there's the infotainment system. It's still COMAND, and not the beautiful wide-screen version found in the E or S class, but a simplified interface displayed through a smaller, pop-up styled screen. As with everything Mercedes-Benz, it's not a touchscreen, but rather controlled via a knob dial and/or touchpad. It's a complicated system, one that doesn't always allow you to do two things at once, but it does nevertheless incorporate Apple CarPlay/Android Auto. And that Burmester sound system is absolutely exquisite.
Overall though, there's a lot to like about the C 300 wagon. To nobody's surprise, that trunk is spacious, especially when the rear seats are folded flat. The four-cylinder engine pulls hard when commanded to do so, and there's absolutely nothing wrong with the nine-speed automatic. In fact, it's the coherence between drivetrain and chassis; all calibrated to meticulous attention that truly shines through. The C 300 feels solid, there's a sense that it will drive well for a very long time.
That being said, the four-pot sounds plain awful on idle—kind of like a diesel actually—and rear-seat legroom remains a tight fit for adults. But with an entry price of $46,000 before freight and delivery charges, it's surprisingly affordable for a Mercedes-Benz. It looks the part, remains immensely fun to drive, and won't destroy your wallet at the pump. Simply put, the 2018 Mercedes-Benz C 300 wagon is the workhorse Mercedes we all deserve in our lives, a fantastic alternative to a compact luxury SUV.
Share on Facebook