2019 Subaru Ascent: the Subaru Soul is Alive and Well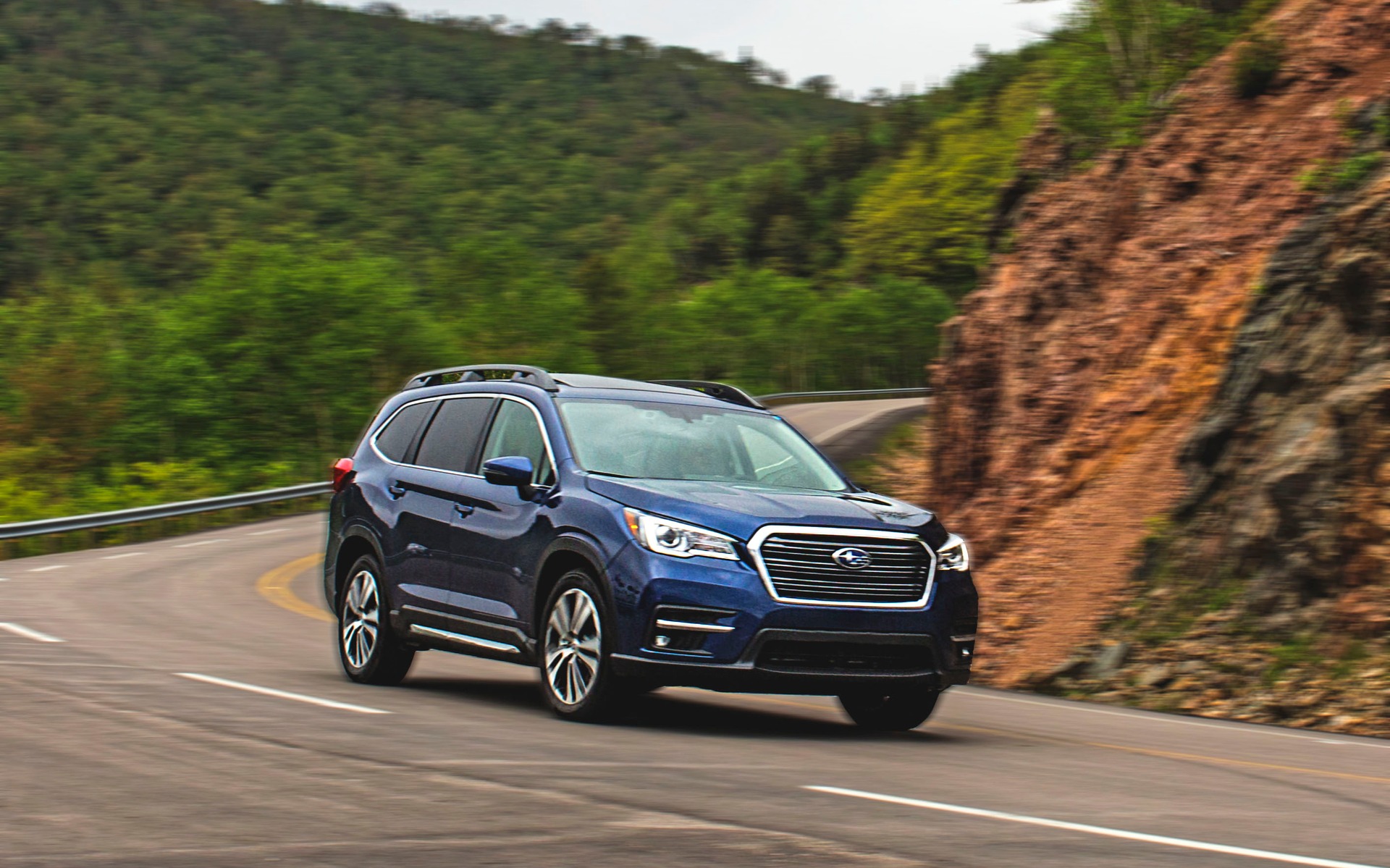 Strong points

Standard all-wheel drive
Spacious cabin and cargo space
Handles like a Subaru

Weak points

Lackluster braking performance
Generic design
Tight third-row seat
Full report
CAPE BRETON, Nova Scotia – Subaru is a carmaker that dares to do things differently with its idiosyncratic Boxer drivetrains, standard all-wheel drive, and utility vehicles that lean more towards large lifted wagons than actual trucks. As a matter of fact, Subaru was among the first to combine the benefits of a car with those of all-wheel drive in the 1980s with a lifted wagon that had been fitted with a two-speed transfer case.
So, the concept of a midsize SUV coming from a niche carmaker that built its reputation out of selling young, cool and quirky vehicles is contradictory. Why lean towards something so sensible? Because large SUVs sell well, and Subaru hasn't offered one in its lineup since the Tribeca. At least, this one keeps the brand's core values intact by going about its own way.
Those Cup Holders Though
Since the basic idea of a midsize SUV is hard to mess with, it's difficult to set yourself apart in this segment. After all, these vehicles have the tough job of offering plenty of occupant and cargo space, as well as decent towing capability all while remaining affordable, powerful, and fuel efficient. Essentially, the seven- or eight-passenger SUV has replaced the family minivan, so it must do everything well.
The Ascent has no less than 19 cupholders. Nineteen! Total cargo capacity, once all rear seats are folded flat in the Convenience trim is rated at 2449 litres, making it a larger vehicle than a GMC Acadia and a Mazda CX-9. It's neck to neck with a Dodge Durango, and only the Volkswagen Atlas, Honda Pilot and Chevrolet Traverse are more spacious.
But the Ascent has other tricks up its sleeve. It comes with standard all-wheel drive, unlike many rivals that don't. It's also the only one in the segment that can tow up to 5000 lb (2267 kg) with a four-cylinder engine sitting under its hood.
Yes, you read that right. The only available engine in this thing is a four cylinder, and not the flat-six found in the Outback. It's an all-new, 2.4-litre turbocharged flat four good for a claimed 260 horsepower and 277 lb.-ft. of torque. According to the engineers over at Subaru, the new mill weighs six kilograms less than the 2.0-litre turbo found in the WRX (wink, wink). And the only available gearbox is a continuously variable automatic (CVT). Admittedly, the Ascent does things differently. In other words, it's still a Subaru.
Nailed to the Ground
And that all continues behind the wheel, where the Ascent exhibits the traditional grounded feeling so distinctive of the brand. That's of course caused by the Boxer engine which gives the Ascent a lower centre of gravity than its rivals. On the Cabot Trail, in Cape Breton, an iconic twisty road filled with steep inclines, the Ascent proved to be agile and nimble, almost sporty, with handling characteristics leaning more towards those of a large car than a truck.
The turbo engine has no issue powering this large rig. Actually, in some cases, it feels more capable than Volkswagen's V6 due to its fat midrange torque curve, and the CVT, like in all modern Subarus, does a fantastic job of keeping the revs in the meat of that powerband for optimal efficiency. We were also impressed by the new engine's fuel economy, where we recorded an 11.2 L/100 km average on a highly elevated road. Impressive for a vehicle of this size and weight, especially when considering that it will easily slide under the 10 L/100 km mark on flat terrain.
However, we were slightly disappointed with the Ascent's braking performance. While descending some of the Cabot Trail's steep hills, the brakes would quickly fade, which makes us wonder how they would perform if we'd be towing something heavy. We were also baffled when the hood prop stayed in our hands the moment we attempted to put it into place. A minor detail, you say? We agree, but for a vehicle with a starting price of $35,995, we expected to find shocks supporting that hood.
Families in Mind
All that being said, the Ascent is a vehicle that's enjoyable to drive. Its smooth ride, immensely spacious cabin and comfortable first-row seating are a pleasant bonus, and the typical "valve clacking" sound of the Boxer engine on a cold start has never been this quiet.
Then there are the ingenious little details, such as the tiny handles placed on top of the optional captain's chairs, inspired from Japan's bullet trains, on which you can cling onto when exiting the third row. They also double as coat hangers.
Those captain's chairs, or standard bench seat, can also be moved forward up to the front seats, an ideal setup when you want your young child to remain close by. The upper cupholders integrated into the rear doors were also designed to be of easy reach for your offspring, and the entire rear of the vehicle was reinforced to withstand a rear collision.
There's even a clever hidden compartment, squeezed behind the third-row seat in the floor, to stow the tonneau cover. Access to that rear bench is a breeze, but headroom back there is not as generous as in an Atlas or a Traverse.
With such an appealing price tag, standard all-wheel drive, the full battalion of semi-autonomous safety technology Subaru calls EyeSight, and Android Auto / Apple CarPlay connectivity, all available in the base Convenience model, the 2019 Subaru Ascent is a vehicle that ticks off all the right boxes for young families seeking space, safety and value in a midsize utility vehicle. Except this one is sprinkled with the endearing Subaru quirks that have defined the brand for so long.
Share on Facebook