2018 Volvo S90 T8: Keeping the Quirkiness on Point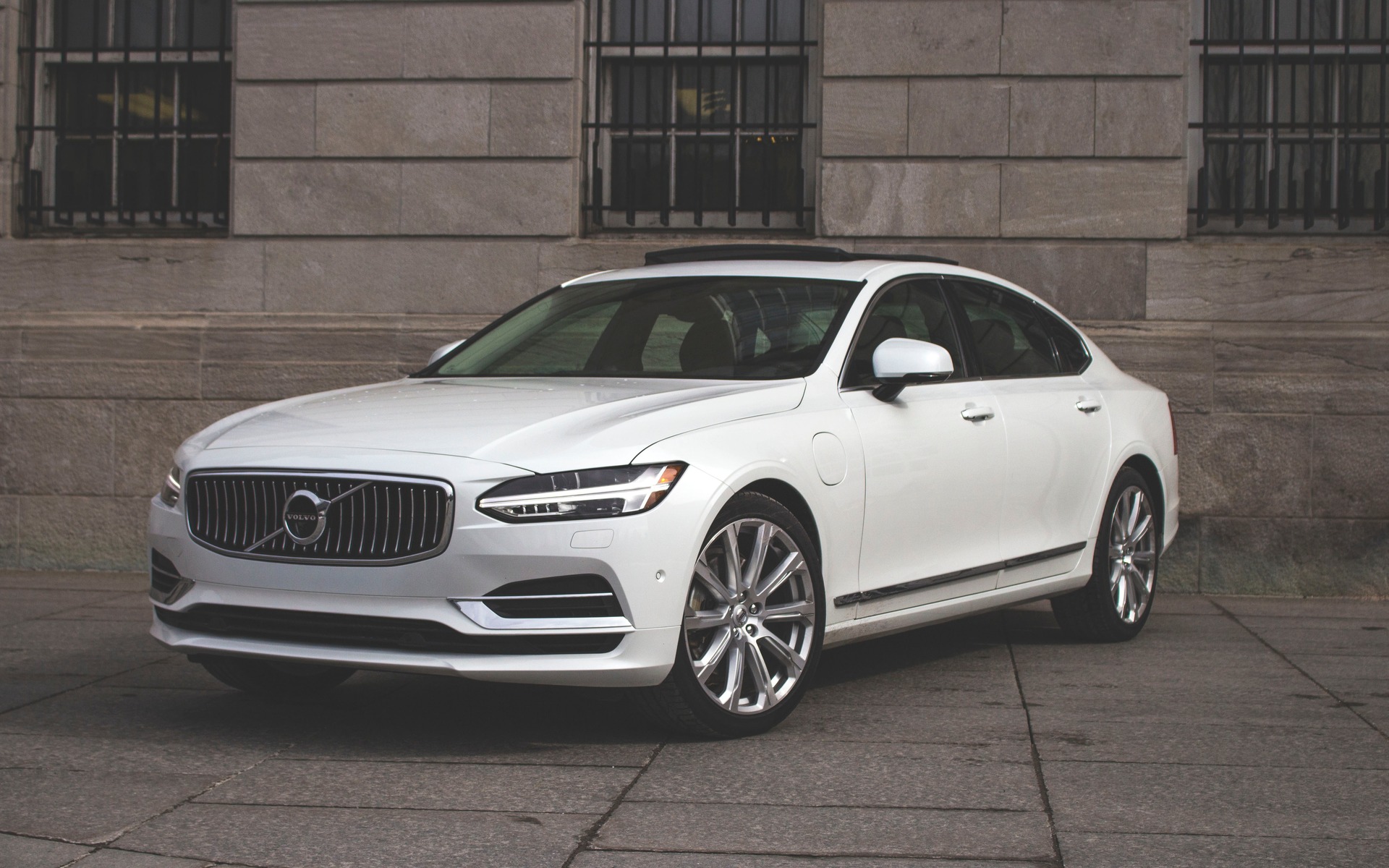 Strong points

Looks stunning, inside and out
Innovative powertrain
Roomy and comfortable cabin

Weak points

Unrefined four-cylinder/hybrid combo
Laggy infotainment system
Disappointing regenerative braking
Full report
It's no secret now that the intrinsically styled Volvo S90/V90 is one of the most beautiful cars currently on the road. As a matter of fact, we handed Volvo's flagship sedan and wagon the 2018 Best Design of the Year award here at The Car Guide, and here we are, halfway through the year, still addicted to this Scandinavian sculpture of utter magnificence.
But as a luxury machine as a whole, how does the S90 stack up a year after its release against stiff competition, especially the Germans, who seem to give birth to a plethora of excellent sedans, coupes, wagons and convertibles at a phenomenally rapid rate? We drove the Volvo to find out.
Longer
The model you see here, the T8, is part of a minor update for the entire S90 lineup. Last year, only the 316-horsepower T6, Swedish-built version was offered here in Canada. Now, both the 250-horsepower T5 and this one, the 400-horsepower, all-wheel-drive, plug-in hybrid T8, are added to the lineup. For 2018, production of the Canadian-spec S90 shifted to Volvo's Chinese plant, in Daquing. This means that it now comes standard in the long wheelbase configuration, a 114-mm stretch which elongates Volvo's midsize sedan to near full-size status. Dimensionally, the new S90 is larger than a Mercedes-Benz E-Class, but still shorter than a BMW 7 Series.
And that, if you ask me, is a smart move, because if you're going to go against the German machines, you're better off not taking them on-head first, but carve yourself a nice comfortable little niche instead, which is precisely what Volvo is doing with this car. It seems to be working, because so far this year, Volvo is on a sales streak, almost doubling its sales figures for all vehicles. Even its sedans!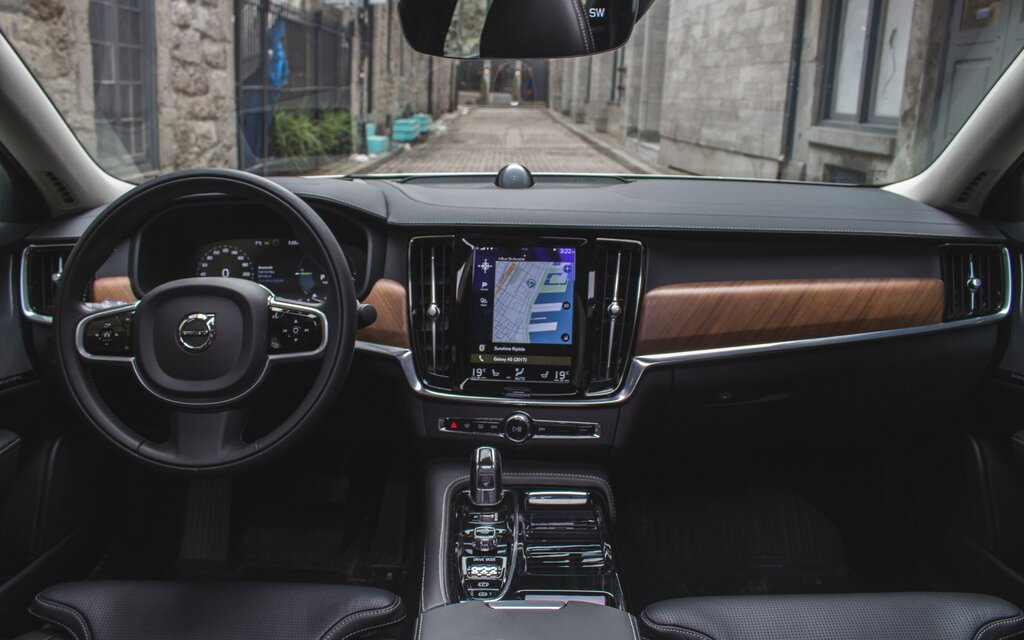 Four Hundred Smooth
What you guys probably want to know is how the S90 drives. It's smooth and quiet, I'll tell you that much, and its cabin not only looks as dashing and unique as its exterior, it's roomy, especially out back, where the new wheelbase gives way to a limo-like back seat.
I do have a slight problem with the T8 drivetrain, which carries over from the XC90 largely unchanged. On paper, the thing is a technical masterpiece; a 2.0-litre turbocharged and supercharged four, coupled to two electric motors that dish out a grand total of four hundred ponies and an impressive 472 lb.-ft. of torque, all while delivering a real-world combined fuel economy of 7.3 L/100 km.
You can even drive the thing in full electric mode. Plug it into a fast-charging station, and about an hour later, you'll burn no fuel at all for up to 35 km with the car set to Pure mode. And that's truly great.
My gripe is that one, the car never feels like a 400-hp machine, even when the Power mode is selected. Punch the accelerator and the furiously frustrating lag of the electronic throttle as well as the fact that the tiny little four-pot needs both turbo boost and the spool of a supercharger to wake up means "instant" isn't the best way to describe this car's acceleration. At least the eight-speed automatic shifts quickly and smoothly, but there's a general lack of harmony between the two drivetrains. Volvo calls this a Twin Engine, and it really feels this way, as if the hybrid setup and the highly complex gasoline apparatus sitting under that long and sexy hood operate in separate rooms, completely isolated from each other. Finally, that four cylinder simply sounds harsh and unrefined when pushed hard. It's even worst on idle.
At least, the S90 is still a quick machine, especially for a hybrid. 0 to 100 km/h acceleration times hang in the 4.8 second range, quicker than both a BMW 530e (6.3 seconds) and Cadillac CT6 Plug-in (5.4 seconds). And while I'm still complaining about Volvo's suspension damping, which is way too stiff for this type of car, the S90 is a very athletic companion in the twisties, even with all those batteries sitting underneath its elongated skin. Handling is sharp, precise, confidence-inspiring, allowing you to carry speed effortlessly, and Volvo's Scalable Product Architecture (SPA) is absolutely brilliant, marvellously combining both refinement, and performance.
I would, however, have enjoyed a bit more configurability from the car's regenerative braking feature, as it never really seems to be regenerating anything.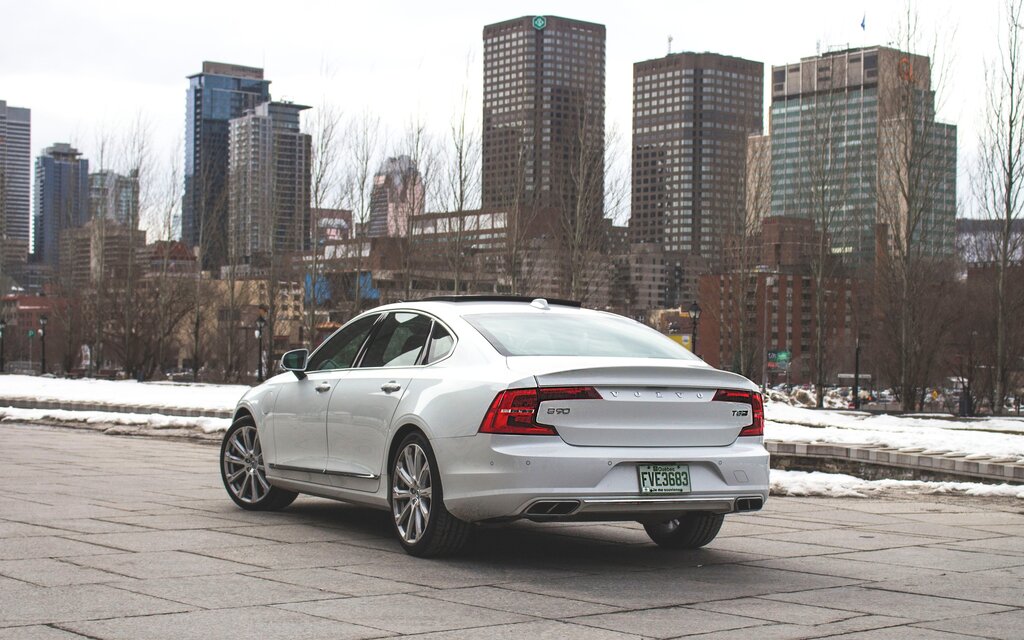 Still Not Up There
So, yes, the S90 manages to carry its occupants in a tremendously luxurious, well-put-together and absolutely stunning ride. But there are still some important elements missing to really compete against Europe's finest crop of fat sedans. As mentioned earlier, the drivetrain needs work in the refinement and "I want to feel it" departments. It's the same with the infotainment system, which presents itself through an elegant, yet polarizing slab of an LCD touchscreen only the Swedish could have conceptualized.
Don't get me wrong, it's an overall good system, with elegantly styled menus, easy-to-comprehend controls and large, easy-to-grasp redundant physical controls that can easily be operated with gloves. The problem is that the interface itself is a bit laggy, especially on cold starts. During those cold mornings, you'll want to turn on the heated seats and steering wheel, which can only be activated through the screen. Which lags.
Many of the car's controls, such as removing traction control, operating the rear curtain, or shuffling between the car's various drive modes, are controlled this way, which prove frustrating when the system decides to act up.
Honestly though, I'm nitpicking here, because a Volvo S90 sells for several thousands of dollars less than any equivalent German or even British offering. This is all excusable. And the car as a whole is a truly spectacular product that comes through as a highly creative transportation device for the wealthy. While its reliability and maintenance costs are still large question marks, the 2018 Volvo S90 remains true to Volvo's promise of quirky and intelligent Scandinavian engineering.
Share on Facebook