Ford GT 2017 : " Made in Canada "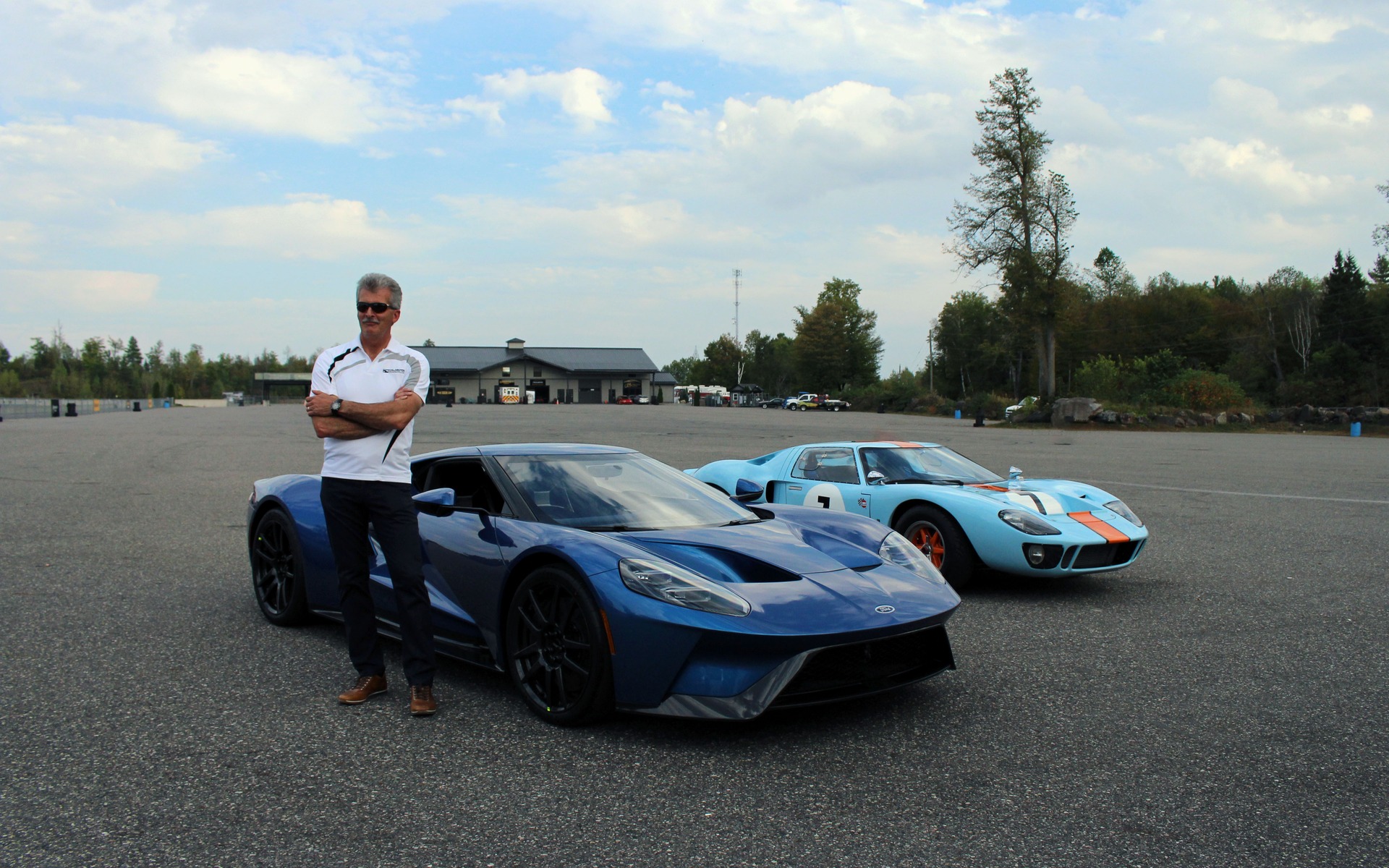 CALABOGIE, Ontario – I confess, my job makes people envious. I'm expected to drive a whole bunch of different vehicles so I can give my opinion on them. And frankly, being paid to do that is a dream come true. However, when I'm asked to cover one of the most iconic cars of the last century, I feel like I've already landed in paradise. When and how did I die again? I don't care! Because I've just been invited to the Canadian launch of the 2017 Ford GT, and pinching myself just won't cut it.
First, a Chunk of History
If you still don't know what the Ford GT is, then you've probably been living under a rock on the moon or something. For those unaware, allow me to put you up to speed: the Ford GT is a supercar that pays homage to the Ford GT40 race car from the 1960s, a track beast that was built specifically to conquer the grueling 24 hours of Le Mans race event, at Circuit de la Sarthe, in France. While we honour the GT40 for its four consecutive wins between 1966 and 1969, what truly makes it so legendary is the story behind its existence.
The car was born out of a failed transaction between Henri Ford II and Enzo Ferrari. Yes, the American giant once tried to gobble up the tiny Modenese company after an interest from Enzo himself. However, Ferrari backed out from the deal at the last minute, which didn't please Ford t all. Feeling like he had been played by his Italian rival, Henri Ford II ordered his team of engineers to build a car that would humiliate Ferrari in its natural habitat: the racetrack. And that's precisely what the GT40 did, spanking the red Ferraris four years in a row.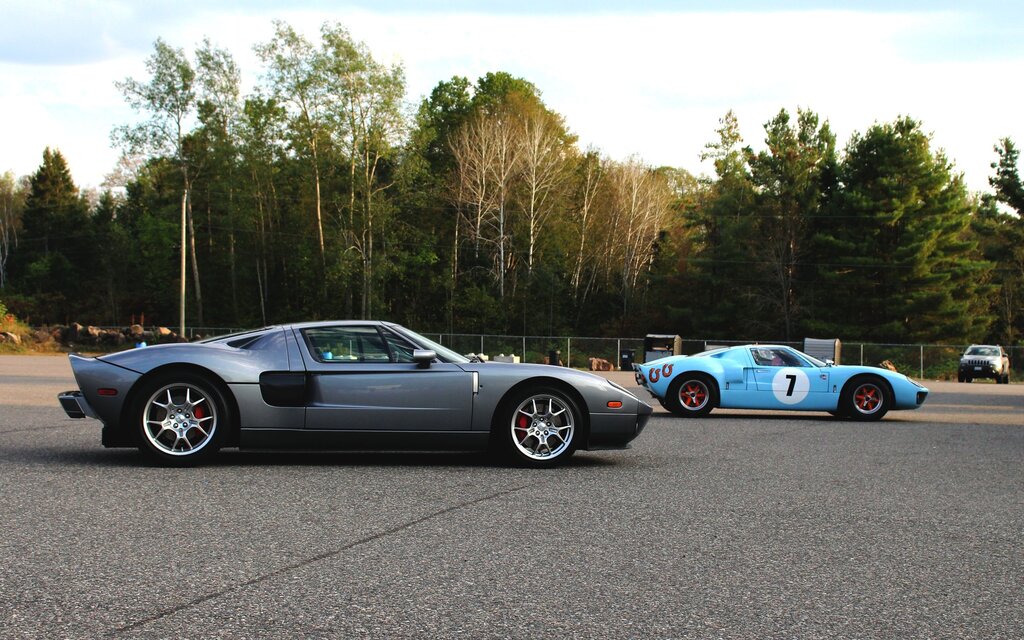 The One Built for the Future
Fast forward to today, and I'm standing next to its granddaughter, the 2017 Ford GT at Calabogie Motorsports Park, in Ontario. This isn't the first time Ford re-spawns this iconic car in road-legal form. The Ford GT appeared in 2005 for a short time. It was powered by a 500-horsepower, mid-mounted supercharged V8. So see this new Ford GT as version 2.0 of that car. While the 2005 car was more-or-less a throwback to the '60s race machine, the 2017 Ford GT was first built to compete in Le Mans, like the original. It also claimed first position last year, like its ancestor.
And frankly, what a machine! The numbers associated with this car are absolutely mind blowing. 647 horsepower, 550 lb.-ft. of torque, a 0-100 km/h acceleration time of 3.0 seconds flat, and a top speed of 345 km/h. Of course, like any good supercar, the Ford GT is entirely made out of carbon fibre. Its engine, a twin-turbo V6, is mounted at the centre of the vehicle; its transmission is a seven-speed dual-clutch automatic, and the car is rear-wheel drive. An adjustable suspension makes sure the car can hit apexes at blistering speeds, and active aerodynamics not only improve the car's ability to stick to the tarmac, but also help slow it down.
How much for this race-inspired thoroughbred? Ford claims a USD$450,000 starting price. When I asked Christine Hollander, director of communications at Ford Canada, she took the time to specify that this is indeed a starting price. The Ford GT is entirely customizable and can easily pass the CAD$600,000 mark.
Made in Canada, by Canadians
Why Calabogie Motorsports Park? Because this is where the Ford GT was born. You see, Ford may be an American carmaker, but the car was almost entirely conceived here in Canada, by Canadians. It was Multimatic, an Ontario-based company, which specializes in the development of systems and components dedicated to the automotive industry, that inherited the mandate to develop the GT at Calabogie.
It was therefore logical for Ford to invite journalists to this location for the car's official Canadian launch. However, this was a bit more than a simple unveiling. The event focused primarily on the delivery of a Ford GT to one of the first Canadian customers, Mr. Richard L'Abbe.
Richard, an engineer, entrepreneur and member of the faculty of entrepreneurial engineering at Ottawa University, first gave us a quick speech on his purchasing experience, a long and rather demanding process. It's not just anyone who can own a GT. You must first send your request to Ford, and then submit a video that states who you are and why you'd like to purchase one. It's serious stuff!
Ford then makes you sign document that prevents you from "flipping" the car for a certain period of time. For Ford, since the car will be assembled in very limited quantities (only 1000 units in four years), it is adamant that the car be well taken care of, ideally held under the hand of collectors or enthusiasts, like Richard, who occasionally take part in track days.
Following Richard's presentation, which he held standing between a GT40 replica and a 2005 Ford GT, we all got a chance to embark in his supercar for a few laps around the track. Since Richard's car needed to go through a break-in period, it was impossible for him to push his machine to its limits. The experience did allow me to sample the car's potential.
Initiate Attack Mode
Once set in Track mode, which you adjust from a knob dial on the steering wheel, the Ford GT instantly lowers its suspension to a 70-mm ground clearance, allowing the car to generate a maximum amount of G forces in the bends. The dashboard, or rather, an LCD screen that was bolted behind the steering wheel, transforms its display to illustrate nothing except a large horizontal rev counter and the gear in which the car is in. The speedometer? You don't need one on the track!
During extreme braking manoeuvres inside a Ford GT, the rear spoiler can be heard in the form of a "click" as it deploys to act as an air brake, followed by extreme G forces that pull your face forward, almost ripping it off your skull. The engine note, which sings just inches behind your head, is a symphony of deep induction noises, bellowing exhaust burbles and chirping turbos. The sound is so present in the cabin, that we can barely hear ourselves talk.
Speaking of cabins, this one is a confined and rather claustrophobic one, but it remains comfortable, as long as you can make your way in. With my helmet on, I had to execute a few contortions before I could reach the passenger seat. However, the thrills were present. I've never sampled an automobile with such high levels of adhesion.
And that's what the Ford GT is in a nutshell: a jet on wheels, a technological tour-de-force, a symbolic heritage for an entire brand and a preview of things to come at Ford. While the 2017 Ford GT may only be reserved for a handful of wealthy individuals, it will serve as a test bench for the development of new technologies and lightweight materials that will see light in upcoming Ford cars, trucks and electric vehicles. As for me, I'll have no other choice, at least for now, to content myself of my Ford GT scale model that's collecting dust in my living room.
Share on Facebook