2018 Mercedes-Benz S-Class: Ambience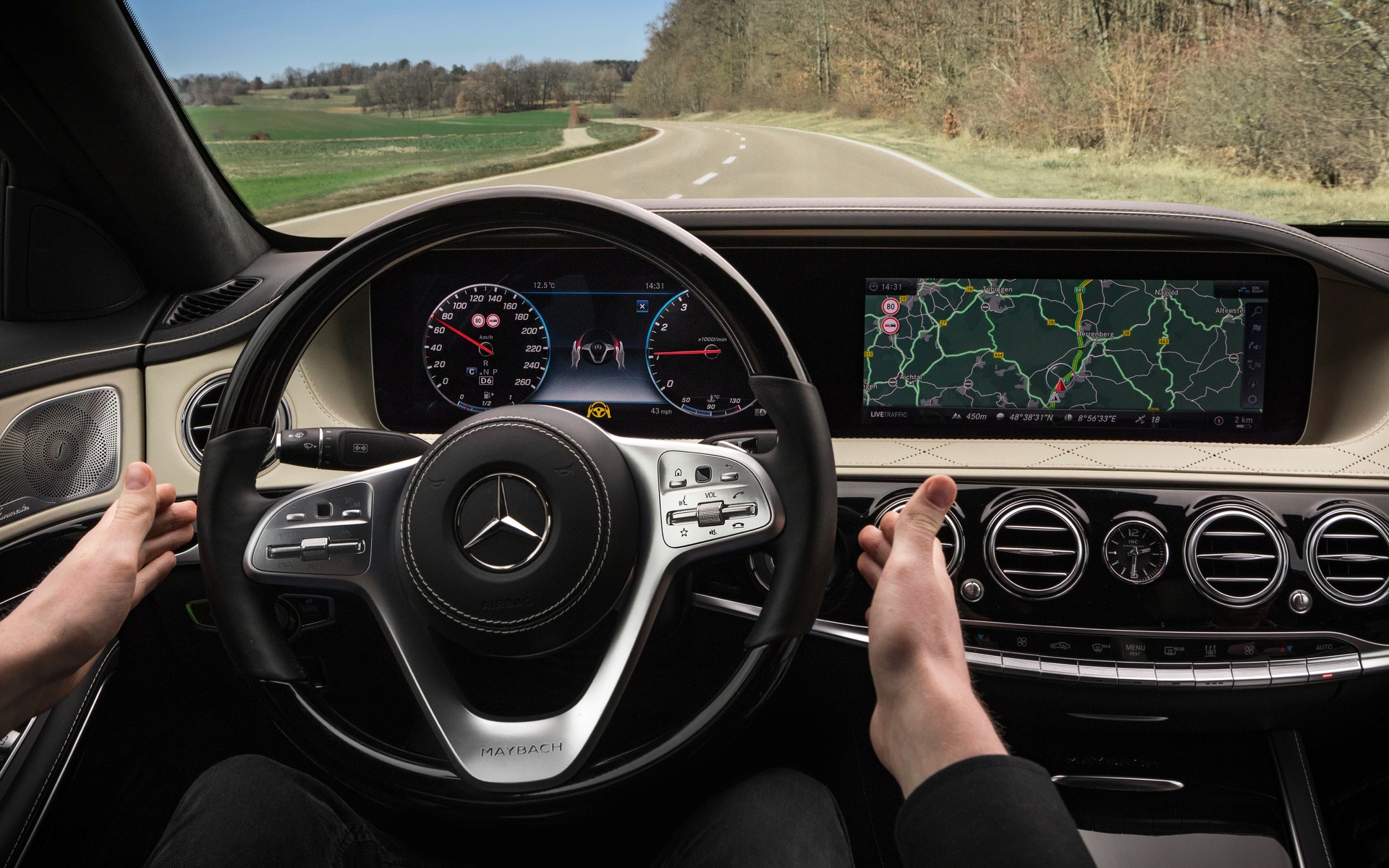 To stand out in a world where luxury is no longer defined with power windows or heated seats, where horsepower has surpassed logic a long time ago and connectivity has become a common feature, luxury automakers must figure new ways to set themselves apart from the competition.
In the new 2018 Mercedes-Benz S-Class, luxury is ubiquitous as is comfort. The car's technology level is extraordinarily high and output, even in its base version, is more than sufficient. Just like the BMW 7 Series and Audi A8. What Mercedes-Benz has added to the S-Class this time around is ambience. Even in the very powerful and almost sporty AMG S 63, an atmosphere of serenity and fullness can be found. The car becomes a lounge of some sort.
It's worth noting that the 2018 S-Class isn't exactly all new. The current generation car was introduced for the 2014 model year and was due for an update in order to maintain its role as the brand's flagship for years to come. As a result, even if it wasn't lacking in any aspect, Mercedes gave its S-Class more technology, some emphasising safety, and others, comfort.
MULTIBEAM LED
On the safety front, we find MULTIBEAM LED, a technology already seen in the Mercedes-Benz E-Class and that consists of LED headlights that are extremely bright, and yet they don't blind oncoming drivers. These headlights are optional in certain markets, but are standard in Canada.
Numerous driving assist systems
At Mercedes-Benz, and as is the case with other brands, a slew of technologies are combined to offer the highest level of safety. In the S-Class, for example, the DISTRONIC Active Distance Control adaptive radar allows keeping a safe and consistent distance with the preceding vehicle, but it also allows the car to stop itself behind another one at a stoplight, and accelerate again on its own. Accompanied by Active Steering Assist and Active Emergency Stop Assist, it becomes a semi-autonomous driving system. It can being the car to a full stop by itself if the driver doesn't react to imminent danger up ahead and allows to let go of the steering wheel for a few seconds, even in a bend. This is possible thanks to the collaboration of radar and a stereo camera, allowing the car to "see" 250 metres of road ahead. The system is active as soon as the driver turns on the engine.
Active Lane Changing Assist allows, as its name implies, lane changes without any driver intervention after he or she activates the turn signal. Camera, radar and all the detection systems scan the car's surroundings and as soon as the left lane is clear, the S-Class moves over and passes the slower-moving car ahead. We also experimented with the parallel and perpendicular parking assist system, an "activity" that isn't new or innovative anymore—except that the S-Class can also drive itself out of its parking spot.
Burmester High-End
The Mercedes-Benz S-Class accelerates, turns and brakes while keeping its perfectly Teutonic cool. The cabin's quietness, no matter what speed the car is travelling at, is never disturbed. And it isn't the Burmester High-End 3D Surround Sound system that will change anything. Its 1520-watt output is so pure that even a hard rock song won't seem out of place in this universe of fullness. Although a jazz piece is a better suit, in my humble opinion.
ENERGIZING Comfort
In the obvious quest to impress curious shoppers on the dealership floor, Mercedes' engineers developed a system called ENERGIZING Comfort. It consists of six modes (Freshness, Warmth, Vitality, Joy, Comfort and Training), and the driver can choose the mode he or she prefers, according to the mood of the moment. Interesting on paper, the system is a work in progress, which is surprising for Mercedes.
For example, when we activated the Freshness mode, instead of creating an atmosphere of, well, freshness, it unleashed a hurricane of cold air that we tried to calm down after only a few seconds. The menu layout is complex, and my driving partner and I finally managed to tone down the windstorm by using the car's ventilation controls. We might have cussed during the process.
Thanks to certain exercises, the Training mode can allow the driver to relax, especially when stuck in a traffic jam, although I doubt that a fundamentally stressed person will be mesmerised by the calm voice of the "lady in the dashboard." According to the mode chosen, perfume fills the cabin and if the Soft Almond aroma (just an example, because I have no idea what the fragrances are called) is alluring at first, it can quickly become nauseating. In short, a few minutes of fiddling with the ENERGIZING Comfort system weren't enough for us to enjoy it, but I imagine that after playing around with the various modes, we'd end up appreciating it.
The 2018 Mercedes-Benz S-Class is packed with technology and most of them are perfectly mastered. They enhance the car's safety and comfort, but especially allow the driver and its occupants to travel in an incomparable ambience. Except if they use the ENERGIZING Comfort system before figuring out all of its subtleties.
Share on Facebook