2017 Mitsubishi i-MiEV: Stay in the City
Strong points

Affordable (for an EV)
Manoeuvrability for city commuting
Can sit four people

Weak points

Low on feature content
Unimpressive driving range by today's standards
Could be more refined
Full report
The arrival of the Chevrolet Bolt EV is a milestone in the world of fully electric vehicles. It's relatively affordable, it looks like a normal car and it offers a driving range that's close to what we'd get in a gasoline-powered subcompact.
This will be the benchmark on which all mainstream EVs will be compared. And that includes the 2017 Mitsubishi i-MiEV, which admittedly is a little unfair. Mitsu's microcar arrived in Canada back in 2012 as one of the very first fully electric vehicles available to us. It was also one of the least expensive, alongside the two-seater smart fortwo electric drive which appeared shortly afterwards.
Six years later, the i-MiEV is still on sale, but has barely changed, while other EVs have either been refreshed or now feature larger-capacity battery packs. Obviously, sales are low; only 86 units have been sold in Canada in 2016. And 55 of those were bought in the province of Quebec alone, where electricity is cheap and government incentives aren't. So basically, good luck finding one in stock anywhere else in the country.
The Mitsubishi i-MiEV is also starting to look its age. The gasoline-powered i minicar has been on sale in other market since 2006, so the design is more than 10 years old. Its size puts it in the same league as the Fiat 500, the Nissan Micra, the Chevrolet Spark and the Mitsubishi Mirage, but thanks to its bubble shape and clever packaging, it can comfortably sit four adults—on short trips, obviously.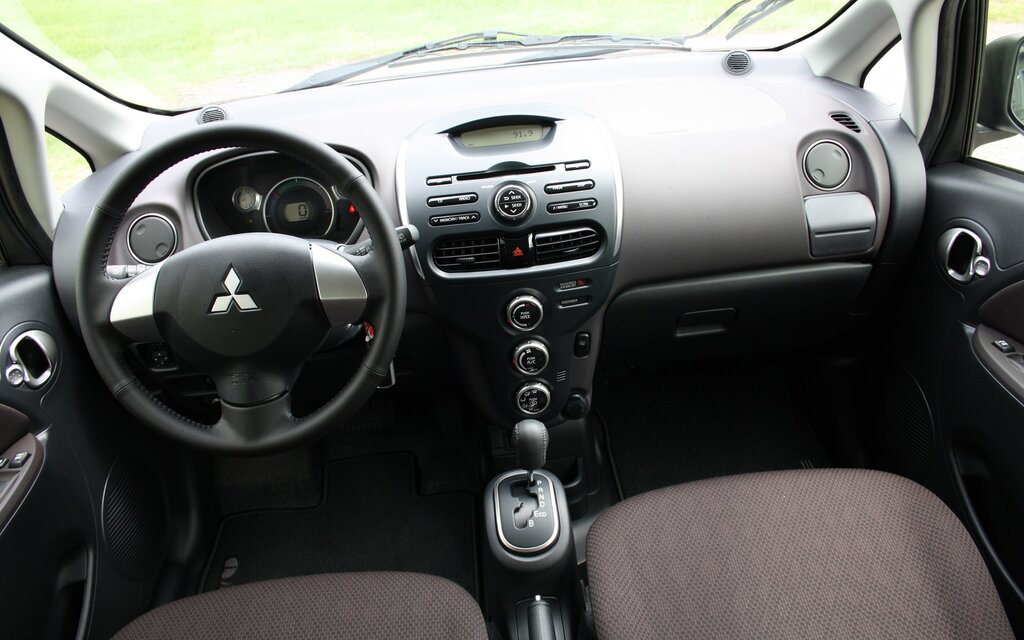 The cockpit is finished with sturdy, low-grade plastic and plain-jane seat fabric. There's nothing extravagant to be found in the 2017 Mitsubishi i-MiEV, as it was designed to be a down-to-basics transportation device for getting around town. Although it's equipped with heated front seats, air conditioning, keyless entry and a six-speaker stereo with CD player, we must choose an option package for Bluetooth connectivity, a 400-watt sound system upgrade, a USB port, a rearview camera, wheel-mounted controls and a navigation system.
The electric motor is located right ahead of the rear wheels it's connected to, and develops 66 horsepower as well as 145 pound-feet of torque. It may not sound like much, but it's enough to get the 1148-kg car up to speed.
Actually, the i-MiEV is surprisingly quick at launch, thanks to the motor's generous torque, so there's no worrying that we'll be holding up traffic, either on city streets or on the highway, and even with four occupants on board. Cargo space is rated at 377 litres with the rear seatback in place, 1430 with the seatback folded down, so there's a good amount of room for picking up groceries or a couple of hockey bags.
The car feels more at ease around town than on the open road, because it can take advantage of its small turning circle and diminutive proportions. Out on the highway, not only does range drop much more quickly—like any EV—but the skinny tires (145/65R15 up front, 175/60R15 at the rear) and low curb weight make the car sensitive to crosswinds.
Mitsubishi estimates the i-MiEV's driving range at 155 kilometres, although real-world driving, with hills and changing outside temperatures, will likely result in a range of about 120 km. A full charge using a 240-volt outlet takes approximately seven hours, and with a household, 120V output, we must wait between 14 and 22 hours, so we better be patient. However, the minicar does include a quick charge port, which means 80% of the battery's capacity can be recharged in a half-hour. We can also pre-heat or pre-cool the car's cabin and program charging times, but to do so, we must deal with a downright archaic remote control that includes a retractable antenna. Welcome to the '90s!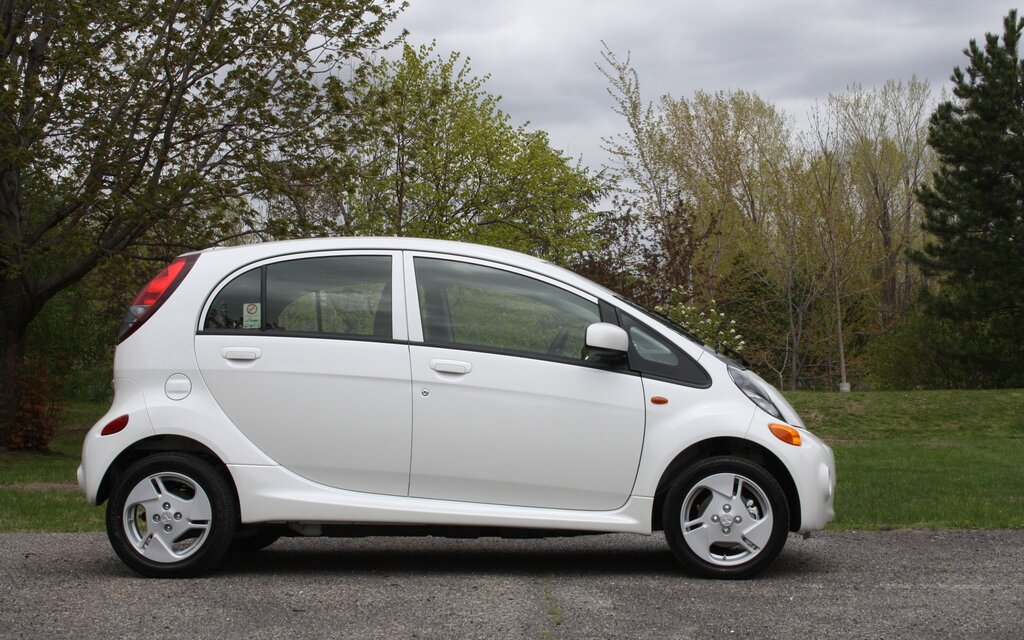 The 2017 Mitsubishi i-MiEV is priced from $27,998 before freight and delivery charges, while the option package costs another two grand. Only three colours are offered this year—white, black and silver—but the car doesn't need flashy paint jobs to be exclusive. It just is. It isn't a bargain, and although it's the lowest-priced EV in Canada right now, it's nowhere near as refined or as fun to drive as its competitors that include the Ford Focus Electric, the Nissan LEAF and the Kia Soul EV.
Some provinces will sweeten the deal, as purchase and lease incentives for EVs can drastically reduce the price of a i-MiEV. The after-tax credit amounts to $8,000 in Quebec and $10,000 in Ontario, while over in B.C., the before-tax credit is set at $5,000.
With the recent 34% acquisition of Mitsubishi Motors by the Nissan-Renault group, it will be interesting to see what will happen to the i-MiEV, although it is likely that 2017 will be the final year for the electric minicar in Canada. Right now, apart from some municipalities and delivery companies who need a small, low-maintenance runabout for the city, the i-MiEV is a tough sell. And that's a shame, because by design, it should satisfy the needs of many people who just need a second car to get from one side of town to the other and back, run errands and pick up the kids at school.
Share on Facebook