2018 Kia Rio Five-Door Bows in Paris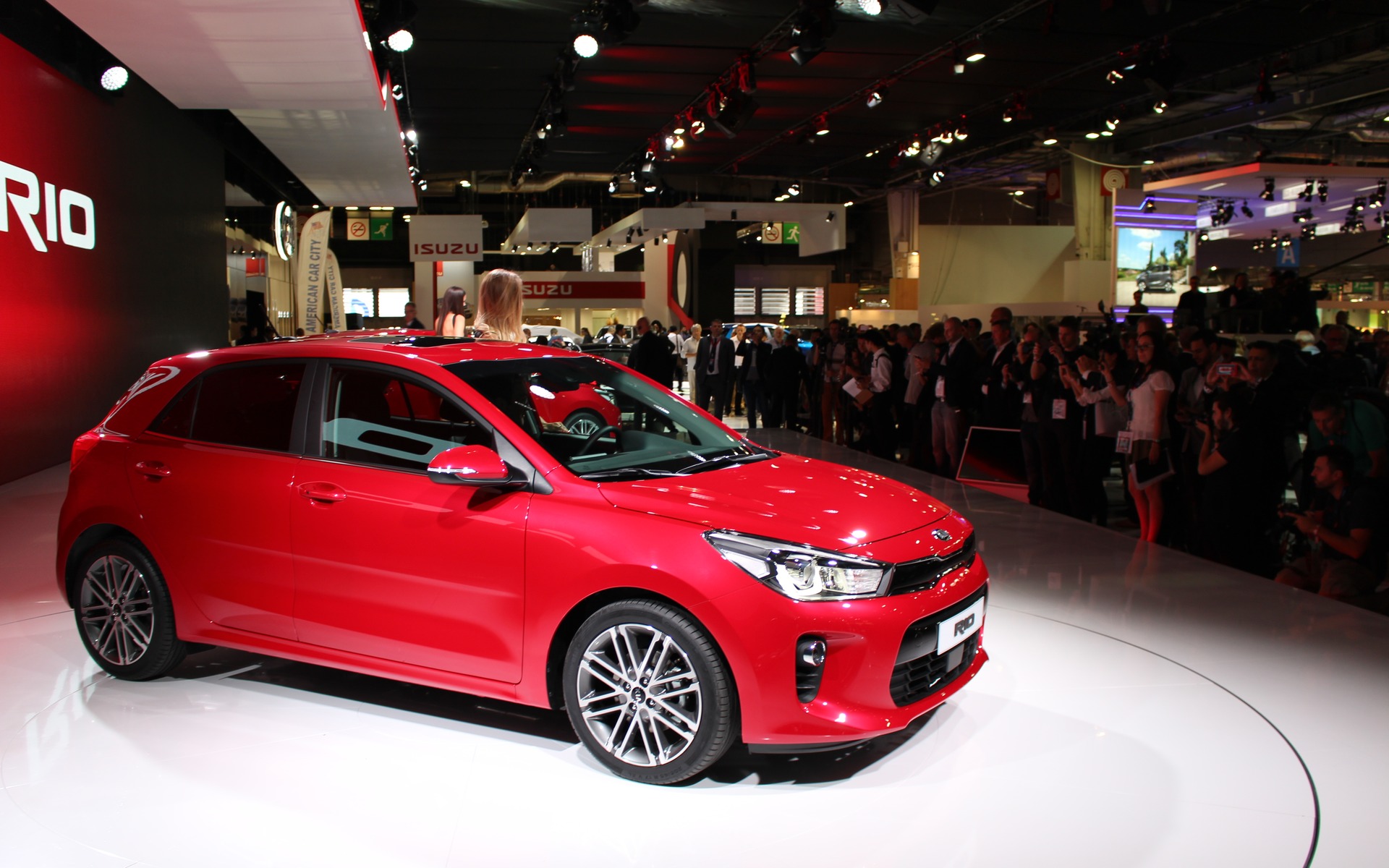 PARIS, France – Although subcompact car sales are struggling in Canada, the Rio is Kia's best-selling model on a global scale. The current generation has been around since 2011, and although the car has generally aged well, it was time for a change.
The new Rio will arrive next spring in Canada as a 2018 model, and will feature an all-new body that displays a stronger, more dynamic presence. Wheelbase has been increased by 10 mm, while overall length is up by 15 mm and the roofline has been lowered by 5 mm.
These new dimensions provide more interior space. Despite the lower height, headroom has increased slightly, with gains in front-seat legroom as well as front and rear shoulder room. Kia claims the cargo area is more spacious too, and the rear seatback can obviously be folded down in a 60/40 split to increase luggage space even more.
The 2018 Kia Rio's structure will be built using more high-strength steel—51% compared to 33% in the current generation—which should not only make the car safer, but ride and handle better too. A host of electronic driving aids will be available, such as forward collision warning with pedestrian detection and lane departure warning, although it is still unclear whether the North-American versions of the Rio will benefit from them as well.
The car's suspension and steering system have been thoroughly reworked in order to enhance comfort and driving dynamics. At the rear, the Rio keeps its torsion beam suspension, but gains more vertical shock absorbers. The car will receive 15- and 17-inch wheels.
Inside, the latest generation of Kia's infotainment system will be offered, which includes a five-inch touchscreen and a six-speaker stereo. Uplevel trims will add a seven-inch screen with navigation as well as Apple CarPlay and Android Auto integration. USB ports to charge everyone's portable devices should be found in both the front and the back of the Rio.
All that's good stuff, but we still don't know what Kia will drop under the stubby hood of the 2018 Rio. In Europe, there will be three engine choices: a 1.2-litre four with 84 metric horsepower; a 1.4-litre four with 100 hp; a 1.4-litre turbo-diesel four with 70 hp, or 90 hp and 177 lb.-ft. of torque; and a new turbocharged, 1.0-litre three-cylinder engine that will develop either 100 or 120 hp as well as 127 lb.-ft. of torque. Five- and six-speed manual gearboxes will be available, and only the 1.4L gas engine will offer a four-speed automatic.
Although that high-output, turbo 1.0L engine sounds interesting, we'll guess that none of these will cross the Atlantic. The current Rio is equipped with a 1.6-litre four-cylinder engine that develops 137 hp. We'll probably have to wait a few months before Kia announces their plans for the North-American Rio, and by the way, a Rio sedan should make its appearance either at the upcoming Los Angeles or Detroit shows. Which is good, because the U.S. market has a marked preference for sedans.
Unlike the European version of the Rio that will be built across the pond, the North American version of the subcompact will be assembled alongside the Forte in Kia's new plant in Mexico.
Share on Facebook