Why not a Subaru Sedan?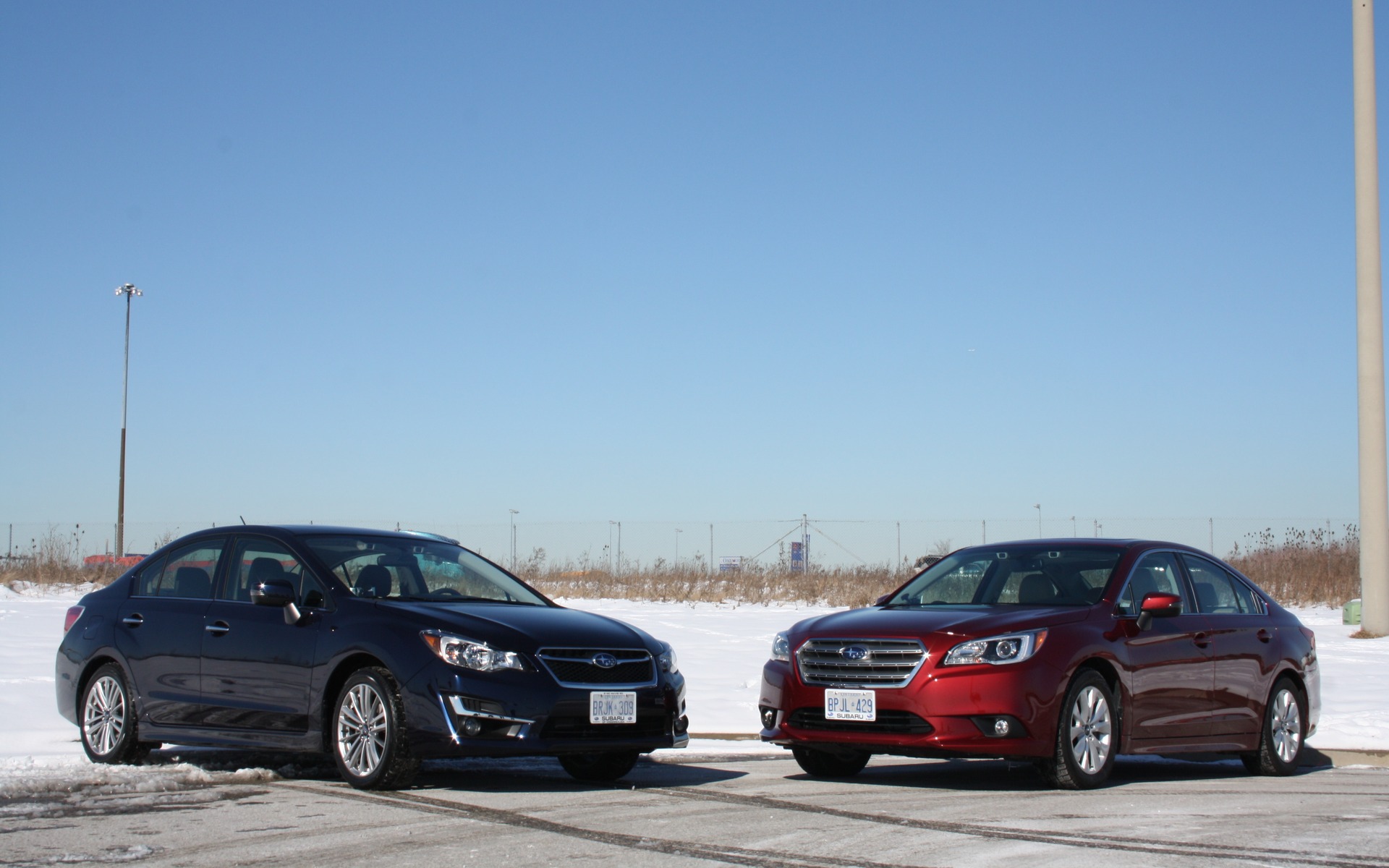 TORONTO, Ontario – According to Subaru, research has shown that a lot of people associate their brand with sport-utility vehicles and crossovers, but don't realize the company also builds cars.
That's a curious finding, as the Legacy midsize sedan has been around for more than 25 years now, and is even built in the United States. The compact Impreza's nameplate has been around since 1992. Their rally cars collect trophies on a regular basis. So what's the problem?
Maybe it's because people associate Subaru with all-wheel drive, and associate AWD with trucks and SUVs. Except for the BRZ sports car, every other Subaru that rolls off an assembly line and is earmarked for the North American market is equipped with an all-wheel drivetrain. Did you know that?
The fact that Canadian consumers have been buying more SUVs than cars for the past few years also has something to do with Subaru's tepid car sales. Nonetheless, for every Legacy sold, roughly five units of the Toyota Camry, the Ford Fusion and the Honda Accord find new homes. Six units of the Hyundai Elantra and the Toyota Corolla as well as eight copies of the Honda Civic leave their respective showrooms for every Impreza sold.
Do you really want an SUV?
Simply put, Subaru is telling us to remind you that instead of buying an SUV (and they're not dissing this type of vehicle, because they've got some in their lineup to sell), you could consider an AWD car instead. My job here is done. Well, not quite.
Subaru Canada decided to invite a very small group of journalists to the Muskoka region, north of Toronto, to try out their Impreza and Legacy sedans on snow covered roads and highways. The objective here is to show us just how well their Symmetrical AWD system works and makes Canadian winters something we should look forward to instead of dreading. And when they're equipped with the optional EyeSight suite of electronic driving aids, both cars boast a Top Safety Pick+ rating from the IIHS, so they're also pretty safe.
The 2016 Subaru Impreza has a plethora of competitors in the compact sedan segment, but only one of them can be equipped with AWD, and that's the Mitsubishi Lancer. The 2016 Subaru Legacy, which must also go head to head with some pretty stiff competition, has only two rivals that can be equipped with AWD, namely the Ford Fusion and the Chrysler 200.
Is an AWD car really that good?
Both Subaru sedans share the same basic full-time, all-wheel drivetrain. When equipped with the continuously variable automatic transmission, under normal driving, engine power is split 60/40 front/rear, and can vary slightly to an even 50/50 spread as needed. With the available five-speed manual gearbox, the system has a fixed 50/50 split.
On the slippery country roads heading up to the town of Minett, and back down to Toronto the next day, both the Legacy and the Impreza performed admirably. Having driven pretty much all of the brand's recent products, including the Subaru Outback and the Subaru Crosstrek, this wasn't surprising at all to us.
What we tend to forget here is that the brand's sedans have a lower ground clearance than their SUVs and crossover wagons, so the ride isn't as bouncy. The Legacy offers a smooth and refined drive just like its competitors, while the Impreza adds a touch of sportiness that makes it fun to drive without the WRX's brutal ride.
In winter conditions, these two sedans really shine above the rest in their respective market segments. In the summertime, though, when the roads aren't as slippery, they lose their biggest competitive edge. In both cases, engine output is adequate, not thrilling, their exterior designs are a little conservative and their cockpits are nicely dressed up, but lack the finish and design of some rivals.
How much does an AWD Subaru car cost?
So who would benefit from purchasing a Subaru car instead of an SUV? Well, anyone who's good at crunching numbers, as the Impreza starts at $19,995 before freight and delivery charges, making it the most affordable AWD vehicle currently on sale in Canada. Your average subcompact SUV or crossover – such as the Mazda CX-3 and Honda HR-V – usually costs several thousand dollars more with AWD, and despite their utility-vehicle shape, they aren't more spacious than Subaru's compact sedan.
As for the Legacy, which starts at $23,495, it undercuts compact AWD SUVs and crossovers by a few thousand dollars as well. Blended families will likely appreciate the extra rear-seat space of a midsize sedan compared to the narrow bench found in a small SUV.
Fuel economy in both cars was also pretty low during our 660-km road trip. The 2016 Subaru Impreza is equipped with a 2.0-litre, four-cylinder engine that develops 148 horsepower. My driving partner and I managed an average of 8.0 L/100 km aboard the compact sedan.
The Legacy, with its 2.5-litre four-cylinder engine that produces 175 horsepower, averaged 8.6 L/100 km in our hands. Note that the Legacy can also be equipped with a 256-hp, 3.6L six-cylinder engine in uplevel trims for some extra muscle and refinement.
To sum things up, if you're in the market for an SUV or a crossover vehicle because that's the type of vehicle that attracts you, little can be said here to convince you not to buy one. On the other hand, if you're not the trendy person who needs to buy an SUV for the sake of conformity, Subaru sells some great – if a little bland from a styling standpoint – sedans that will get you safely through winter. And even make it enjoyable.
Share on Facebook