Tesla
Model S

P85D and 70D: AWD, Performance And Better Price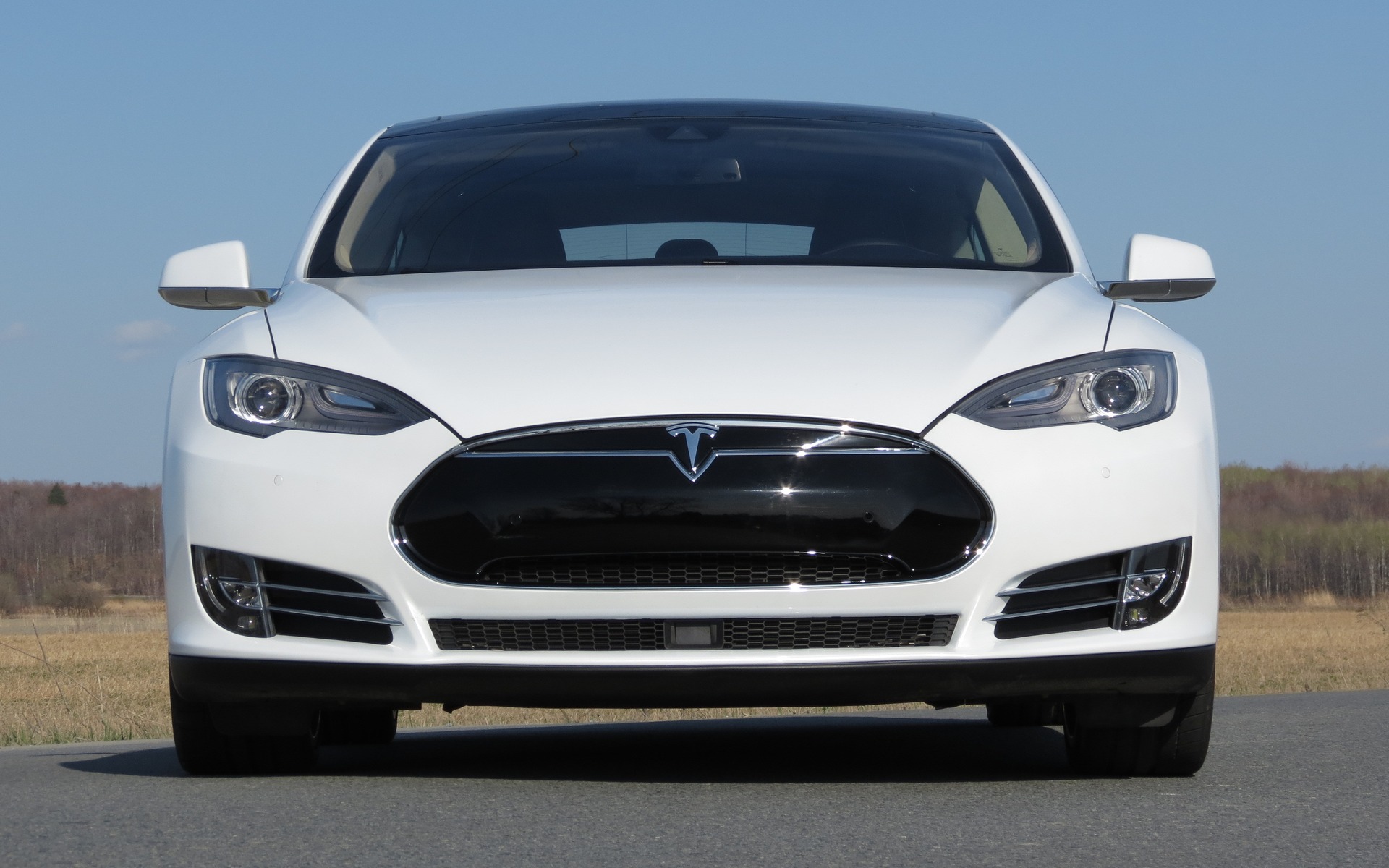 Strong points

Still looks great
Solid, or furious, performance
Impeccable road manners
Irreproachable all-wheel drive system
Comfort and plenty of interior room

Weak points

Limited rearward visibility due to headrests
Interior finish not really luxurious
Distractive control screen
Less-spacious trunk (D versions)
Somewhat expensive (P85D)
Full report
After cutting its teeth with its Roadster, a pure sports car built on the exceptional chassis of the Lotus Elise, Tesla Motors got down to serious business by launching its big Model S sedan in 2012.
As beautiful as it is aerodynamic, with a drag coefficient of 0.24 and a Design of the Year title awarded by The Car Guide, it's been collecting trophies and recognitions ever since it hit the market. The P85D version of the Model S even forced U.S. magazine Consumer Reports to review its evaluation criteria by obtaining a score of 103 out of 100.
Soon after, the same magazine, recognized as the most credible automotive information source in the United States, withdrew its "recommended" mention from the Model S, citing reliability problems. There were some issues with the huge 17-inch touchscreen, reluctant retractable door handles and battery pack cooling pump, among other things.
But that's another story. For a car bursting with so much advanced technology, that was bound to happen. German large luxury sedan customers can tell us a thing or two about that.
The electric revolution is under way
Actually, the Tesla Model S shattered the glass case that was surrounding electric vehicles so far, while managing to successfully break into the luxury-car field. To the point where it was recognized as a "Best Buy" in no less than three different categories by The Car Guide this year. We'll see about next year with those reliability concerns.
Nevertheless, Tesla's big sedan is still the star of the luxury-car segment, and a green halo car.
An upper echelon, all the time
Tesla made yet another splash last year by presenting its D versions (for Dual Motor) of the Model S. A new electric motor, mounted up front of the aluminum chassis, transformed these models into all-wheel-drive sedans. With its new AWD system, torque can be modulated instantly and with finesse, without the slightest driveshaft or centre differential to add weight or reduce passenger space between the axles.
The new motor adds 132 kg to the already heavy car and eats up a good portion of the trunk. No problem for luggage, though, with a rear cargo area that's big enough to accommodate an optional, rearward facing third-row seat under the expansive hatch. There's even storage space under the cargo area floor.
The benefits of AWD more than largely compensate anyway, above all for the significant gains in ease of operation, safety and pure driving pleasure. And that's for year-round driving in Canada, no matter the road conditions or surface, since traction is just about perfect at all times. And as you'd expect, stronger acceleration as a bonus.
Reaching a (slightly) wider audience
Those who dream to eventually purchase one of these vehicles will be happy to know that Tesla has widened its product portfolio. The biggest news certainly is the arrival of the all-wheel-drive 70D version, with a 70-kWh battery and a promised range of 385 km. It's priced at $95,300 before applying green-vehicle rebates offered by some Canadian provinces.
The price obviously climbs rapidly if we add options such as an adjustable air suspension or a 12-speaker, hi-fi stereo ($3,100 each), a more luxurious interior and a power tailgate ($3,700), a sub-zero weather package that includes a heated wheel, heated rear seats, wiper blade defrosters and heated washer fluid nozzles ($1,250) as well as the folding third-row seat ($3,700). And let's not forget an extra charge of $3,100 for the Autopilot option that rounds up adaptive cruise control, lane keep assist, active park assist and automatic high beams.
With 387 lb-ft of instant torque provided by its two motors, the 70D clears the 0-100 km/h sprint in 5.4 seconds and clears the quarter-mile in 13.8 seconds at 163.6 km/h. Those numbers are almost identical to those of the Porsche Panamera GTS with its 434-hp V8 and all-wheel drivetrain, which weighs 280 kg less and costs more at $129,400.
The 70D's steering is lively, but a little less incisive than in some of its sisters mounted on wider and lower-profile tires. It also stops from 100 km/h in an average distance of 40.2 metres. Not bad for "three-season" 245/45R19 tires with a treadwear rating of 500, which emphasize long life instead of maximum grip.
Their softer ride also enhances comfort, a noteworthy quality for the version that remains the most pragmatic choice in the Model S line-up. Especially if we can resist adding on all sorts of options.
Hunting down gas-powered prey
Behind the wheel of an ivory-white P85D, we feel as though we're controlling a great white whale that's ready to devour any mechanical creature with one stab of the gas pedal. Choose black and it becomes a killer whale. I drove one of each, with the same result.
This electric performance monster is capable of blasting from 0 to 100 km/h in 3.7 seconds and hit the quarter-mile mark from a standstill in 12.4 seconds. Or jump from 60 to 100 km/h in 2.2 seconds and from 80 to 120 km/h in 2.8 seconds. In this case, we're talking Porsche Panamera Turbo S performance for the 0-100 sprint and Dodge Charger Hellcat quarter-mile acceleration, both weighing at least 160 kg less than the Tesla.
Obviously, we'd have activated Insane mode on the control screen beforehand. That's what two electric motors that combine for 713 lb-ft of torque can do with a 2,239-kg sedan that offers a driving range of 405 km. At a more relaxed pace, of course. And the car's battery pack can be almost fully replenished in less than an hour by using one of Tesla's Supercharger stations. Yes, I've tried them several times.
With big optional 21-inch alloy wheels wrapped in Michelin Pilot Sport tires, the P85D offers a surprising level of agility and burns up twisty roads with impeccable precision and stability. This proudly American sedan has nothing to be ashamed of compared to the best European sedans.
Driving feel is actually pretty similar to those rivals, with an ultra-solid body, a ride that's just firm enough as well as precise and tight steering. All this is made possible by a strong aluminum chassis, a low centre of gravity and remarkable tuning. Hat tip to Tesla Motors' engineers.
In addition, its stickier tires bring stopping distances down to 36.5 metres during the usual half-dozen 100-0 km/h braking tests. A performance similar to what a Porsche Cayman GTS can achieve.
A whole new world
The Model S' cockpit certainly doesn't offer the opulence and the rich finish of the best German cars currently on the market, with Audi being on top. The dashboard, door panel and sill plastics are a little bland, while the leather on the seat cushion was already showing signs of wear in the very first Model S driven, which was almost new.
However, the life of a demo car isn't an easy one, which includes very few relaxed and short test rides. The new front seats in the more recent Model S builds are better sculpted, more comfortable and the leather used is suppler, thicker and more attractive.
Whichever version we choose, driving a Tesla Model S for the first time is both fascinating and disconcerting. Whether it's the handles that magically emerge from the doors as we approach with the intelligent key in our pocket, or the immense control screen that's lodged in the centre of the dashboard, the Tesla decidedly belongs in a new automotive era.
It's up to you to understand it, decipher it and get used to it, which isn't all that easy when we're driving in heavy traffic. It's best to get familiar with the basic controls and systems before heading out in near-total silence.
After a while, we appreciate the amazing capability of the navigation system that fully exploits Google's resources. Or the air suspension that automatically increases ground clearance as we arrive at a steep driveway entrance, because we asked to do it the day before at the exact same location.
Soon after, we won't live without the powerful regenerative braking system, which allows one-pedal driving while we're recuperating kinetic energy.
And not too long afterwards, the other cars on the road all seem prehistoric with their noisy engines that don't all shut off at red lights. And yet, this is just the beginning, as we didn't even scratch the surface in regards to automatic piloting and autonomous driving.
Marc Lachapelle's test drive
More on the subject
Share on Facebook