Up Close and Personal with the 2014 Jaguar F-Type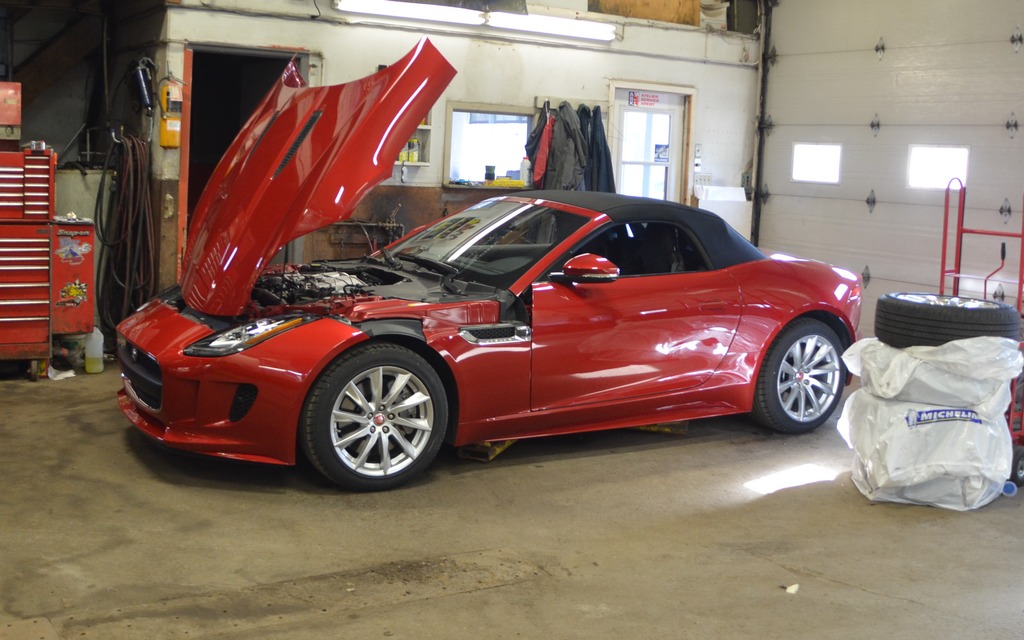 If there's one car out there that really turns heads these days, it's undoubtedly the Jaguar F-Type. A worthy successor to the equally superb E-Type unveiled in 1961, the F-Type comes in coupe and roadster versions. Jaguar entrusted us with the roadster for the purposes of this article.
There are two available engines, and our F-Type (okay, okay, so it wasn't really ours) was equipped with the base engine, a 3.0-litre supercharged V6 that produces 340 horsepower at 6,500 rpm and 332 lbs.-ft. of torque between 3,500 and 5,000 rpm. The performance isn't exactly mind-blowing, but its acceleration is impressive just the same. A more powerful version of this same engine exists too, producing 380 horsepower and 339 lbs.-ft. of torque. Finally, the V8 S features 495 horsepower and 460 lbs.-ft. of torque.
We were extremely excited to see what makes such a beautiful car tick, so we enlisted the help of our friend Ghyslain Lavallée of Garage Roch Lavallée et Fils on Yvon Street in Granby, Québec.
Once the car was up on the lift, the first thing we noticed was the extensive use of aluminum, both on the chassis and for the suspension components. The massive front and rear suspension is so well made that you'd think they were made by a goldsmith rather than an engineer. Rumour has it that that an AWD F-Type is going to arrive very soon, but the front suspension doesn't seem to have been designed to receive an all-wheel drive system. Perhaps when the car was being developed AWD was not in the plans and this possibility was explored only later.
With one or two exceptions, there are no Ford (FoMoCo) parts – proof positive that the alliance between the two manufacturers is history. But Ford sells parts to various companies and it is possible that Tata, the owner of Jaguar and Land Rover, just may be among them.
Not surprisingly, some elements were very sophisticated while others seemed rather low-end, such as the hydraulic steering without electric assistance and the single piston front and rear brakes (although the discs are a good size).
To learn more about the F-Type, consult our photo gallery.
Share on Facebook