2014 Audi A7: The Best of Three Worlds?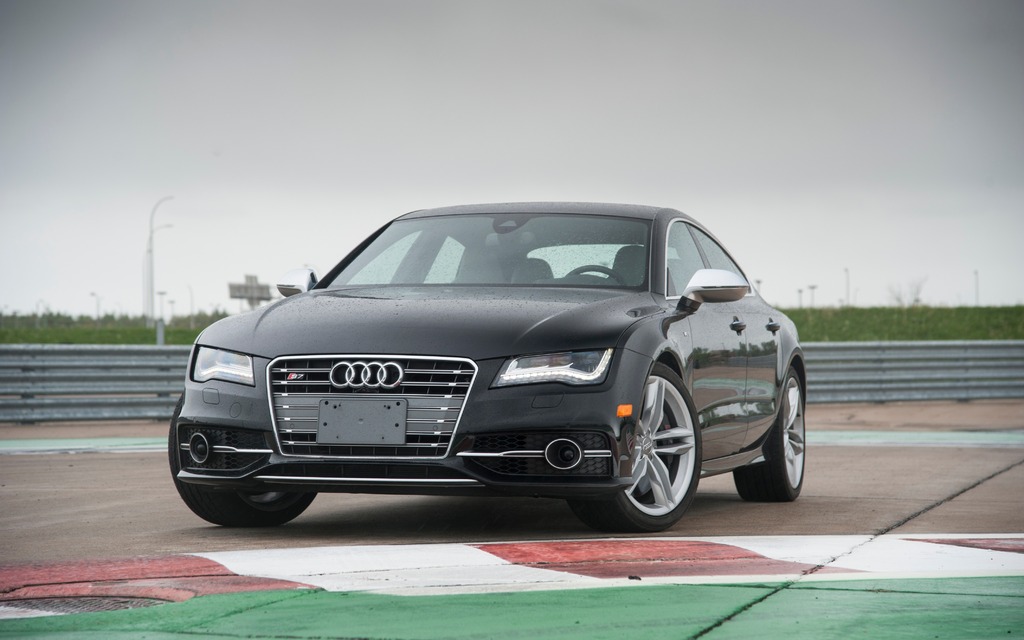 Strong points

Seductive silhouette
Luxurious interior
Abundant safety features
Very quiet ride

Weak points

Somewhat limited rear passenger space
No diesel engine option
Premium fuel required
Some options are costly
Full report
An ideal garage would include an SUV for family outings, a luxury car for comfort, and a sporty coupe for fun. Unfortunately, not everyone has the room or can afford a stable full of cars, and most of the time compromises must be to try and satisfy all of those requirements with just one purchase.
In 2012 Audi added a new model to its line-up, and it was a sleek addition in a relatively new class of vehicle that the German company called a five-door coupe. Essentially, the A7 Sportback was a full-size luxury sedan with a sporty penchant—and a hatchback. The benefit of the design, according to Audi, is that the A7 could offer the character of a coupe, the comfort of a luxury sedan and the convenience of a station wagon, if not an outright SUV.
Audi struck gold on all accounts, and the result is an attractively streamlined and functional automobile that strikes a fine balance between sleek styling, engaging driving dynamics, everyday versatility and luxurious undertones.
One-size-fits-all engine
Other markets get up to six engine options, including a fuel-efficient, 3.0-litre diesel V6 that claims an average of 5.1L/100 km. Canada gets only one engine, a 3.0-litre, 310-horsepower supercharged V6. The engine is mated to an eight-speed automatic transmission and quattro all-wheel-drive.
The engine is capable of propelling the 1,890 kg A7 to 100 km/h in 5.6 seconds, and returns a reasonable average fuel consumption of 9.4L/100 km. It also has a start/stop system that reduces emissions and fuel consumption during city driving, and it is smoother in operation than BMW's system.
The engine is very smooth and quiet and the transmission is almost seamless in operation. Power output is generous and passing is effortless. The transmission has two automatic modes, Sport and Drive, and you can also shift manually via the gear shifter or optional steering wheel paddles. Drive mode works fine, providing smooth, well-spaced gear changes, though downshifts when passing seem a bit lazy.
Luxuriously versatile
Although it is more streamlined than the BMW 5 Series GT and is closer in profile to the Mercedes-Benz CLS, the Audi's fifth door adds a measure of practicality, especially when the rear seats are folded down, which gives access to 1,390 litres of storage capacity. With the rear seats up, there's still a respectable 535 litres of storage space available in the trunk, 15 litres more than the CLS.
Of course, there's a new five-door coupe in town, produced by Audi's nemesis in Germany: the 2014 BMW 3 Series Gran Turismo. Introduced this year, the 3 Series GT equals the CLS in trunk space at 520 litres, however it trumps both the Mercedes and the Audi with the rear seats down, capable of swallowing 1,600 litres worth of tents, sleeping bags, gym bags or whatever else you want to carry.
Grab a seat inside the A7, however, and it surrounds you in a lavish interior. You can choose from a couple of wood trims to add warmth to the interior, or you can settle for brushed aluminum if you prefer a more technical feel. Passenger space is generous in the front seats; in the rear, however, the sloping roof limits headroom for adults that approach 1.8 metres in height. The A7 normally seats four, but if you feel you need to squeeze another person in the rear you'll have to pay an additional $350 to add a centre seat, headrest and extra seat belt for a third rear passenger.
Materials, fit and finish are beyond reproach and the cockpit is among the most inviting in the industry. Controls are within easy reach and nothing you touch feels less than elegant. Infotainment upgrades include a 1,400-watt, 19-speaker Bang & Olufsen sound system that will set you back $6,500, but if you're a true audiophile, you'll appreciate the unmatched sound quality.
Distinguished road manners and safety
The A7 body is a type of hybrid design that is comprised of steel and aluminum components that reduce weight. Aluminum parts include the hood, front fenders, door skins and rear hatch, as well as a couple of structural frame parts. The chassis is rigid and contributes to a quiet, rattle-free ride. On the road, exterior noise is very well insulated from the interior, providing a near Zen-like environment.
Audi's electric power steering allows variable power-assist levels, controlled via computer, to either assist the driver when taking evasive manoeuvres, or to provide the appropriate feel for the driving task at hand, like driving along a highway or taking a sporty drive on twisty roads. Steering is not as taut as in a 5 Series BMW, but it provides engaging feedback that makes you feel connected to the road, unlike some other electric systems that feel vague and detached.
Suspension compliance is exemplary and allows the A7 to glide over bumps with almost unwavering poise. The car is equipped with the latest generation quattro AWD, which features a crown-gear centre differential and torque vectoring that combine to distribute engine torque between the four wheels to either enhance steering, improve traction, or both, which will be great a bonus during winter.
Available driver-assist systems include adaptive cruise control, active lane assist, side assist blind-spot monitor, night vision assist and a very convenient heads-up display.
Has Audi proven the concept that a sedan can also meet the needs of a busy family? Well, an SUV will better meet their criteria, but if you're willing to give up some interior space in exchange for high luxury and composed road manners, the A7 is the car for you.
Share on Facebook