2014 Audi RS7: A Sportback for the Power Hungry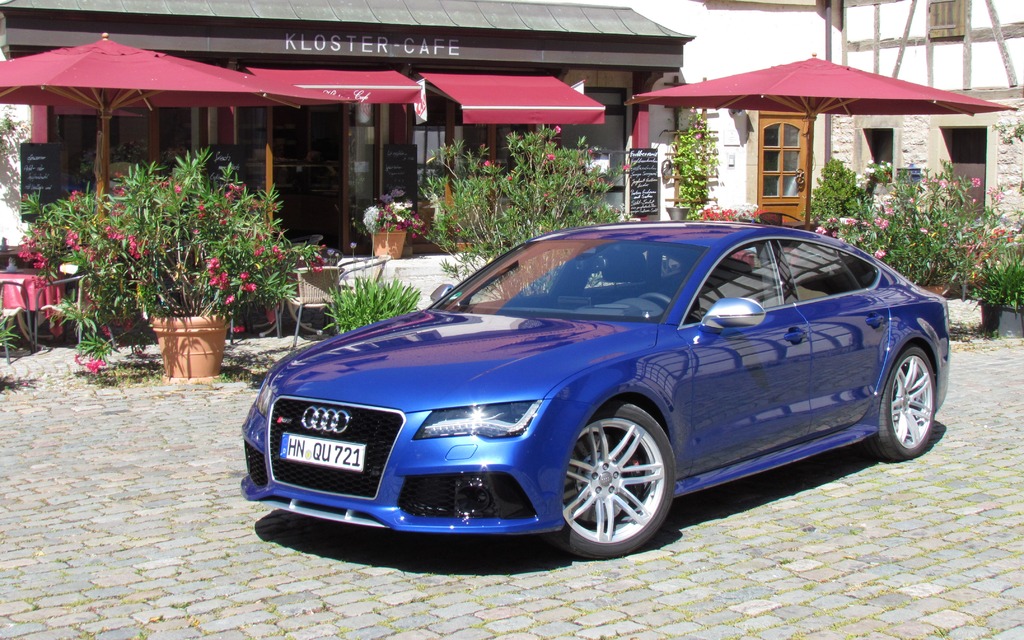 When Audi revamped the A6 sedan in 2012, the company also introduced the A7 Sportback, a model they dubbed a five-door coupe. What Audi designers did, in fact, was add a rear hatch and additional storage space to the A6 platform. The resulting long, arcing roofline gave the A7 an unusual yet very attractive profile, while increasing the usefulness of the full-sized sedan without compromising interior comfort or road manners. Initially available with a 300-horsepower supercharged V6, the A7 didn't really need more power but it got it anyway when the S7 was introduced in 2013, powered by a 420-horsepower, 4.0-litre twin-turbo V8.
Surely you'd think that the S7 would satisfy the appetite of power-hungry drivers, but apparently there are luxury car owners out there with a genuine addiction to horsepower. For those drivers afflicted with this nearly perverted need for speed, Audi has introduced yet another variation based on the A7 platform, the 2014 RS7.
Coming to Canada in late October of this year and as of yet without a fixed price tag (German pricing starts at €113,000 and we're told it will start around $125,000 in Canada), this latest Sportback is powered by a 4.0-litre, twin-turbo V8 tuned to produce an astounding 560 horsepower and 516 lb.-ft. of torque. The engine uses a design first used by Audi in the S8 and subsequently in the S6 and S7, where the intake tracts are on the outside of the V, the exhaust system is within the V, and the two twin-scroll turbochargers are located atop the engine. This layout provides a very short path from the exhaust ports to the turbochargers, which nearly eliminates turbo lag. BMW uses a similar design in the M5 sedan and M6 Gran Coupé. In the RS7 the turbos compress the intake air to 17.4 psi.
A true sleeper
The RS7 begins life in Audi's main assembly line at the Neckarsulm plant in Germany, but before it is completed it is transferred to a smaller RS production facility. There, a handful of assembly workers fit some final mechanical components, as well as the RS7's unique front and rear bumpers, which are then adjusted for fit by hand.
Externally there are only a few styling touches that hint something unusual is going on under the hood, including bumpers with large air intakes, a gloss black honeycomb grille, flared side sills and discreet RS7 badges. The RS7 also has 20-inch wheels as standard equipment, with 21-inch wheels optional. Fortunately designers didn't use its high output as an excuse to make the RS7 look loud or garish and it looks as elegant as the original A7. Park the RS7 in your driveway and your neighbours will never know it can rip from 0 to 100 km/h in just 3.9 seconds, 0.8 seconds quicker than the S7 and 0.3 seconds quicker than the BMW M6 Gran Coupé.
That performance comes at a very reasonable expense in fuel economy, as the RS7 is claimed to consume just 9.8L/100 km (New European Driving Cycle) of premium fuel, a number that is partially achieved by using Audi's cylinder-on-demand feature that cuts four cylinders when cruising at steady speeds, as well as a start-stop function.
Behind the… Whee!
Inside, a flat-bottom steering wheel immediately distinguishes this as an RS model, as does a central display between the gauges that can be configured to show boost pressure, and incorporates a shift light to assist you when you shift gears manually (and you'll need it!).
Push the throttle to the carpet on the RS7 and it will sink you deep into the seats for as long as you stay on the gas. One advantage the RS7 has on the BMW M6 GC and Mercedes-Benz CLS63 AMG, both of which are rear drivers, is all-wheel drive. Nail the throttle and there's no drama or unexpected surprises, just ferocious forward motion. Lifting your foot in Sport mode produces an intoxicating burble in what is otherwise a surprisingly — and somewhat disappointingly — quiet exhaust system.
Close transmission ratios mean you've really got to work the paddles (and watch the shift light) when accelerating wide open or you find yourself bouncing hard off the rev limiter at 7,000 RPM. This is actually a good thing because it means that when you're in manual mode it remains in manual mode and doesn't shift gears for you if you're inattentive—so you should pay attention. If do you have a short attention span and use the RS7's immense power, then you'd be wiser to leave the eight-speed tiptronic transmission in Sport mode and let the car do the shifting for you. The RS7 is available only with quattro all-wheel drive with a 40/60, front to rear bias that can transfer up to 70 percent of the power to the front wheels and 85 percent to the rear as required. A sport differential is optional.
Variable-effort electric power steering is speed sensitive and is unnecessarily light at very low speed, but it firms up nicely as speed increases. Steering response isn't as engaging as, say an M5, but the RS7 is more of a luxury car than a track car and a fine compromise in steering effort has been achieved nonetheless.
Audi's adaptive air suspension is specially tuned for the RS and the car sits 20 mm lower than the A7. It's adjustable via three preset drive modes (Automatic, Comfort and Sport) and a custom mode that lets you choose steering effort, engine management and transmission parameters individually. The air suspension is firm enough to provide poised chassis control at speed and produces minimal body roll in turns, while remaining smooth enough for a luxuriously compliant ride. An optional Sport package includes a firmer suspension system with hydraulic dampers and coil springs. This adjustable system uses Dynamic Ride Control (DRC) and really plants the RS7, though it's too firm even in the softest setting to live with on a daily basis. You'll save several thousand dollars without paying a penalty in handling by retaining the standard air suspension.
Standard brakes include unique, lightweight wave style discs, a design with an undulating outer circumference that was first used on sport motorcycles. An optional carbon-fibre/ceramic brake system is also available. Both braking systems offer exceptional stopping power, though the carbon/ceramic system stops so hard it will pop your eyeballs.
Fast… and safe
Of course, Audi makes available a multitude of driver assist systems, including adaptive cruise control with a stop-and-go function that will stop the car at speeds below 30 km/h if a collision is imminent. There's also blind-spot assist, and active lane assist that keeps the car from veering out of its lane using the power steering. There's also an available night-vision assist that uses an infrared camera to detect pedestrians in the dark, as well as a parking assistant that will steer the car into a parking spot if, for some reason, you are incapable of doing so (I think if someone walks into a dealership to buy a 560-horsepower car they should be made to park the car before signing a sales contract…).
 Why would anyone want an Audi RS7? The A7 is, after all, luxurious, useful, looks great, and is relatively affordable. The S7 is a substantial step up in performance and adds adaptive air suspension for a $20,000 premium at $89,900.
The RS7 is the crème de la crème. It will be priced to go head-on with its principal competitors from BMW and Mercedes, yet it adds the practicality of all-wheel drive. The RS7 is a great looker, retains the A7/S7's splendidly quiet and composed ride quality (if you stay away from the optional DRC suspension), and it is supercar-fast. Really, if this car doesn't satisfy your craving for horsepower and luxury you should seek therapy.
Share on Facebook