2023 Lexus RZ450e: Making Up for Lost Time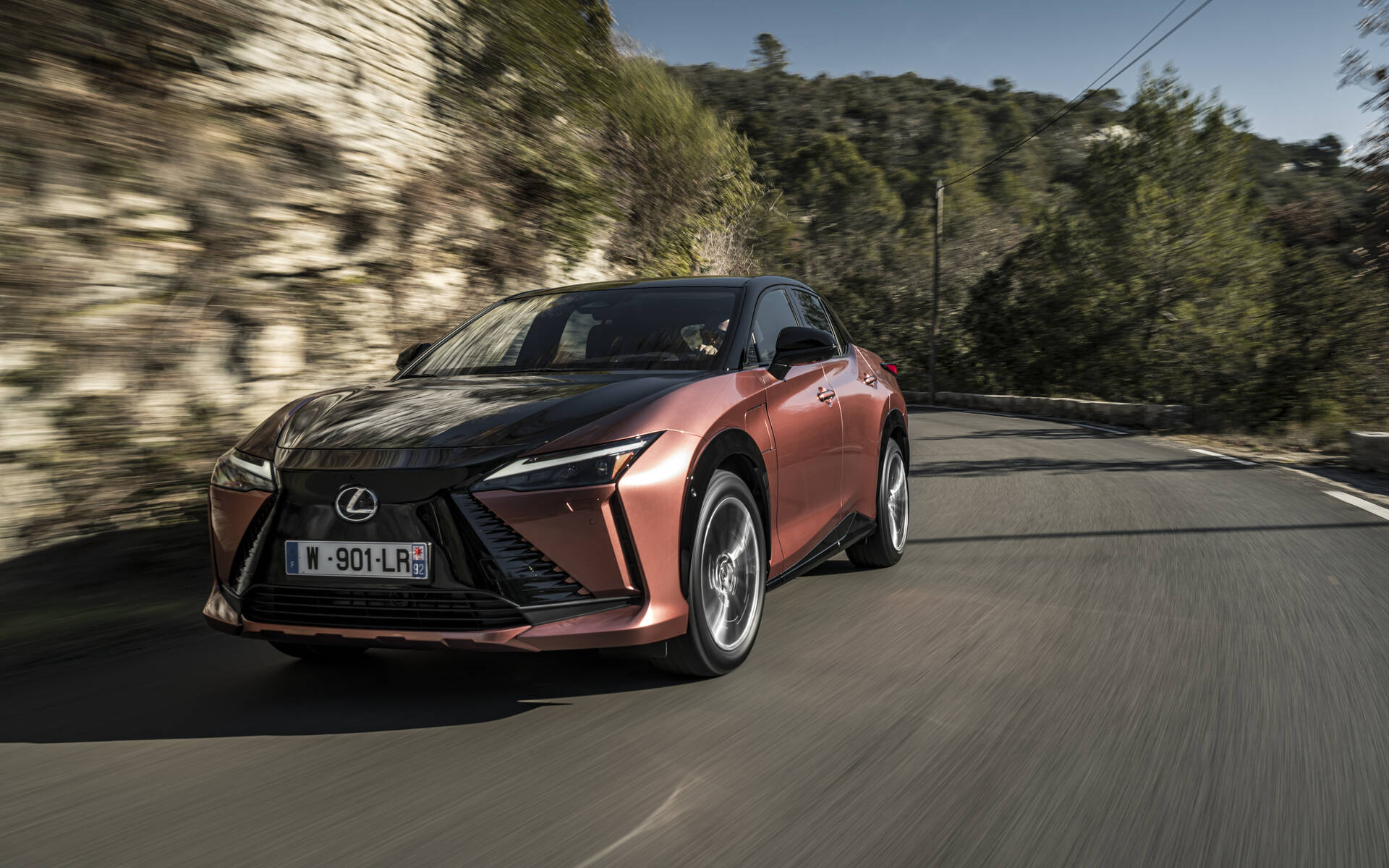 Strong points

Electronic AWD system works great
Smooth ride
Quiet interior
More powerful than bZ4X and Solterra

Weak points

Limited range
Slower charging speeds
Steer-by-wire system could be improved
Looks too much like the bZ4X and Solterra
Full report
The all-new 2023 Lexus RZ 450e is the Japanese luxury brand's first fully electric vehicle in North America and it's based on the same e-TNGA platform (electric–Toyota New Global Architecture) as the Toyota bZ4X and Subaru Solterra. These three vehicles are admittedly late to the EV party and have some catching up to do.
As far as styling is concerned, the RZ looks a lot like its cheaper cousins. The exterior dimensions are nearly identical and the wheelbase is an exact match. Lexus designers gave their electric crossover a different set of headlights, a tapered front end that features a unique interpretation of the Lexus spindle grille, plus an available two-tone body. The rest is more of the same.
That's a real shame if you ask me. Look at what the Hyundai Group has done with the Hyundai IONIQ 5, Kia EV6 and Genesis GV60. Every member of this Korean trio has its own style and identity. The Lexus RZ, meanwhile, is a cookie-cutter EV that doesn't really stand out from the Toyota and Subaru models.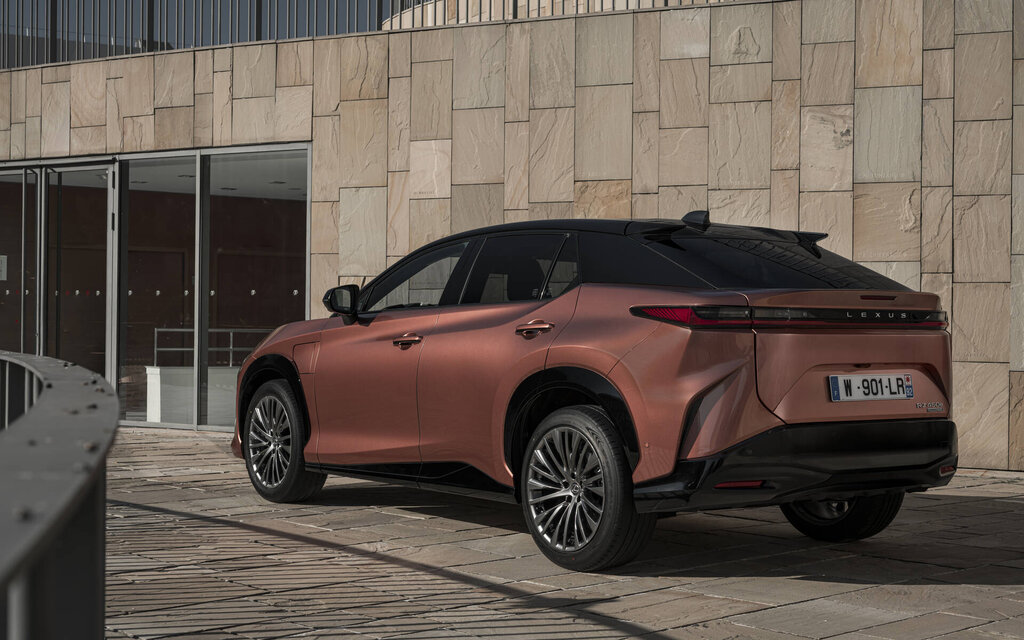 Familiar Interior
Inside, the similarities with the bZ4X and Solterra continue. Fit and finish are outstanding in typical Lexus fashion, but the cabin lacks flair. What I do love is the 14-inch touchscreen that replaces the old setup with a touchpad on the centre console. Apple CarPlay and Android Auto connectivity is included, as well. The RZ can be specified with a panoramic roof that gets darker at the push of a button (when selecting the Executive Package) so cooling the cabin requires less energy.
On colder days, the radiant heater warms up the cabin more quickly and efficiently. There's generous space in the rear thanks to the long wheelbase, while the digital rear-view mirror improves visibility even when people are sitting in the second row.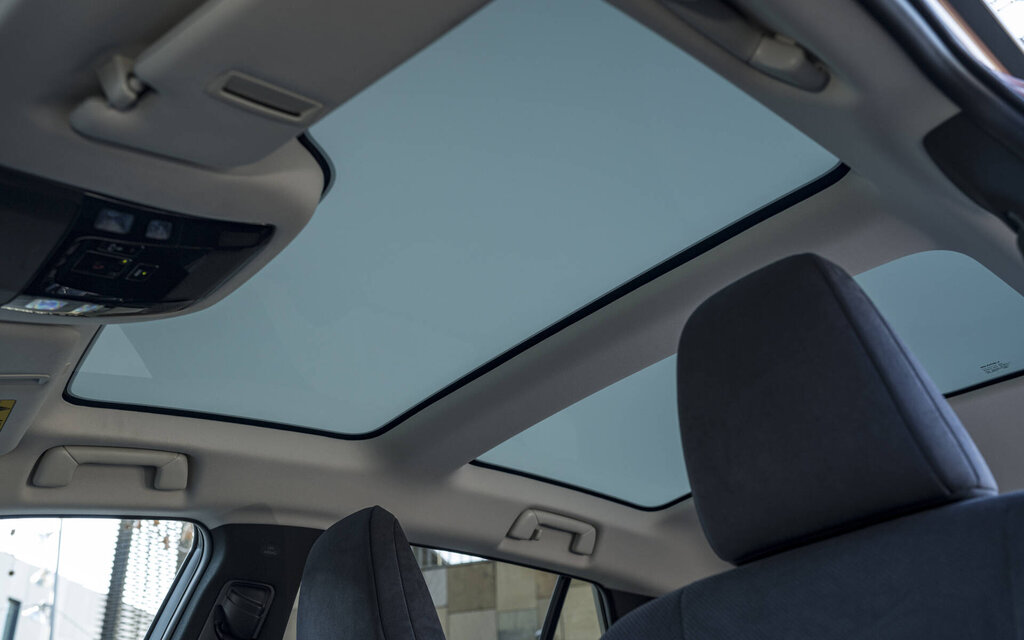 Steering Choices
The 2023 Lexus RZ comes standard with a multi-function steering wheel and conventional steering system. Optionally, customers can choose a yoke-style steering wheel without a mechanical link with the front axle. This steer-by-wire system won't be available at launch, mind you.
We got the opportunity to test both at the RZ media event. If you listen to the folks at Lexus, they'll tell you that steer-by-wire greatly reduces the driver's workload at low speeds by eliminating the need for hand-over-hand operation at intersections, U-turns, parking, winding roads and other driving situations.
The steering feel is pretty much the same that you experience with a conventional steering when driving at 100 km/h. However, turn-in becomes a bit quicker every time you lower your speed by 5 km/h. The continuously variable steering ratio means that you have to keep adjusting the angle of the steering wheel based on the speed at which you're driving.
So, while steer-by-wire may be fine when cruising or when negotiating corners at a steady velocity, steering adjustments become necessary when slowing down in a curve or in a roundabout, for example, which doesn't feel natural at all. By the way, with both steering systems, a problem with the RZ is the excessively large turning radius.
313 Horsepower and Electronic AWD
The 2023 Lexus RZ 450e combines a 150kW (201 hp) motor up front with an 80kW (107 hp) motor in the rear. Total output is rated at 313 horsepower along with 320 lb-ft. of torque, which is more than the Toyota bZ4X or Subaru Solterra delivers. Acceleration from 0-100 km/h is achieved in just 5.6 seconds. A new DIRECT4 all-wheel drive system continuously controls the drive force of the four wheels with high precision according to driving and road surface conditions. 
This electronic AWD system proves quite effective and flexible, giving the RZ remarkable balance and handling on the road. It certainly feels lighter than its curb weight of 2,070-2,095 kg suggests. DIRECT4 uses wheel vehicle speed, acceleration and steering angle sensor information to control front-to-rear drive force ratio distribution between 100:0 and 0:100.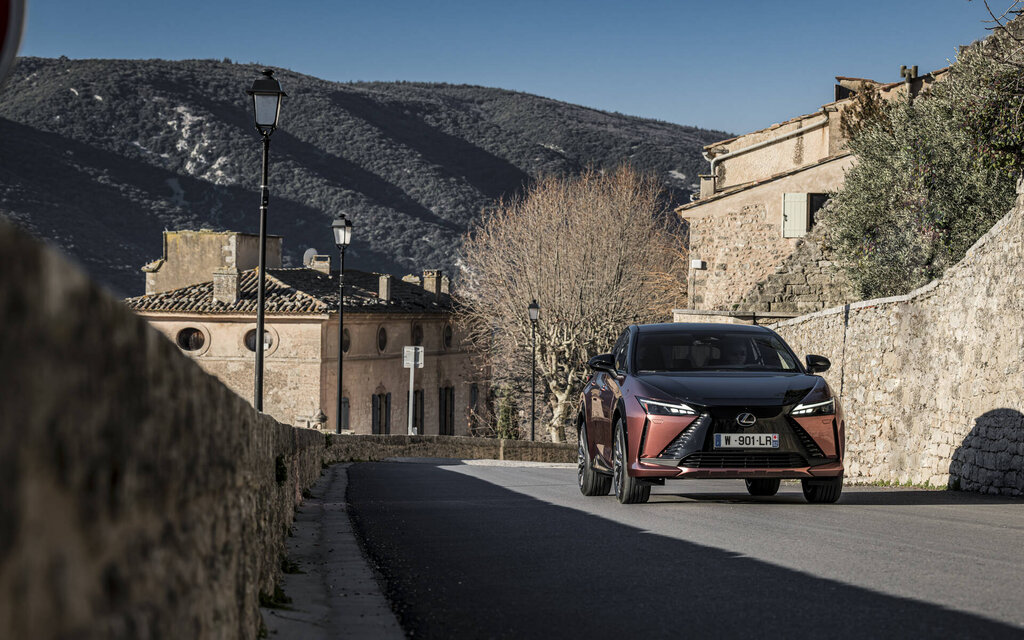 Fairly Limited Range
Don't let the 71.4kWh battery fool you: it boasts a usable capacity of 64 kWh. That, combined with the vehicle's substantial mass, results in a maximum range of 315-354 km depending on the size of the wheels (the smaller 18-inch alloys will take you farther than the available 20-inchers). Those are Natural Resources Canada's numbers, by the way.
It doesn't help that a full charge on a level-2 (240V) charger takes 9.5 hours. You can blame the small 6.6kW on-board charger for that. As for DC fast charging, Lexus claims that the RZ can go from 10-80 percent charge in 30 minutes, which is a longer time than several competitors.
How Much?
The 2023 Lexus RZ 450e can be ordered right now with three trim levels to choose from—Signature (MSRP starting at $64,960), Luxury ($73,550) and Executive ($80,950).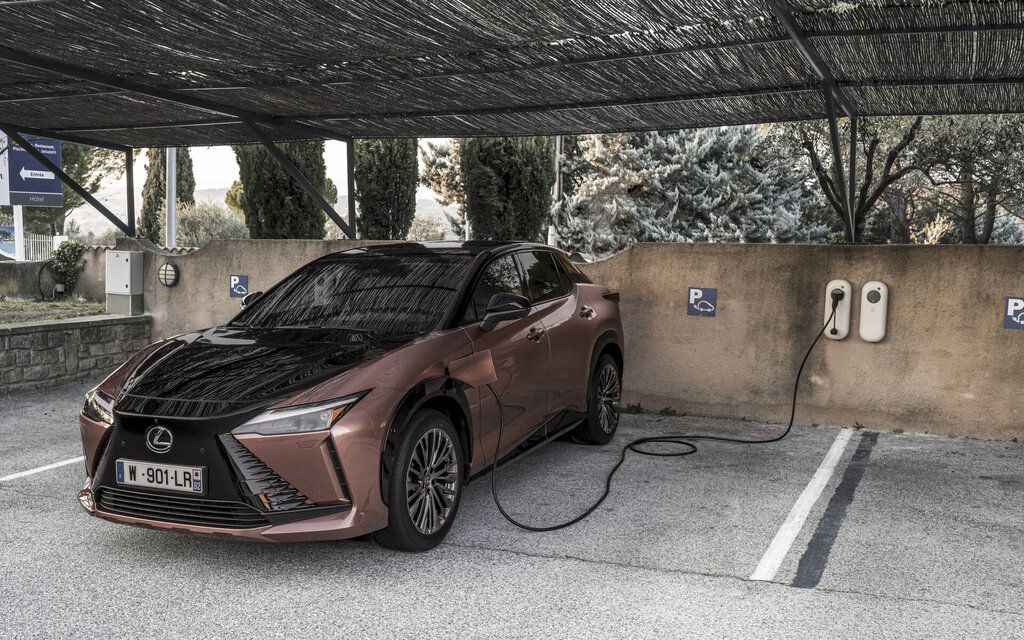 Quite frankly, I expected more from Toyota and Lexus, even though this is their first foray into the BEV segment. You would think these two hybrid technology pioneers and leaders could position themselves at the forefront of the electric revolution, but that is just not the case. In fact, they have fallen way behind.
Who would have thought five years ago that Toyota would let South Korean rival Hyundai take such a commanding lead? In short, the Lexus RZ 450e not only lacks flair, but it also fails to make a convincing case as the brand's first pure EV. Too bad.
LISTEN: Gab gives us his first impressions of the 2023 Lexus RZ
Share on Facebook