A Tool on Wheels: The 2010 Ford Transit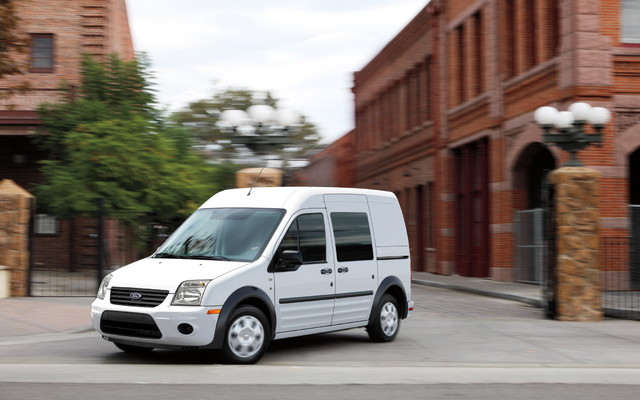 Strong points

Fuel Economy
Maneuverability
Cargo Capacity
Spaciousness
Ease of Use

Weak points

Small Mirrors
Low Front End
Price
Full report
Perhaps one of the most interesting car debuts to come out of 2010 is this: the Ford Transit Connect. Slightly smaller than Dodge's wildly successful Sprinter van, the Transit is intended to provide commercial buyers with an alternative to the ubiquitous Econoline and Savana vans that small business owners and operators have utilized for decades. And as you can tell from these photos, it's not intended to provide them with an attractive alternative.
Yes indeed, this most spacious of Fords definitely doesn't improve upon the existing offerings in the looks department. Bred for the European market, the Transit maximizes the internal space while minimizing the vehicle's footprint, and subsequently appears almost comically tall to our North American eyes. But that bizarre shape makes for an enviably useful tool. Out back, dual doors open up 180 degrees (after depressing a hinge release button at the 90 degree mark) above a low bumper. This makes loading even oversized loads incredibly easy. Although used only lightly by commercial standards during testing, it was easy to roll a pair of mountain bikes into the cavernous cargo area, and the low height made it easy to load engine components for delivery to a machine shop. On either side, large sliding doors similar to those you'd find on any minivan make access to the front of the cargo area equally easy, and are well complimented by the addition of low, wide sills inboard of the doors that make loading even heavy objects quite easy. However, out front, there's a bit of a design faux pas. While the van's front facia ensures it's never confused with anything else, the front air dam extends slightly too low, placing it in harm's way when it comes to parking. Not quite capable of mounting some curbstones, it's odd for a vehicle with such a utilitarian purpose to make such a concession to style.
Climb inside, and there appears to be a few more of these concessions to style. First off, there's the oddly car-like cabin. With a pair of cupholders between the seats, and a center console that would look at home in most base-model econoboxes, it's a shockingly comfortable place to be. The only reminder of the van's utilitarian nature is the expansive windshield looking out over a short, stubby hood. Seats capable of migrating nearly a foot in every direction coupled with a steering wheel that moves through nearly the same distance ensure that anyone will find the driver's seat comfortable for extended periods of time. But there are a few flies in the ointment. First off, there's a ridiculously small dead pedal that provides little respite on longer drives. Next, there's the relative lack of storage room for the supplies required of most commercial drivers. Sure, the cupholders are nice, but there's next to no bins for smaller things like pens, paperwork, clipboards, vehicle logs, or electronics. Furthermore, there's no standard Bluetooth connectivity or 110 volt inverters on board; both features that would be incredibly appreciated by drivers who would spend up to eight hours captaining one of these vehicles. And that's surprising, given the thought that went into making the F-150's cab a useful workspace.
But, the driving experience shows precisely how an infusion of passenger-car characteristics can come to the Transit's rescue. Once you get over the massive windshield, there's absolutely nothing surprising about the Transit's on-road manners. With a 2.0L four cylinder and a traditional automatic gearbox, it's as easy to drive as your mom's old minivan, albeit with a tighter turning circle and a quicker steering ratio. Even with relatively large blind spots, parking the Transit is as easy as pie thanks to the light and tight steering that also makes the Transit exceedingly easy to work through traffic. The powerplant provides plenty of power for the mundane tasks asked of it, and does so without consuming any more fuel than necessary. The rear windows, which are as large as Ford could possibly have made them, provide more than enough rearward vision, although the side-view mirrors are surprisingly small for a commercial vehicle and are not endowed with the almost ubiquitous (and blind-spot-killing) convex mirrors you'd expect.
And that pretty much sums up the Transit. A tool of the same ilk as a hammer, its strength lies in its endless versatility. A massive load space capable of swallowing huge loads coupled to a car-like cabin and drivetrain make it a unique vehicle for North Americans too long accustomed to the truck-based vans we've endured for decades. And while it could use a slightly more business-like interior, its car-like status did help expose one surprisingly fact about the Transit: that it's a useful thing for more than just commercial use. Although I did my best to use it as I suspected most Transit shoppers would, I was surprised by how useful I found it even when not carrying a load. As someone that's always found purpose enough to own an F-250 pickup truck, I thoroughly enjoyed having the Transit's covered load area for transporting objects around town in the constant deluge that's otherwise known as Vancouver's winter. Basically amounting to a small pickup truck with an extra tall canopy, it allowed me to carry bikes, car parts, packs, books, animals, electronics and parcels through Vancouver's inclement weather without a worry and in security, all the while consuming less than half the fuel my truck would. So, to use a relatively trite sentiment to sum up one of the most useful vehicles I've ever driven, Ford's Transit truly can be all things to all people.
Share on Facebook