2022 Honda Civic Si: A Tech-Laden Driver's Car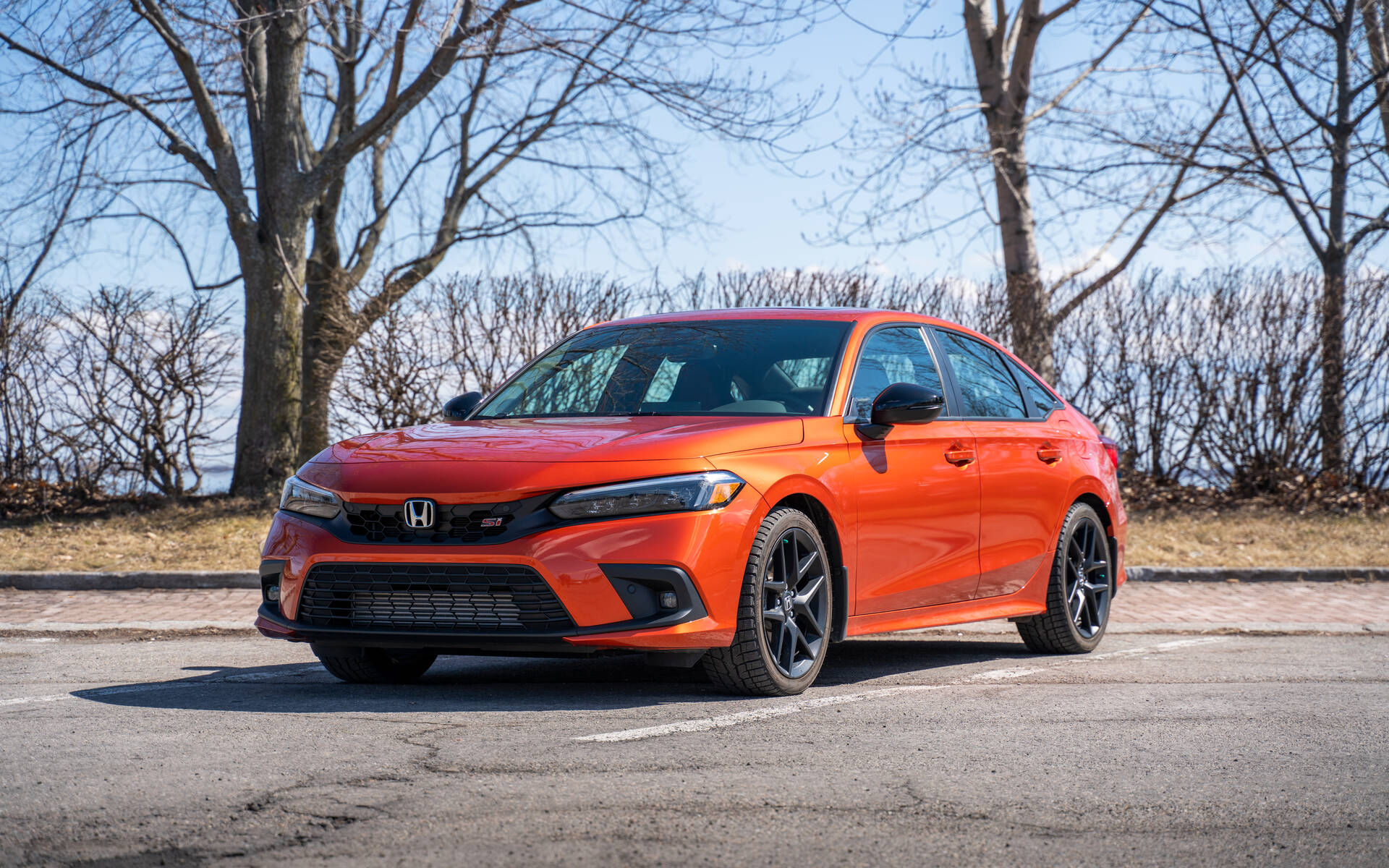 Strong points

Fun to drive
Excellent handler
Plenty of tech inside

Weak points

Limited visibility in the rear
Clutch pedal action could be improved
Infotainment system is fairly complex
Full report
The Honda Civic Si is back and completely new for 2022. Based on the eleventh-generation Civic Sedan, it boasts pretty much the same looks.
Of course, the powertrain has been revised from the previous Si, and there's a whole bunch of new gadgets, too. But is the fun factor still there? We put the car to the test for a whole week to find out.
Engaging and Rewarding
The 2022 Honda Civic Si displays true athletic skills. The sport-tuned suspension delivers exceptional handling, the winter tires on our tester notwithstanding. The 18-inch wheels result in a fairly stiff ride, but on a positive note the seats provide excellent support, though more adjustments would be appreciated.
Drivers sit in front of a 10-inch digital instrument cluster with all sorts of vehicle data including turbo boost and G-force. Visibility is good thanks to the large greenhouse, the only exception being the tight rear window. Steering, meanwhile, is beautifully firm and highly responsive.
The throttle and clutch pedals could use a bit more resistance and progressiveness, respectively. The latter bites only past the halfway point of its stroke, though it still proves easy to use overall.
As for the six-speed manual gearbox, the throws are 10 percent shorter now and the shift knob is made of aluminum, resulting in improved shift feel. Oh, and there's a downshift rev-matching function that can be useful out on a track. If you don't want any part of it, just turn it off via the infotainment system.
Less Powerful, But…
Similar to its predecessor, the new Civic Si features a turbocharged 1.5-litre four-cylinder VTEC engine. While torque is unchanged at 192 pound-feet, output is down from 205 horsepower to 200 horsepower. Performance, however, has not taken a hit.
Why? Because peak torque now arrives 300 rpm sooner (accessible from 1,800-5,000 rpm), and the engine maintains more output between 6,000 rpm and its 6,500 rpm redline.
Power delivery under acceleration is linear, meaning there's no drop in power regardless of engine speed. Expect to achieve 0-100 km/h sprints in about seven seconds.
As for fuel consumption, Natural Resources Canada rates the 2022 Honda Civic Si at a combined 7.7 L/100 km. The computer in our tester somehow read 6.6 L/100 km despite our repeated efforts to push the engine, and we have a hard time believing in that number.
Plenty of Tech Inside
Starting at $33,750 plus $1,700 freight and PDI, the latest Civic Si comes with a host of in-car technologies. At the top of the list is a nine-inch touchscreen with Apple CarPlay and Android Auto compatibility. The system looks sharp, for sure, but the multiple menus require some getting used to.
Wireless smartphone charging is available along with a potent 12-speaker Bose stereo. Safety is enhanced with the Honda Sensing suite of advanced driver assistance features including automatic emergency braking, lane keeping assist and road sign detection.
These electronic nannies generally work pretty well, ensuring fluid motions and keeping the car in the centre of its lane even when road markings start to fade, but they also have their limitations. Once, the car failed to react when another vehicle suddenly stepped right in front of us.
What else? Well, auto start-stop is included, and drivers have a choice of three different modes—Normal, Sport, Individual. The last one makes it possible to separately adjust engine response, steering effort and instrument panel display colour parameters for a customized driving experience.
Our Verdict
Ultimately, the new 2022 Honda Civic Si puts up a good fight in a segment that also includes the Volkswagen Jetta GLI, Mazda3 Turbo, Hyundai Elantra N Line and Subaru WRX. While a bit short on power and torque, this Japanese compact sedan delivers fun handling and surprising performance.
Share on Facebook