2022 Jeep
Grand Cherokee

4xe: A Light Shade of Green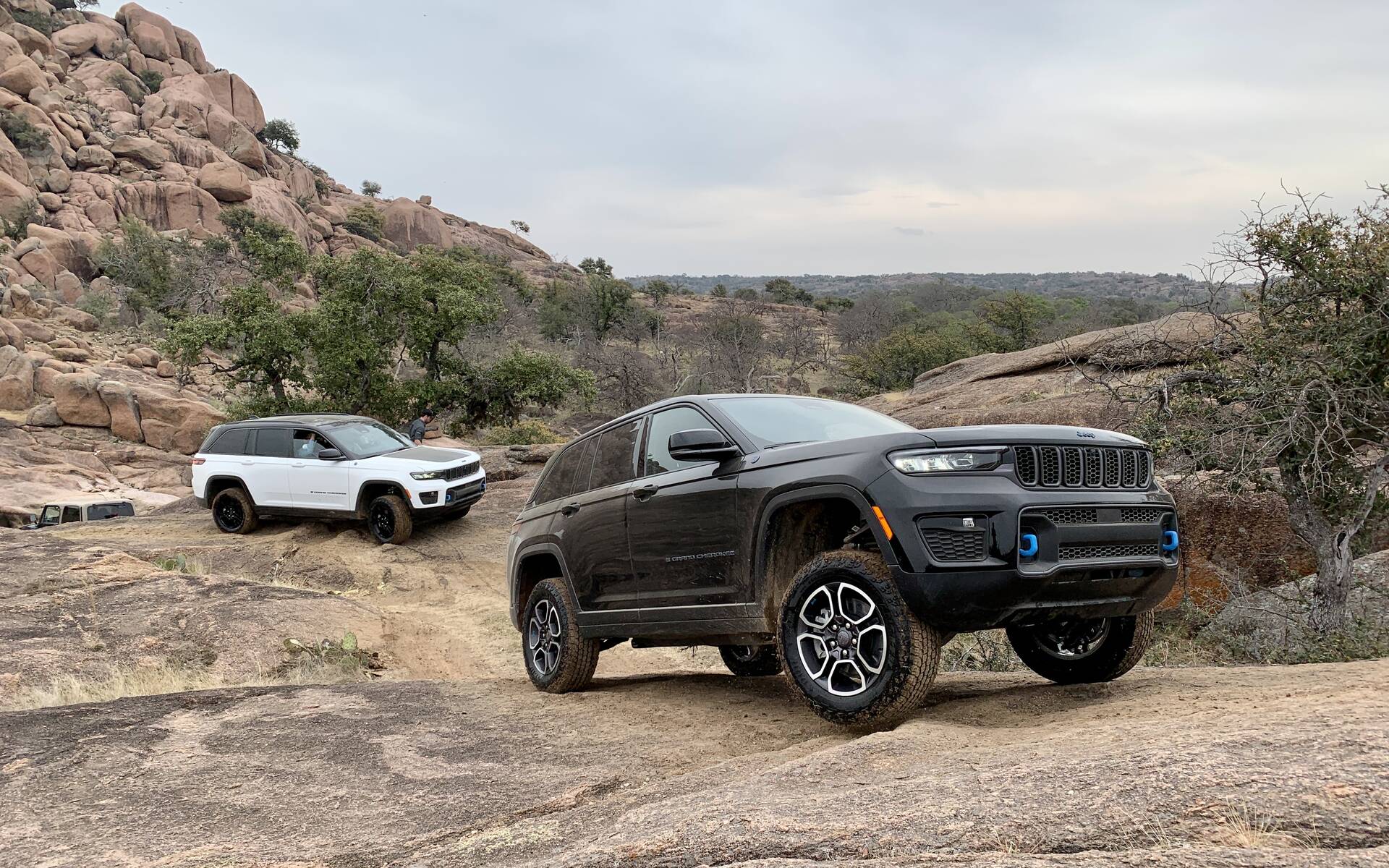 Strong points

Excellent 4x4 system
Outstanding comfort
Superbly finished interior
Sharp looks

Weak points

Shockingly expensive
Short EV range
Passenger-side display is useless
Full report
Following the Jeep Wrangler last year, it's now the brand new 2022 Jeep Grand Cherokee's turn to add a 4xe plug-in hybrid variant.
We recently headed to Austin, Texas to see what it's all about and give you our first driving impressions.
Familiar Tech
For starters, the Grand Cherokee 4xe features the same powertrain as the Wrangler 4xe, namely a turbocharged 2.0-litre four-cylinder engine mated to a pair of electric motors and a 17kWh battery. It generates a combined 375 horsepower and 470 pound-feet of torque.
That's more than the 3.6-litre Pentastar V6 (295 hp, 260 lb-ft.) and the 5.7-litre HEMI V8 (360 hp, 390 lb-ft.), by the way. The result is amazingly quick acceleration, and on top of that the transition from EV to hybrid operation is more seamless than with the Wrangler 4xe.
Speaking of EV operation, the new Grand Cherokee 4xe can travel up to 40 kilometres on battery power alone in ideal conditions. Given the beautiful weather down in Texas, we did manage to cover that distance without using the gasoline engine. However, Canadian drivers should expect significantly shorter range in winter.
A lot of Wrangler 4xe owners have complained that they can't enjoy EV-only driving in the colder months. Since the technology is the same here, it's safe to assume that will be the case with the Grand Cherokee 4xe, too.
At the end of our test drive, which included plenty of open road and little off-roading, the vehicle returned an average of 11.5 L/100 km. The official rating by Natural Resources Canada is 10 L/100 km, which we find overly optimistic.
In case you're wondering, the 4xe system is not available with the three-row Grand Cherokee L. At the media event, the folks at Jeep refused to say whether that will change in the near future.
Sharp Looks
Similar to the Wrangler 4xe, the Grand Cherokee's plug-in hybrid variant is rather subtle, like it doesn't want people to know there's anything special about it.
There are some cosmetic differences with the gas-powered models, though. For example, the available tow hooks are painted in Electric Blue, and the same colour is applied around the badges. The charging port is located on the left front fender.
Jeep is moving upmarket by increasing the level of refinement and luxury of its SUVs. The idea is to make more money off of each unit, but obviously you can't sell a Jeep at $90,000 with an interior that looks and feels closer to a Grand Caravan. Designers worked hard to create a superbly finished and appointed cabin, especially on higher grades.
Material selection and build quality are impressive. And for those who love technology, there's a 10-inch digital instrument cluster in front of the driver, a complex yet still user-friendly Uconnect infotainment display in the middle, and a third display on the passenger side which we found to be quite useless due to less than ideal placement and disappointing graphics.
As for the rear seats and cargo area, they both remain very accommodating.
Off-Road Prowess
As you all know, Jeep SUVs owe their reputation to excellent 4x4 systems enabling terrific off-road capability. The company took us to an absolutely amazing location to seriously test the Grand Cherokee 4xe's potential.
Our tester featured the Quadra-Trac II 4x4 system with two-speed transfer and Quadra-Lift air suspension. Except for a Jeep Wrangler, Ford Bronco or Toyota 4Runner, and possibly a few Land Rovers, we can't imagine another SUV being able to tackle the same off-road course we went through. It's just remarkable to see how effortlessly the Grand Cherokee can get out of a tricky situation.
Expensive and Exclusive
As mentioned earlier, Jeep is more of a luxury brand now, and this comes at a time when new vehicle inventories are quite a problem. If you've leased a heavily discounted Grand Cherokee back in 2018, you're in for quite the sticker shock. Pricing is way up, and those rebates we used to have? They're gone now.
The 2022 Jeep Grand Cherokee 4xe retails from just over $77,000—about the same amount of money you'd spend for a near top-line Grand Cherokee Summit. A fully loaded Grand Cherokee 4xe Summit Reserve will cost you more than $91,000. And that's before you start to add options and accessories. It goes without saying that no EV incentives from the government apply here.
Another problem for customers is availability. Without giving specific numbers, the Jeep representatives in Texas told us production of 4xe models is limited. And naturally, the more expensive units will be built first. Those are scheduled to start arriving in dealerships this spring.
Watch: 2022 Jeep Grand Cherokee is All New
Share on Facebook