2020 Hyundai Sonata: Awesome… Just Like the Others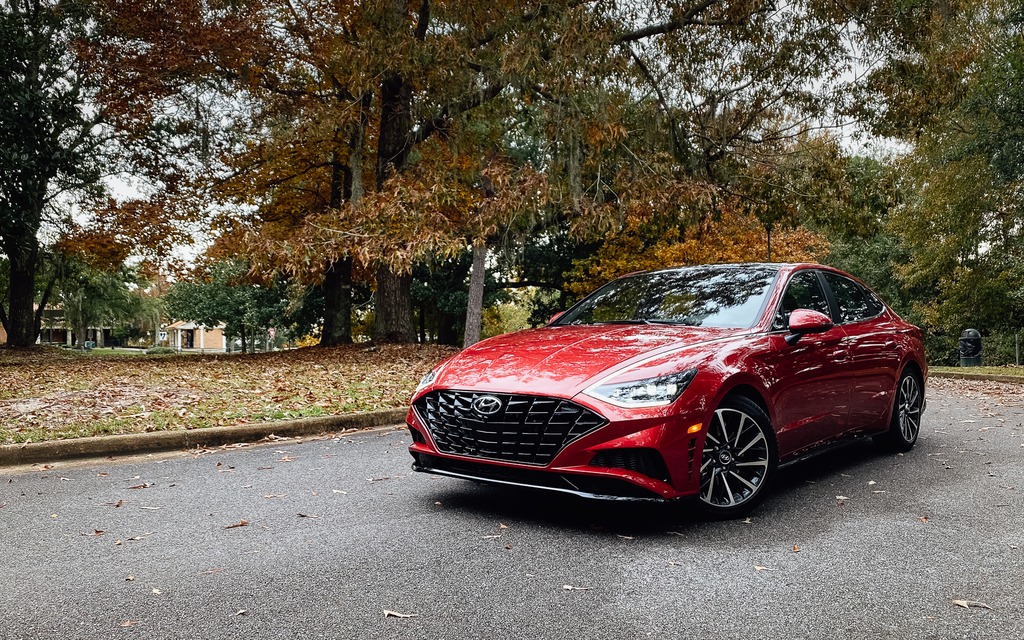 Strong points

Gorgeous front-end styling and profile
Remarkable driver assistance package
Dynamic drive (1.6T)
Good fuel economy (1.6T)

Weak points

Rear seats lack padding
Turbo engine lacks gusto at higher revs
No AWD option in the works
No plug-in hybrid variant
Full report
Hyundai recently invited us to its assembly plant in Alabama, where the Sonata, Elantra and Santa Fe are all built, not to mention the future Santa Cruz pickup. We were introduced to the completely redesigned 2020 Sonata, a finalist for the North American Car of the Year award along with the Chevrolet Corvette and Toyota GR Supra.
The goal was to show how much Hyundai is investing in the production of this next-gen model to elevate quality to a supreme level. And don't think midsize sedans are dead: in Canada they represent the sixth most popular market segment thanks to big names like the Toyota Camry and Honda Accord.
Hyundai says it wants to solidify its enviable position while stealing customers from its two Japanese rivals. Will it succeed?
Sensuous Sportiness
These two words didn't come out of my brain. It's Hyundai's way of calling the design language for the new Sonata, which also features a "Dynamic Lasso" starting from the headlights and wrapping the entire car.
You can make fun of this marketing play all you want, the bottom line is that the Sonata looks sharp. The curious thing, though, is that the front and rear sections don't seem to belong to the same vehicle. Did Hyundai try to do too much? Maybe. One thing is for sure: the nose is magnificent.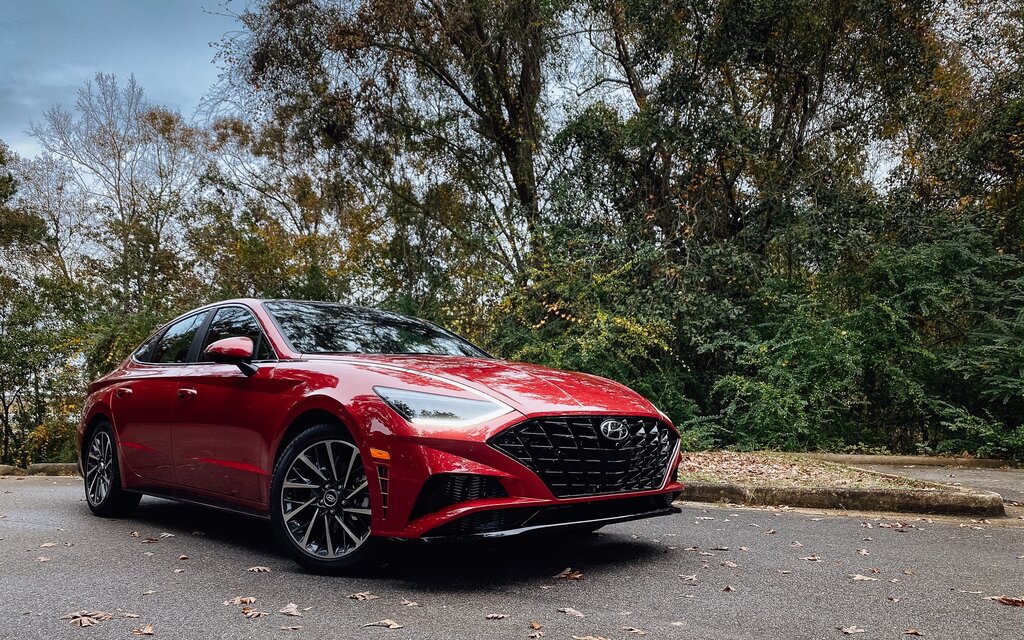 Thanks to a longer wheelbase than the previous generation, the 2020 Sonata now resembles a four-door coupe. That was done on purpose: designers wanted to create a sporty car that still proves spacious and convenient.
Inside, smooth, flowing lines convey a sense of relaxation that's perfect for covering long distances effortlessly. There's not much to say about the human-machine interface except that it incorporates Hyundai's best infotainment system yet, though not the most intuitive at first. Of course, Apple CarPlay and Android Auto compatibility is part of the package and easy to use.
Like most midsize sedans, the new Sonata is roomy and can comfortably accommodate four large adults. Another highlight of the cabin is the class-exclusive 12-speaker Bose sound system that offers pre-recorded mixes like Open-air Café or Warm Fireplace to energize or soothe occupants. That's what I call innovation.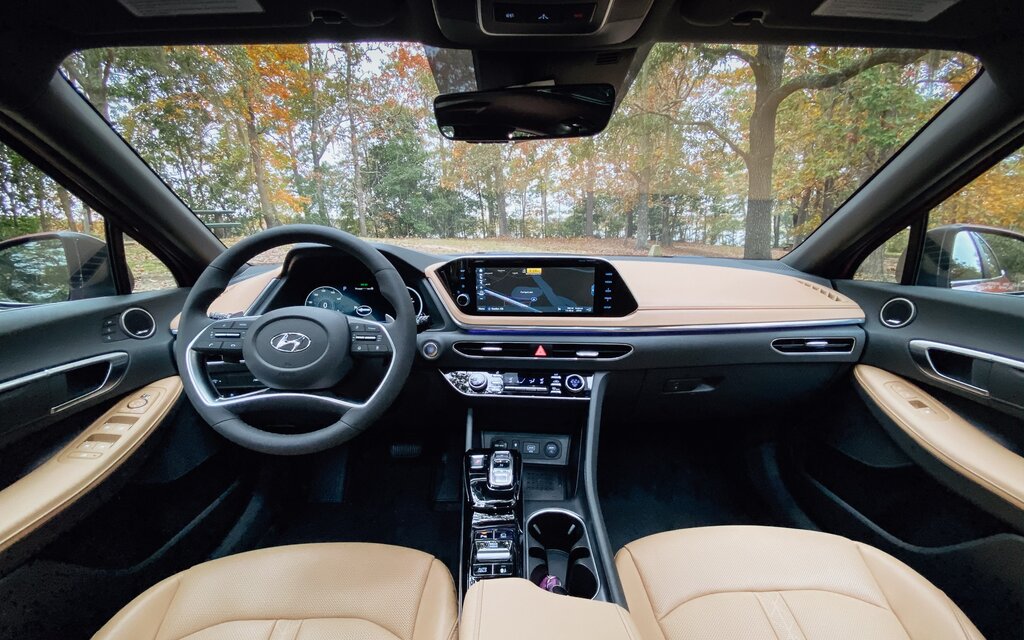 Two Engines… but Soon Four
While automakers now tend to reduce the number of powertrains available with each and every model in their lineups, Hyundai is planning to offer four different options with the 2020 Sonata.
Currently, only two can be had. The first is a naturally aspirated 2.5-litre four-cylinder engine that produces 191 horsepower and 181 pound-feet of torque (the Camry's 2.5L generates 203 horsepower). The other is a new turbocharged 1.6-litre mill rated at 180 horsepower and 195 pound-feet of torque, the latter coming alive at just 1,500 rpm and staying strong until 4,000 rpm. We found that it lacks gusto at higher revs, however.
Both are mated to an eight-speed automatic transmission sending power to the front wheels. Hyundai claims the Sonata platform could eventually support all-wheel drive, but that's not part of the plan at the moment. Apparently, customers in this segment don't really care about AWD, according to the company.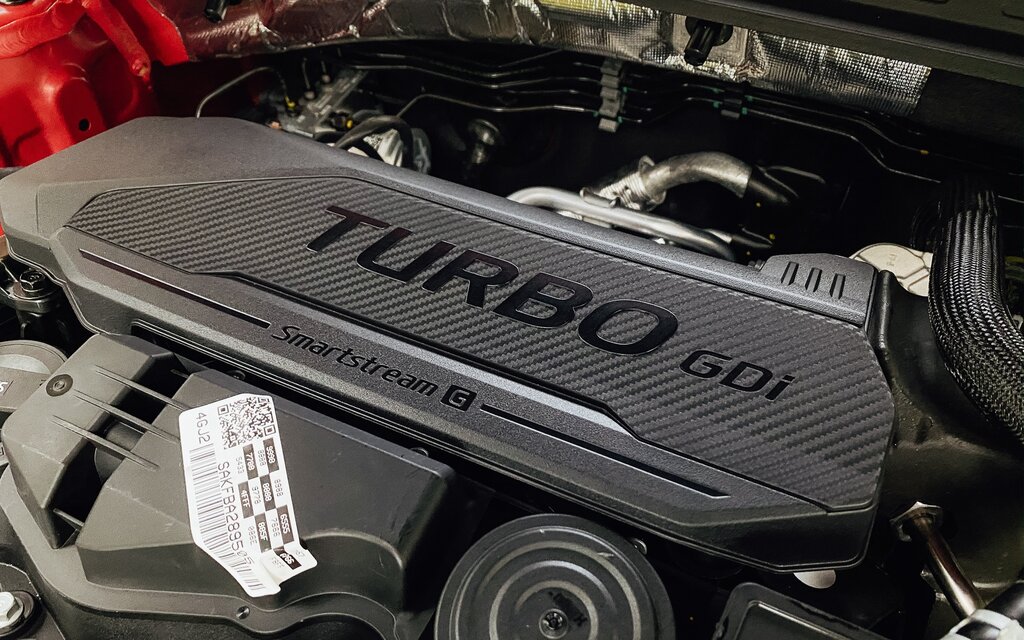 A bit further down the line, a new Sonata Hybrid will surface, though details remain vague. There will also be a sporty N variant that's expected to deliver more than 275 horsepower—not enough to catch the Camry's 301-horsepower V6.
Superb Handling
Lower, wider and blessed with a longer wheelbase than its predecessor, the 2020 Hyundai Sonata talks the talk and walks the walk as far as the drive is concerned. It will comfortably get you to your destination, and should you decide to spice things up, it's more than happy to oblige. Despite being heavily assisted, steering remains precise.
On rough pavement, however, the Sonata struggles to keep vibrations and harshness away from passengers, which might not be a good sign for drivers in Canada. Is the wheel size, tire selection or suspension calibration to blame? All bets are off!
The most pleasant thing about this car is arguably the drive modes—more specifically Smart mode. When activated, the Sonata will detect your driving style and adjust throttle response, shift points and steering feedback accordingly. Every manufacturer should offer this option.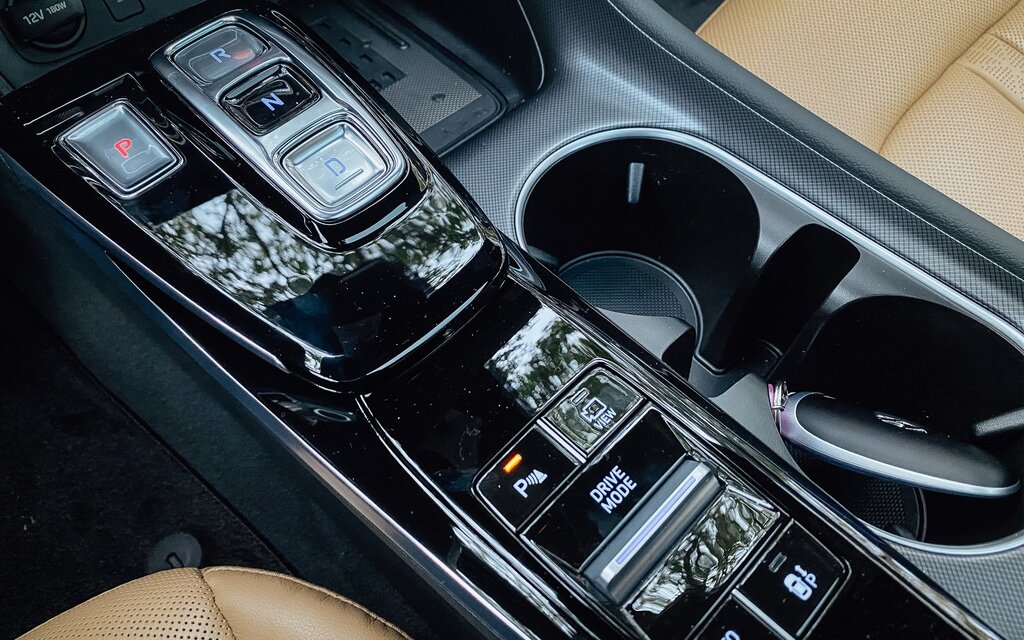 The available driver assistance systems also deserve praise. On a nice, straight line the Sonata drives all by itself. When the road gets twisty, only a few interventions are required. For a car that's not even hailed as autonomous, this is very impressive.
Everybody Wins
Our 500-kilometre test drive of the 2020 Hyundai Sonata was mostly spent on long highways with a few twists here and there. It proved compliant and efficient, with the turbo engine averaging 7.7 L/100 km at the end of the day.
The problem is that all the midsize sedans on the market right now are equally good. If you want to convince Camry and Accord buyers to switch their allegiance, you really have to come up with something special.
The new Sonata does stand out with remote parking assist (just press a button on the keyfob and it will smartly pull out of a tight parking space), those aforementioned ambient sound mixes and remarkable semi-autonomous driving capability. We'll have to wait and see if that's enough to rise to the top of the class.
Share on Facebook