2019 Audi A7 Sportback: Style and Poise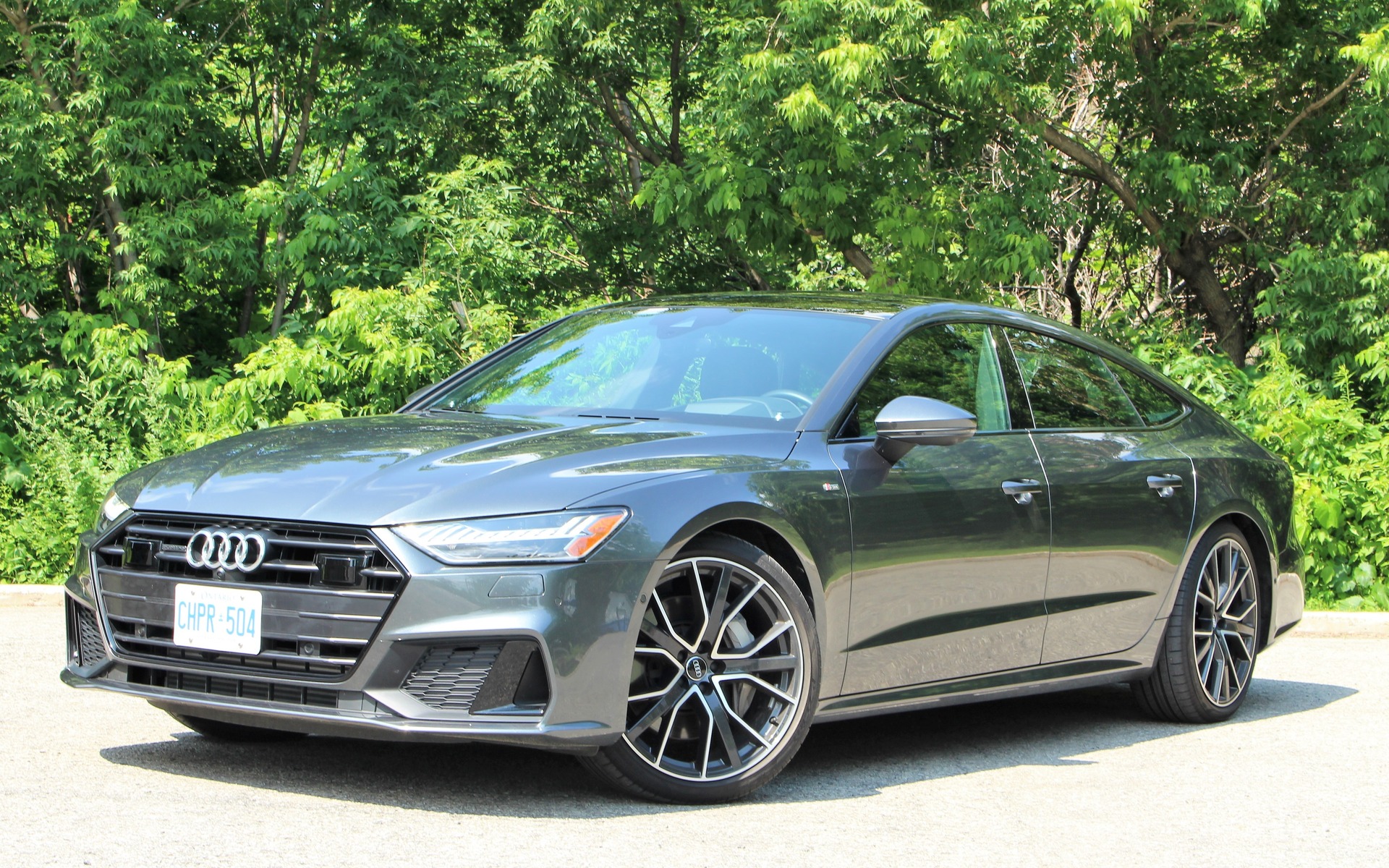 Strong points

Smooth powertrain
Supreme interior fit and finish
Hatchback practicality

Weak points

Pricey option packages
Distracting infotainment system
Clumsy shift lever
Full report
The first-generation Audi A7 made its mark by boasting a timeless design and will likely be regarded as one of the most beautiful cars ever produced by the German brand. And yet, function wasn't sacrificed for form, as the A7 remained practical for the daily grind, even more so than the A6 that shares its platform and powertrains.
Introduced for the 2019 model year, the second-generation A7 is just as seductive, but since we've gotten used to its shape, it isn't as stunning as its predecessor. This low-slung, five-door sedan—or what we call a fastback—nevertheless draws stares wherever it goes, despite its grey paint job. Actually, besides the Tango Red and Navarra Blue hues, this Audi has a very neutral colour palette, but that's likely what most customers want.
The 2019 Audi A7 Sportback offers one powertrain option in Canada—for now. The 55 TFSI quattro trim is equipped with a turbocharged, 3.0-litre V6 matched to a 48-volt mild hybrid system. It's good for 335 horsepower as well as 369 pound-feet of torque that peaks from 1,370 to 4,500 rpm.
A dual-clutch, seven-speed automatic transmission is included as is all-wheel drive. The latter—called quattro ultra—is a reactive system that favours the front wheels in normal driving conditions, but when slippage occurs, it can send available torque to the rear wheels in a matter of milliseconds. According to Audi, no difference is felt regarding traction and handling compared to the "regular" full-time quattro system, but fuel consumption is reduced.
The hybrid system doesn't offer a temporary power increase like Mercedes-Benz's EQ Boost setup, but will shut off the gasoline engine when the car is coasting at higher speeds. The A7 boasts city/highway ratings of 10.7/8.2 L/100 km, and we averaged 9.6 L/100 km during our week-long test, on par with what we observed in a Mercedes-Benz CLS 450 we recently tested. Since we're naming competitors of the A7, there's also the BMW 640i xDrive Gran Turismo, but it will be pulled from the Canadian market after the 2019 model year.
Audi claims a 0-100 km/h time of 5.3 seconds, which is quick enough. Otherwise, we can wait for the 2020 Audi S7 and its 444-horsepower, twin-turbo V6 engine, good for 0-100 blasts of 4.5 seconds. Also on the way is a plug-in hybrid version of the Audi A7, although its on-sale date isn't set in stone yet.
What the 2019 Audi A7 lacks in sound and character, it makes up for in smoothness and refinement. This car is extremely quiet, the V6 engine emitting only a hushed growl when we mash the throttle. Our tester was also equipped with the optional air suspension that offers various firmness settings, while the available rear-wheel steering system enhances the car's agility at high speeds while making it slightly easier to park at the shopping mall. Are they essential features? Nah, but what's an extra $100 a month on our company's expense account, really?
The A7's interior is just as modern and sophisticated as the exterior, with a tasteful amount of satin and silver trim, elegant wood veneers as well as impeccable finish quality. However, the piano black trim will get dusty pretty quickly. The fully digital driver instrument panel comes standard, as are two large touchscreens on the centre stack. The top one displays navigation and audio info, while the bottom one serves mainly as the climate control interface. They look good, but they're a little distracting to use while driving and their glossy finish washes out in direct sunlight.
What doesn't work well is the spring-loaded shift lever, which always forces us to make sure we're really in drive or reverse because lifting our foot off the brake pedal. It's modern, but counterintuitive. The optional Individual Contour Seat Package doesn't come cheap at $3,600, but to get truly comfortable in the 14-way power-adjustable front seats with massaging function, that's the price to pay.
Obviously, the 2019 Audi A7's advantage over the A6 sedan and the Mercedes-Benz CLS is trunk space. Folding the rear seatbacks down yields a volume of 1,390 litres, which is as much as in a subcompact SUV. On the other hand, the A7 Sportback retails from $78,000 before freight and delivery charges, which is a full ten grand more than a base A6 equipped with the same powertrain. With options, our 55 TFSI quattro Technik test car creeped over the $100K mark. Ouch.
In its defense, the A7's competitors aren't any cheaper, and we get a luxury car that blends style, performance, handling and utter comfort in a versatile package. It just needs a little more character, but that minor problem can be solved by choosing the upcoming Audi S7 instead—or an eventual redesigned RS 7.
Share on Facebook