2017 Lexus CT 200h: Economical Luxury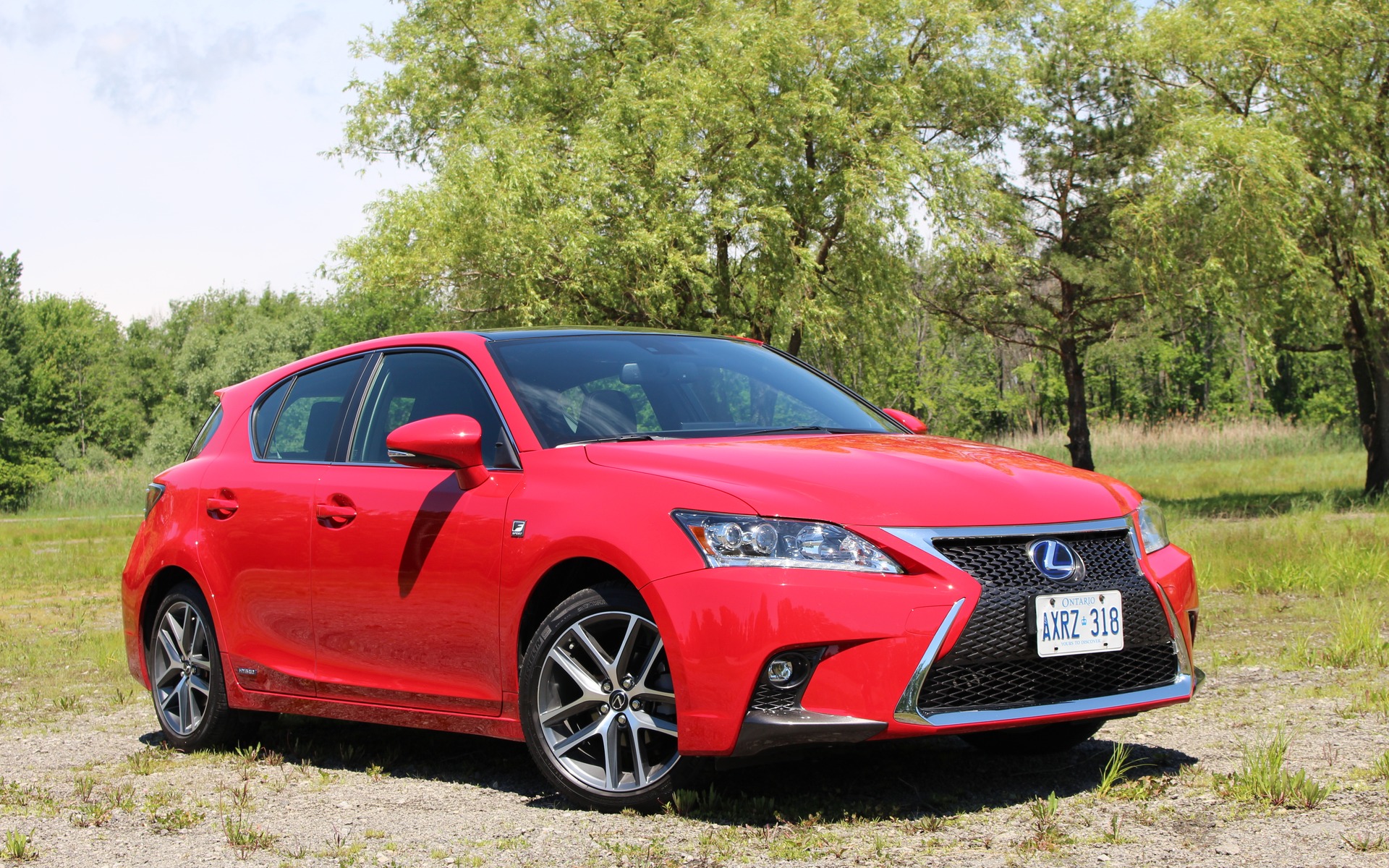 Strong points

Very fuel efficient
Exemplary interior finish
Comfortable seats

Weak points

Tight cockpit
Infotainment system menus could be easier to use
Lacklustre straight-line performance
Full report
Since 2011, the CT plays the role of the most affordable model in Lexus' lineup, but it's also the smallest and the most fuel efficient. As a matter of fact, only one version is available in Canada, with four option packages, and it relies on a hybrid powertrain. More precisely, the previous-generation Toyota Prius' powertrain.
We could quickly dismiss the 2017 Lexus CT 200h as being a boring or bland car to drive, but it's actually not the case. The luxury brand succeeded in giving the car a little character—not much, but a little—while the F SPORT packages add some visual flair.
Obviously, its exterior design can't hide its age, as the CT doesn't flaunt Lexus' latest styling signature. A spindle grille was grafted to the nose of the car a few years ago, but the slimmer headlight clusters and arrow-shaped daytime running lights that we can admire on the Lexus IS as well as on the Lexus NX and Lexus RX crossovers haven't been duplicated here.
The dimensions of the 2017 Lexus CT 200h are similar to those of compact-sized cars. However, once we climb aboard, we quickly realise that interior space is precious, like that of a subcompact car. Especially in back, where passengers will fight for legroom and shoulder room. As a family vehicle, if the kids are still young, the CT can fill the bill, but if we're talking about teenagers here, there are likely more suitable choices on the market.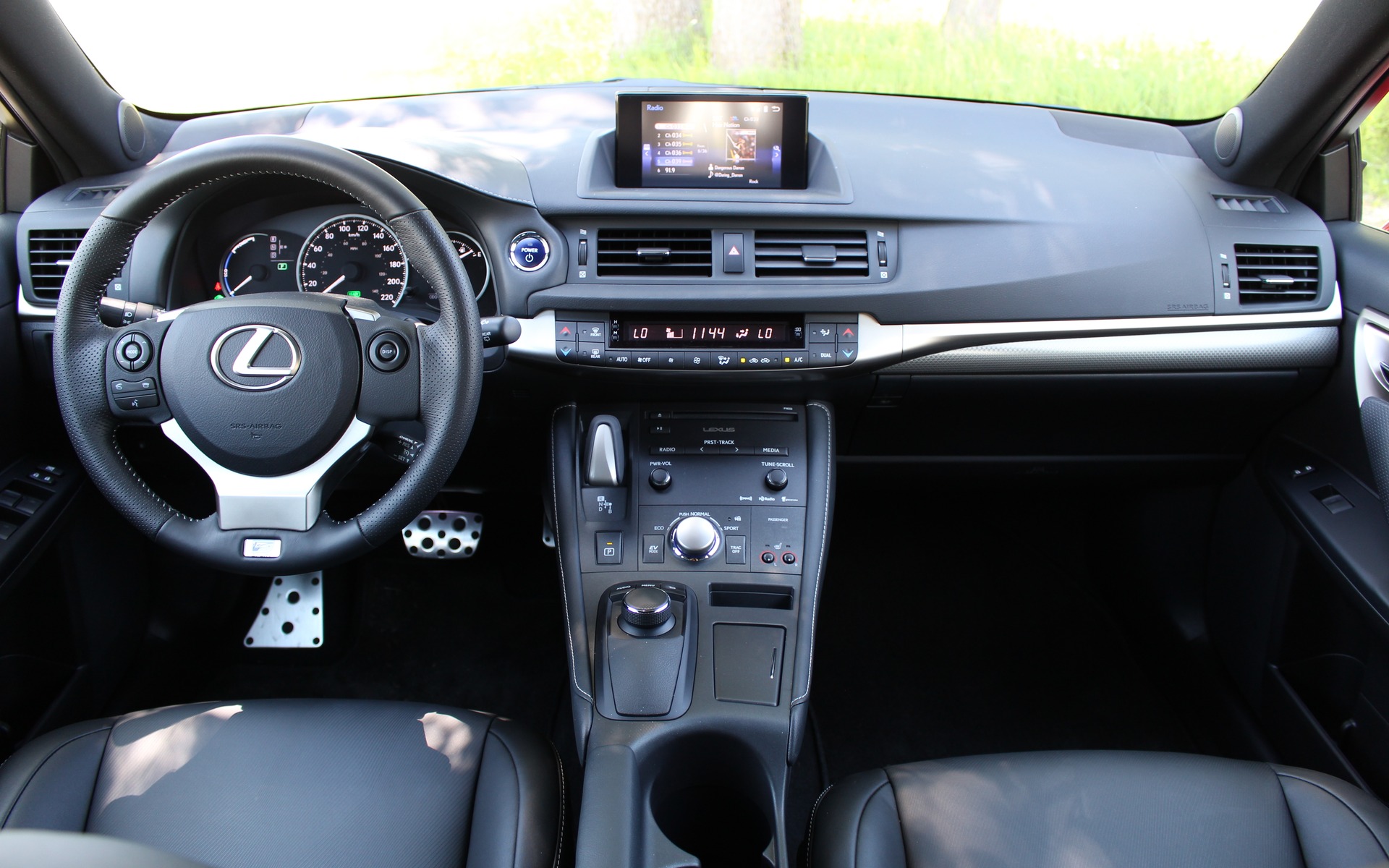 With a volume of 405 litres, or 985 with the rear seatbacks folded, the cargo area isn't the roomiest either compared to most compact hatchbacks. At least the load floor is flat. The lack of space is also felt up front, especially in regards to storage points. A slot seemingly designed for holding a smartphone on the centre console can still accommodate my iPhone SE, but the size of almost every other modern phone will no longer fit. If we want to plug a USB key in and listen to music, it will have to be really small, or else we'll be stuck leaving its compartment lid open, right in the middle of the centre console. Lexus couldn't find a more convenient location?
On the other hand, the 2017 Lexus CT 200h's cockpit finish and assembly are beyond reproach, and as is the norm with the brand's products, the seats are truly comfortable. Le infotainment system's multifunction rotary dial is easy to use while driving, unlike the touchpad interface in more recent Lexus models. It's too bad that the company is looking to complicate its controls instead of simplifying them, but at least the CT kept its "vintage" control knob.
By opting for the F SPORT Series 1 or F SPORT Series 2 packages, we get a grippy steering wheel wrapped in perforated leather, alloy pedals and door sill plates. And let's not forget the exterior add-ons such as a more aggressive front fascia, a rear spoiler and LED headlights, as well as snazzy 17-inch alloy wheels.
It's true that straight-line performance is far from breathtaking, but the car's handling is quite good, undoubtedly aided by the firmer F SPORT dampers. The Atkinson-cycle, 1.8-litre four-cylinder engine joins hands with the electric motor for a combined output of 134 horsepower, managed by an electronically controlled, continuously variable automatic transmission that sends the modest cavalry to the front wheels. The engine's soundtrack also won't trigger any goosebumps, but at least noise is filtered from the cockpit than in the previous-gen Prius. Or the new Prius, for that matter. The Sport mode sharpens the powertrain's reflexes, and we generally feel like we're going faster than we actually are. That can be a good thing.
The EV mode allows driving without using the gas engine, but like in every other Toyota or Lexus hybrid vehicle, it can only be activated at speeds below about 45 km/h, and will drain the battery pack after a kilometre, maybe two.
We might as well just drive the 2017 Lexus CT 200h like a normal hybrid, and with a little elbow grease, we can obtain a fuel economy average of less than 6.0 L/100 km. We actually achieved an excellent result of 4.8 L/100 km during our summer test.
The CT 200h retails for $32,900 before freight and delivery charges. Our test car was equipped with the F SPORT Series 1 package, giving it an MSRP of $38,500. The Touring and F SPORT Series 2 packages are obviously more expensive, but they only add navigation, leather upholstery and a few other minor items.
We end up with a luxurious and solid little car that benefits from an excellent reputation for reliability. Checking the classifieds for a pre-owned CT, we also realise that it holds its value very well, too. However, all good things must come to an end, as they say, and production of the Lexus CT 200h will end after the 2017 model year, with no replacement in sight. It's now time to shop for this sympathetic and relatively affordable hybrid Lexus before it's gone.
Share on Facebook