2018 Lexus LC 500h at AJAC EcoRun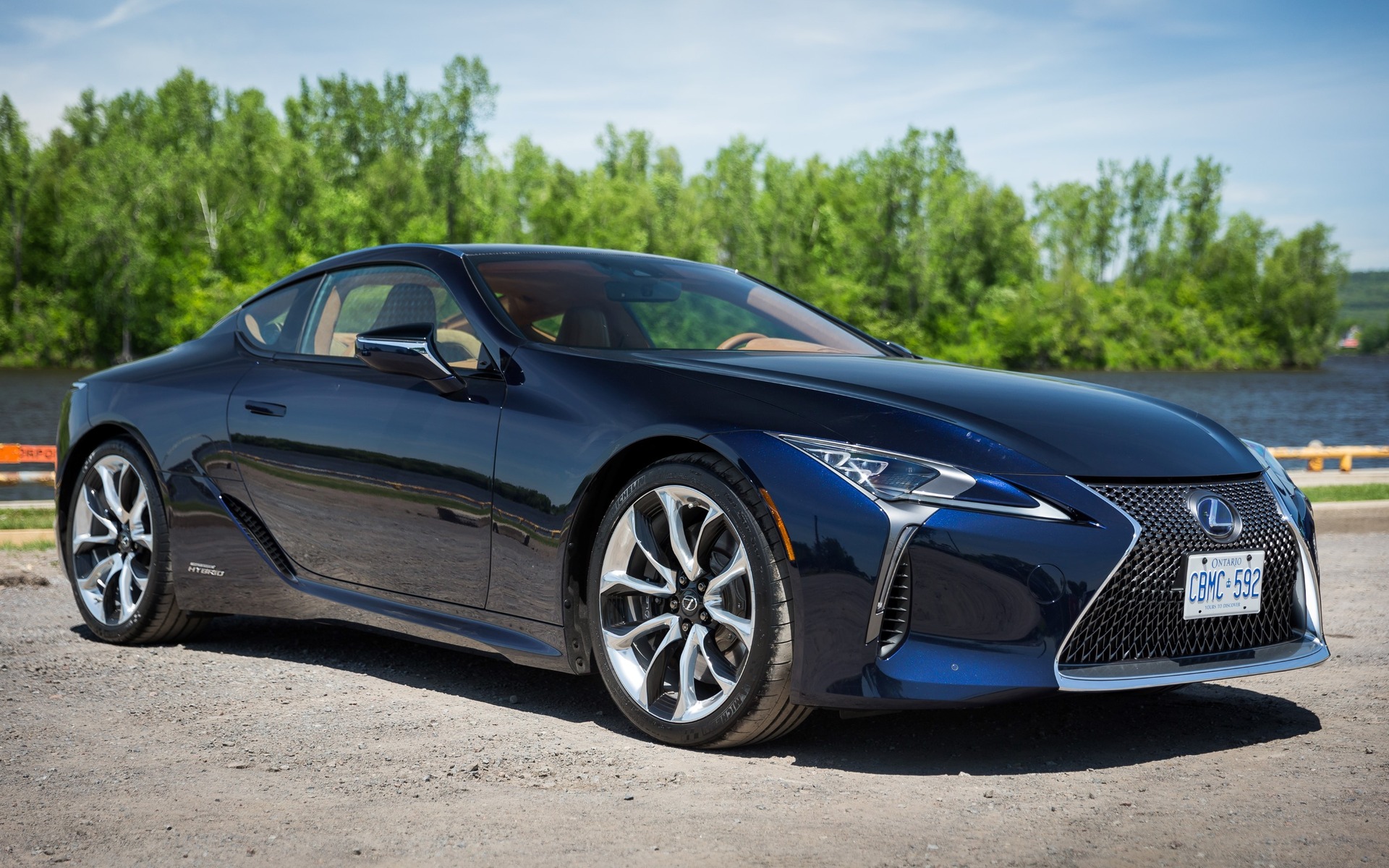 Every year during EcoRun, an eco-driving event organised by the Automobile Journalists Association of Canada, we end up with a somewhat eclectic group of vehicles. Aside from small hybrid and electric cars, over the years, pickup trucks, convertibles and high-end luxury sedans also participated in the event.
For the 2017 edition, Lexus decided to sign up its latest hybrid model, and it's not just any hybrid. The 2018 Lexus LC 500h is a luxurious grand touring coupe that wears an $118,750 price tag, freight and delivery charges not included.
The LC 500 is equipped with a 5.0-litre V8 engine that develops 471 horsepower and 398 pound-feet of torque. However, the LC 500h gets a hybrid powertrain that consists of a 3.5-litre V6, two electric motors and a multi-stage, continuously variable automatic transmission. In a nutshell, the latter simulates the feel of a 10-speed automatic gearbox. Combined output is rated at 354 horsepower, sent to the rear wheels.
Although it isn't as quick as its non-hybrid sister, the LC 500h nonetheless provides an interesting level of performance. Tipping the scale at 4435 pounds (2012 kilograms) doesn't help, but the automaker does promise a 0-to-96 km/h (0-60 mph) dash of 4.7 seconds.
During EcoRun, it got to drive the LC 500h, on a short trip, but one that allowed me to realise how well this car is refined, solid and comfortable. The beige cockpit of our tester, with its exquisite mix of leather and Alcantara, blends perfectly with the elegant design. The hybrid version includes the Performance Package—a $13,500 option on the regular LC 500—that rounds up a carbon fibre roof, sport seats, four-wheel active steering, a limited-slip rear differential, 21-inch wheels and an active rear spoiler.
In short, a grand touring coupe that serves up an exceptional level of comfort, at least for front-seat occupants. The rear seats are symbolic, with little to no legroom and limited headroom. The car's trunk is also quite small, rated at 130 litres (or 172 in the non-hybrid LC).
In Sport+ mode, the powertrain's meatier sound can be heard. However, it's more of a simulated growl like many automakers have been incorporating into their vehicles during the last few years.
Whatever. By opting for the hybrid version, we benefit from much greater fuel economy than with the V8-powered LC 500 coupe. As a matter of fact, Lexus estimates the city/highway ratings of the LC 500h at 8.9/7.0 L/100 km, for a combined average of 8.0. As for the LC 500, it gets a combined rating of 12.2 L/100 km.
My ride aboard the LC 500h was mainly limited to the highway between Saint-Jovite and Sainte-Adèle. By maintaining a cruising speed between 90 and 100 km/h, I managed an average of 7.0 L/100 km. At the conclusion of the two days of driving during EcoRun, the Lexus consumed super unleaded at an overall rate of 7.0 L/100 km, a litre less than its combined city/highway rating. That's pretty good for a full-size luxury car with more than 350 hp under the hood.
See also:
2017 Chevrolet Cruze diesel at AJAC EcoRun
2017 Hyundai Ioniq Hybrid at AJAC EcoRun
2017 Mazda MX-5 RF at AJAC EcoRun
2017 Nissan Versa Note at AJAC EcoRun
2017 Toyota Mirai at AJAC EcoRun
2017 Toyota Prius Prime at AJAC EcoRun
Share on Facebook