LC 500 'signals dawn of new era for Lexus'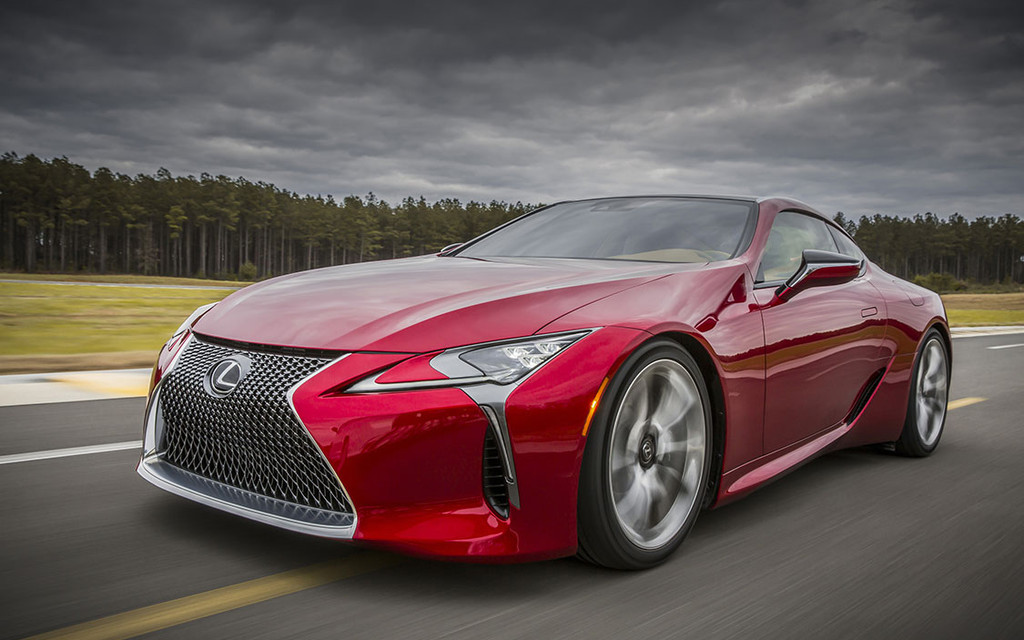 Lexus is betting big on its edgy new styling with the 2017 LC 500, a luxury coupe based on the LF-LC Concept it unveiled four years ago.
Sporting a similar look to other new models in the Lexus lineup, including the RC coupe and NX crossover, the LC 500 "is defined by an athletic aerodynamic shape," according to the automaker.
"The sexy curves and flowing lines maintain a consistent tension in sheetmetal through to the rear end that features slimly designed, multi-layered tail lamps with a unique lighting effect that helps convey a sequential L motif," it continued.
The design flows into the car's interior, with a driver-centric cockpit that looks sporty yet luxurious.
But the LC 500 is about more than just looks, and Lexus said the design and engineering teams worked hand-in-hand in all aspects of the car's construction.
"At an early stage, the designers collaborated with the engineers to understand their image for the LC 500's driving dynamics, and they incorporated this into the design," LC 500 chief designer Tadao Mori said in a statement.
"For example, we gave serious consideration to where the driver's eyes would focus, and designed the surface shape in that area to help support a driver's mindset. This project was one of the first times that designers were closely involved in the dynamic engineering development so we could understand the driving goals and support with the car's design."
Riding on Lexus' all-new, premium rear-wheel drive luxury platform, most of the car's mass, including the engine and the occupants, were placed in a more centralized and lower position to improve the centre of gravity.
The driver's hip and heel points have been lowered, the wheels have been pushed to the corners of the car, and the drivetrain mass has been pushed behind the front axle line to create a front mid-ship layout.
And speaking of the drivetrain, the LC 500 is powered by the same naturally-aspirated 5.0-litre V8 found in the RC F, with target power numbers of 467 horsepower and 389 lb.-ft. of torque.
The engine will be mated to a 10-speed automatic, according to Lexus.
Other so-called "mass management measures" include aluminum door skins mounted to carbon fibre inner door structures, a composite trunk floor, and an available carbon fibre roof, as well as "the Lexus brand's most intensive use of high-strength steel."
All this helps bring the car's anticipated 0 to 100 km/h time to "under 4.5 seconds," according to Lexus.
Stay tuned for more.
Share on Facebook