2016 Volkswagen Passat: Don't Forget About Me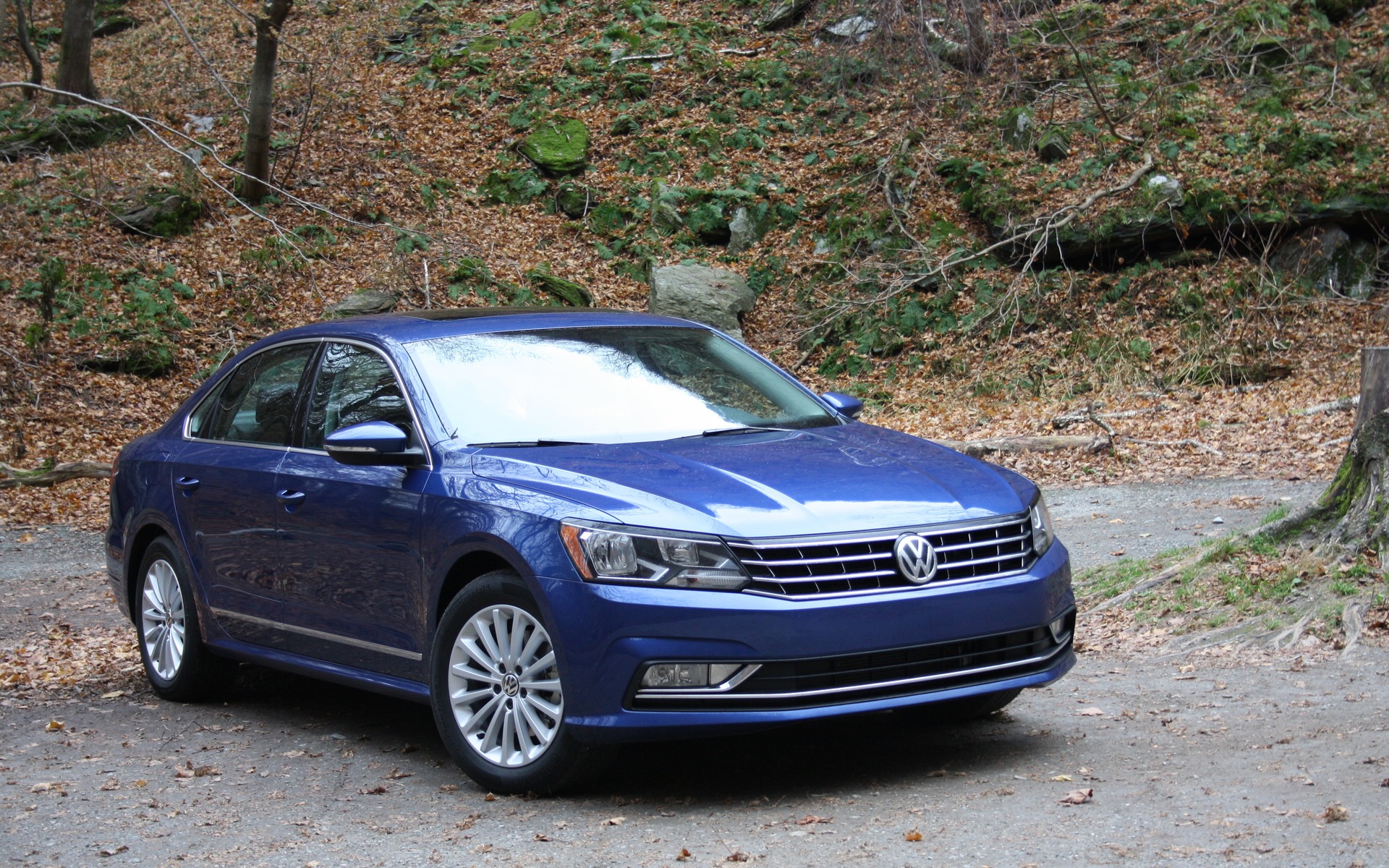 Strong points

Powerful, yet efficient base engine
Solid, refined ride
Plenty of interior room and trunk space
Lots of new features

Weak points

Fat rear pillars limit outward visibility
1.8L engine a little loud at wide-open throttle
Offset wheel/seat driving position
No TDI engine available (for now)
Full report
STOWE, Vermont – It's not easy trying to make a living in the shadow of heavy hitters such as the Honda Accord, the Toyota Camry and the Nissan Altima. These midsize sedans please a customer base that seeks value, fuel economy, interior room and a refined ride.
The current generation of the Volkswagen Passat has all those attributes down pat, and although it's selling pretty well in Canada, it still hasn't become a household name. The German automaker wants to change that, not with flashy bodywork or a hot-rod engine, but simply by improving on what their midsize sedan does best.
Looks the same, but isn't
The 2016 Volkswagen Passat is new, but it isn't all-new. Stylists concentrated on making the car look more aggressive without changing the car's basic, elegant shape. Still, only the doors, the roof and the bodyside stamping were left untouched.
The Passat's hood gets some ripples for a more muscular look, the front grille has more detail, chrome trim has been added and the taillight design has been tweaked as well. Also new are LED headlights, which will only be included on the top-rung trim level.
Actually, the LEDs can also be fitted to some lower grades by opting for the R-Line appearance package, which will be available starting next spring. The package also adds 19-inch alloy wheels, steering wheel-mounted paddle shifters for the automatic transmission, aluminum pedals and door sills, R-Line bumpers and side skirts, sport seats and a rear-seat fold-down armrest.
Nothing new under the hood
The 2016 Volkswagen Passat is equipped with a turbocharged 1.8L four-cylinder engine, unchanged from last year, which develops 170 horsepower and 184 lb-ft of torque. In Canada, base trim levels include a five-speed manual transmission that the U.S. doesn't get. As an option, and included in every other trim level, is a six-speed automatic.
About 2% of Passat buyers and 100% of Volkswagen executives will prefer the 3.6L V6, which belts out 280 horsepower and 258 lb-ft. It's a little coarse compared to the silky sixes in the Accord and Camry, but it is nonetheless powerful and growls accordingly.
At the moment, no diesel engine will be available. When Volkswagen figures out how to tweak their 2.0L TDI four-cylinder unit to pass emissions testing with flying colours, it will once again be included among the Passat's powertrain choices. A painful situation for the company, as about 40% of the car's sales in Canada had diesel engines under the hood.
Those who can't wait will discover a 1.8L gas engine that offers a great combination of power and fuel economy. Its generous low-rpm torque provided the performance to make the Passat entertaining on the long and winding country roads of Vermont, even it it was a little noisy at wide-open throttle.
Fuel economy has improved, not because of engine modifications, but thanks to improved underbody aerodynamics, a compressor decoupler and an alternator that can reduce its load on the engine by as much as 85%. Fuel economy is now 9.4 L/100km around town and 6.3 L/100km on the highway; during our drive, the trip computer showed an average of 7.1. Spending the extra $2,000 or so on an eventual TDI engine seems futile for those who drive less than 30,000 km a year.
The Passat's suspension is unchanged, which is a good thing. As before, the car felt rock solid as we carved up sinuous and hilly roads, while suspension and tire noise barely infiltrated the cabin. The VW offers one of the most refined rides in its category.
New tech inside and out
It was time for the Passat to catch up in terms of infotainment and safety feature technologies, and Volkswagen delivered.
The MIB II multimedia system gets a 6.3-inch touchscreen, a navigation system on higher trim levels, and an App-Connect functionality that integrates Android Auto, Apple CarPlay and MirrorLink. There's also – get this – a USB port, a simple feature that VWs have lacked for years, and uplevel trims even have a second port in the back-seat area. MIB II can also sync two phones at a time.
How well does it work? Hard to say. The journalist I paired up with connected his Samsung Galaxy phone to the system, but his device was too old and couldn't support Android Auto. After a driver change, I pulled out my Apple iPhone 4S and plugged it in, only to realize that I also had an obsolete device, and couldn't activate Apple CarPlay – which works with the iPhone 5 and up. For the rest, the touchscreen responded well to finger input and sound quality was very good, especially in a car we tested that had a Fender-branded system.
Fit and finish has been cranked up a notch with a new two-tone dashboard design, new upholstery and trim pieces that try their best to look like wood. Automatic climate control is standard across the board, the rear seats now get optional three-step heating on the outboard cushions, and the frameless rearview mirror adds an elegant touch, too.
The steering wheel has been redesigned as well, and in response to a loyal reader who asked if the wheel was still offset by an inch to the right of the seat, well, yes it is. While this isn't a big deal for some, the driver's seat is pushed right up against the centre console to help minimize the effect, but is further away from the door panel; the unequal armrest placement is more bothersome for me than the wheel offset.
The rest of the Passat's qualities remain, such as great front-seat comfort, a very accommodating back seat, a huge trunk and as mentioned before, an ultra-quiet cockpit. Safety driving assist systems are now available, which include adaptive cruise control, blind spot monitoring with rear cross-traffic alert, forward collision warning with autonomous emergency braking, lane keep assist, active park assist and a rearview camera – the latter being standard on all trim levels, a good thing as the wide rear pillars limit outward visibility when backing up.
The good news is that despite the added features and improvements, the 2016 Volkswagen Passat's base price has dropped by $680 compared to the 2015 edition. Before freight and delivery charges, the Trendline starts at $23,295 with a manual gearbox and at $24,695 with an automatic, which includes a good deal of standard equipment. The subsequent Trendline+, Comfortline, Highline and Execline trims all offer incremental levels of features, topping out at $38,295. By the way, the Execline is the only one powered by the V6 engine, while the R-Line package is available on the Comfortline for $3,290 and the Highline for $2,590.
It doesn't seem to have changed much at first glance, but the 2016 Passat, which will arrive in dealerships in November, has improved in the areas it needed to, while keeping the good stuff it has been previously acclaimed for. It's now in a much better position to be included on a midsize sedan buyer's shopping list, right beside the names Accord, Camry and Altima. Or just below them.
Share on Facebook