2016 Mercedes-Benz Metris: The Sprinter's Smaller Cousin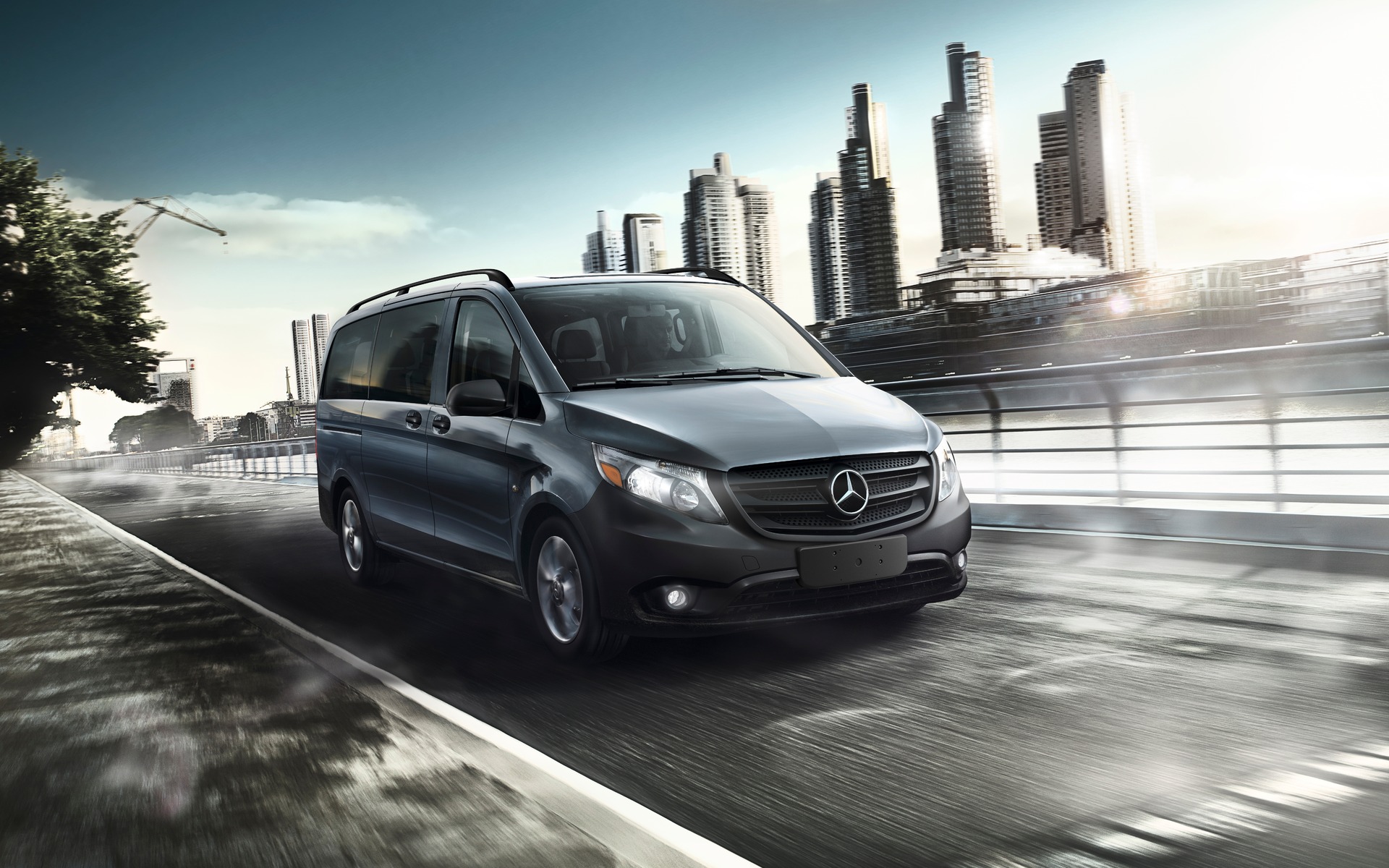 Strong points

Fuel efficient
Class-leading cargo space, payload, and power
Comfortable ride
Available in cargo and passenger versions
Long list of stand-alone options

Weak points

Lacks standard features
Pricey compared to its competitors
Rear drive only
Premium fuel recommended
Full report
The midsize van market must be booming in Canada because one Japanese and three American automakers have introduced new models here in the last few years. These small vans are more affordable, easier to manage and park in town, and they're more fuel efficient than their full-sized counterparts. Mercedes-Benz wants a piece of the action, and has imported the Metris to Canada for 2016.
A new platform
Known as the Vito in Europe, the Metris is built on a unique platform, introduced across the Atlantic just over a year ago. It's built with a rear-drive powertrain that uses an independent rear suspension, a rarity among vans of any size. Passenger and cargo versions will be available in North America, with only one engine and transmission choice.
The engine is a 2.0-litre turbocharged four-cylinder that claims 208 hp and 258 lb-ft of peak torque, and it is mated to a seven-speed automatic. The automatic has three modes depending on your requirements. An Eco mode keeps engine revs low for improved fuel economy, a Comfort mode maintains gears a bit longer for improved acceleration, and there's a manual mode which allows you to select ratios via steering wheel mounted paddles. The addition of these paddles is somewhat curious, but they are standard equipment.
Fuel consumption estimates are 10.5L/100 km combined for the cargo van, and 10.9L for the passenger version. One item to note for fleet operators is that power and fuel consumption numbers were tallied using the recommended 91 octane fuel. The Metris will run on regular fuel, but fuel consumption and power might be affected.
While Europeans have an all-wheel-drive option, North Americans get only a rear driver. The rear-drive layout allows a higher payload, and a tighter turning circle (11.8 m), the latter being an asset when turning into tight alleys.
A true hauler
Unlike the Sprinter, only one wheelbase and one roof height will be available in both cargo and passenger versions. The passenger van can carry up to eight occupants (standard seating fits seven). We tested the seating when our hosts picked seven of us up at the airport, and I can attest that there is ample room for eight adults, though elbowroom is a bit tight when sitting three to a row. Rear access is easy, as the passenger van comes standard with two manual sliding rear doors; power assistance is optional.
Mercedes claims that the Metris has 52 percent more payload capacity than its competitors, and it can pull more and hold more than it's American and Japanese counterparts. Claimed payload capacity is 1,135 kg, which is 280 kg more than the second-biggest payload in the class, belonging to the Ram ProMaster City. The Metris can also tow up to 2,250 kg.
If volume is what you need, the Metris van has a cargo capacity of 5,270 litres, again the largest in its class. The cargo hold includes a wood floor with incorporated folding tie-down rings. Both the cargo and passenger versions come standard with split rear doors (270-degree swing on the cargo, 180-degree on the passenger); a full-size rear hatch is optional. Despite this large capacity, the Metris cargo van is only 189 cm tall, allowing easy garage access.
Middle-class comfort
Being a commercial-grade vehicle, it's not surprising that the interior isn't a lavish cocoon of luxury. It is, nonetheless, quite comfortable, and remarkably quiet, especially with the optional metal partition installed in the cargo van.
The standard seats are cloth, and offer minimal adjustability (fore and aft and an adjustable seatback); they are firm and flat and moderately comfortable. The optional comfort seats, which are height adjustable, have lumbar support and feature an angle-adjustable seat cushion, are a tad more comfortable, but not that much.
The dashboard layout is somewhat spartan, with large, round gauges and a small central screen that displays trip info. The centre stack includes a 14.7-inch infotainment screen, which includes standard Bluetooth, and there's a telephone keypad to the right. A navigation system is optional. One omission on the cargo van is a standard rear-view camera, which is a $730 option. Also missing are standard cruise control, heated seats, and a start-stop function, three convenient features that will add $1,300 to the $33,900 base price. The passenger van starts at $37,900.
Other standard features include crosswind assist, attention assist, heated wiper fluid, air conditioning, automatic headlights, steering wheel controls, and a USB port.
There are a multitude of optional driver assists, including collision prevention assist, blind-spot alert, lane-keeping alert, and active parking assist.
Remarkable road manners
From the driver's seat, the Metris is quite impressive. The turbocharged four has lots of low-end torque, providing peppy acceleration from a stop, while being more than adequate when making passing manoeuvres at highway speeds. Steering is very light, which might detract from the driving experience, but might also be greatly appreciated at the end of a shift, after delivering packages around the city.
Aside from a very quiet ride, suspension compliance is quite refined. There are three different suspension systems available: the cargo suspension, the base passenger van suspension, and the optional comfort passenger van suspension.
The suspension is firm, but even without a load it is remarkably composed, and there is no rear bump-steer, where the rear end kicks out over big, sharp bumps. Highway cruising is quiet enough to hold a conversation at normal volume levels, and there is very little road and wind noise that infiltrates the cabin; overall it's a combination that should make long trips a breeze. The brakes are surprisingly powerful, almost to the point of being grabby, probably tuned that way to operate efficiently when carrying a full load.
Added cost, added convenience
The 2016 Mercedes-Benz Metris is a newcomer in the North American midsize van segment, and even though it carries a heftier price (about $8,000 more than the Chevrolet City Express), it offers class-leading carrying capacity and cargo volume, and it's also the most powerful. Operating costs should be low, with maintenance intervals set at 25,000 km.
Although it lacks some standard convenience features, its combination of cargo-hauling capability and comfortable ride might just make this hard-working vehicle worth the price of admission.
Share on Facebook