2015 Infiniti QX80: Luxury Personnel Carrier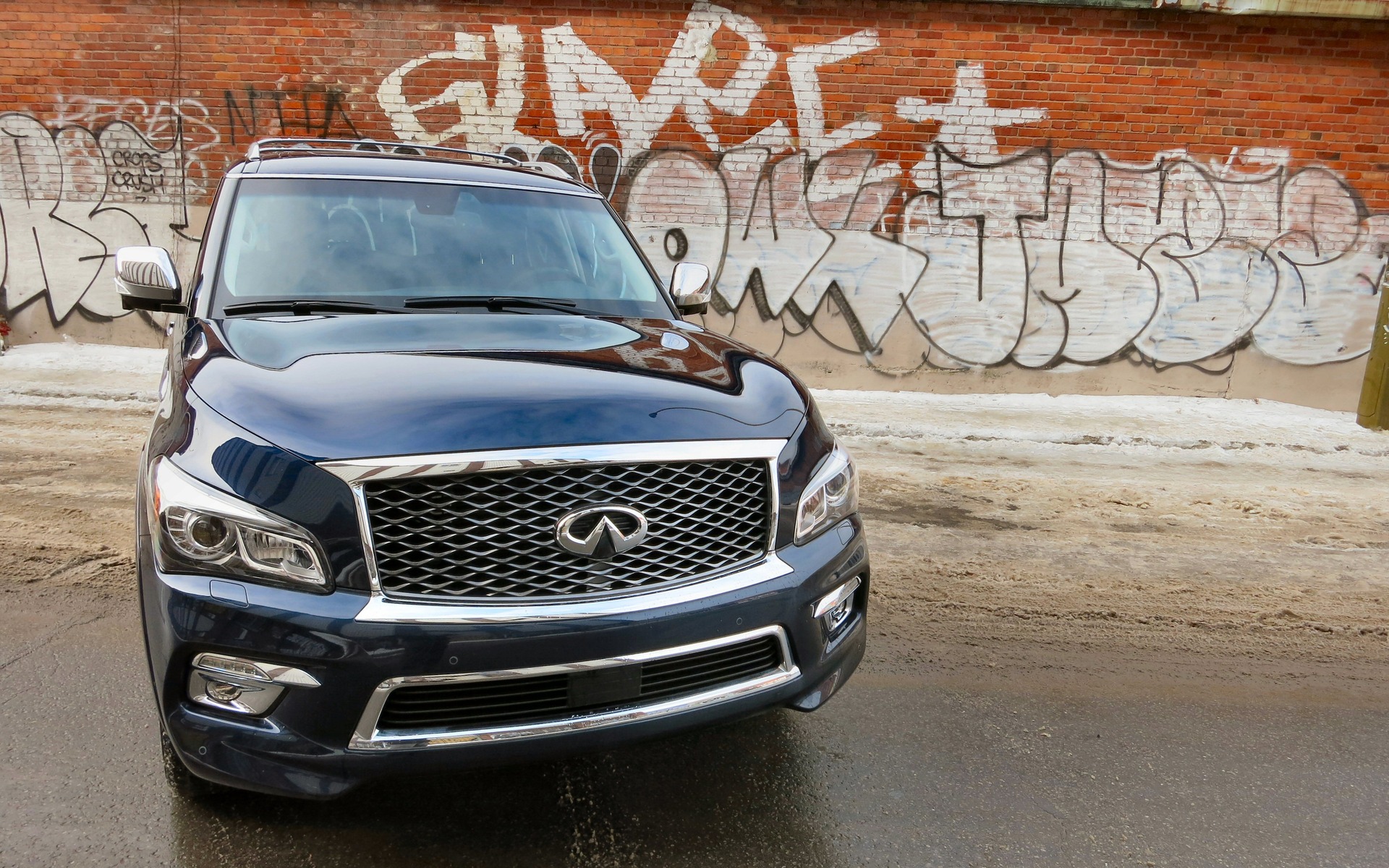 Strong points

Posh interior styling
High quality materials used throughout the cabin
Smooth V8 power
Standard all-wheel drive
More affordable than some of its rivals

Weak points

Difficult to maneuver in an urban setting
Thirsty at the fuel pump
Third row of seating not comfortable for adults
Some safety gear can feel intrusive
Full report
Imitation is the sincerest form of flattery, but in the luxury world it's also the hardest trick to pull off.  This makes it doubly impressive that the 2015 Infiniti QX80 manages to elbow its way past its Lincoln Navigator progenitor and nestle up just under the Cadillac Escalade in the hierarchy of most-appealing full-size premium SUVs available on the Canadian market.
The QX80 out-Americans the Americans by pairing brash sheet metal with one of the most elegant interiors offered by any automobile under $100,000, and along the way it also manages to bundle-in impressive accommodations for up to eight passengers as well as respectable performance for such a massive vehicle.  More to the point, product planners at Infiniti, like their counterparts at Cadillac, seem to understand that teaching a dinosaur like the QX80 the latest dance moves is key to keeping it relevant in a modern context.  The end result is a sophisticated package that offers an impressive array of safety technologies and comfort features at a price point that undercuts its key Detroit rival as well as more exotic fare from Land Rover.
Love It Or Leave It Looks
Surprisingly, the 2015 Infiniti QX80's pachyderm in the room isn't its elephantine size, but rather its divisive styling.  I heard all sorts of creative interpretations of the QX80's looks during our week together, ranging from 'melted Mars bar' to 'proboscisly-gifted,' but to my eyes this year's refresh has improved the SUV's appearance by smoothing out the front fascia and introducing full adaptive LED lighting as well as a grille setup that brings the car more in line with Infiniti's sedan line-up.  There's also a new back bumper and tailgate treatment to be found for 2015, along with revised wheel options.  Regardless of how you might feel about the QX80's appearance, there's no question that the truck attracted stares everywhere I went, which will certainly appeal to a cohort of premium SUV shoppers.
Gorgeous Interior
It's rare for an SUV's cabin execution to outdo its sedan counterparts, but the QX80's interior trappings assume their rightful place at the apex of the Infiniti line-up.  My Technology package-equipped tester boasted enough 'burl' wood trim to harvest and use in building a sizable kitchen table, but more to the point the prodigious amount of leather and tree-sourced accoutrements found throughout the QX80 felt well integrated into the truck's redesigned interior rather than tacked-on to disguise utilitarian origins – an important distinction when evaluating the Infiniti against its segment-mates.
In addition to being beautiful, the Infiniti QX80's passenger compartment is also roomy and practical.  Second-row captain's chairs are separated by a huge centre console, and while you can opt for a bench back there to boost total seating capacity to eight, it would be a shame to lose such a stylishly useful storage space.  LCD screens in the front headrests and two sets of wireless headphones further add to the limo-like experience that the QX80 offers its riders.  That posh feel unfortunately doesn't extend to the third row of accommodations, which feature dramatically reduced legroom and the kind of seating angle that makes you regret having knees.  Still, it's easy to get back there if you're loading children into the far reaches of the SUV – the mid-tier captain's chairs tumble forward at the touch of a centre stack-mounted button – and you can easily fold them down using the power switches in the cargo area to take advantage of the Infiniti's gaping maw when transporting oversized items.
Eight-Cylinder Acumen
The 2015 Infiniti QX80 keeps things simple at ordering time by making a direct-injected, 5.6-litre V8, seven-speed automatic transmission, and all-wheel drive standard with each and every model.  With 400 horsepower and 413 lb-ft of torque on tap, the QX80 delivered strong acceleration paired with a pleasing mechanical soundtrack (at the cost of abysmal fuel efficiency, sadly), and its all-wheel drive system (which does offer low-range gearing) was up to the task of handling snow and ice without introducing any of the instability I experienced when driving the similarly-proportioned Lincoln Navigator on identical winter tires.  A good part of the SUV's sure-footed nature can no doubt be attributed to the ministrations of the truck's Hydraulic Body Motion Control feature, which makes use of hydraulics to reduce body roll while cornering.  There's also an automatic air levelling system at the rear of the QX80 that preserves a uniform ride height regardless of load.
Safety On Board
Like most Infiniti vehicles, the 2015 QX80 can be tricked out with all manner of modern safety systems, and while some of the gear is appreciated other aspects of the truck's electronically-spun protective web can get in the way of actually driving.  The SUV's blind spot monitoring system and adaptive cruise control were quite useful, but I had some difficulty with the automated braking system, which is intended to prevent collisions at both low and high speeds.  I had the system activate on me out of the blue while reversing down a clear street, which startled both myself and my passenger, indicating that false-positives are still a part of the radar-guided game.  More annoying was the setting – which could thankfully be turned off – that actively pushed back on the gas pedal should it judge you were getting too close to the automobile in front of you.
Second Place?
The 2015 Infiniti QX80 compares quite favourably to the class-leading (and new for 2015) Cadillac Escalade.  It's a small arena, to be sure, but amongst full-size traditional luxury SUVs the QX80's ultra-luxurious interior, commanding road presence, and excellent power and handling make it an appealing choice to anyone not put-off by its extroverted styling.  Factor in its cost savings in comparison to a similarly-equipped Escalade, however, and you're suddenly introducing value into a segment of the market where that word typically holds little meaning.  The Infiniti QX80 might not be cheap, but it's certainly less expensive than it could be, and that puts it on even footing with the Escalade if it were my dollars being spent.
Share on Facebook