2014 Hyundai Elantra Limited: Still Shining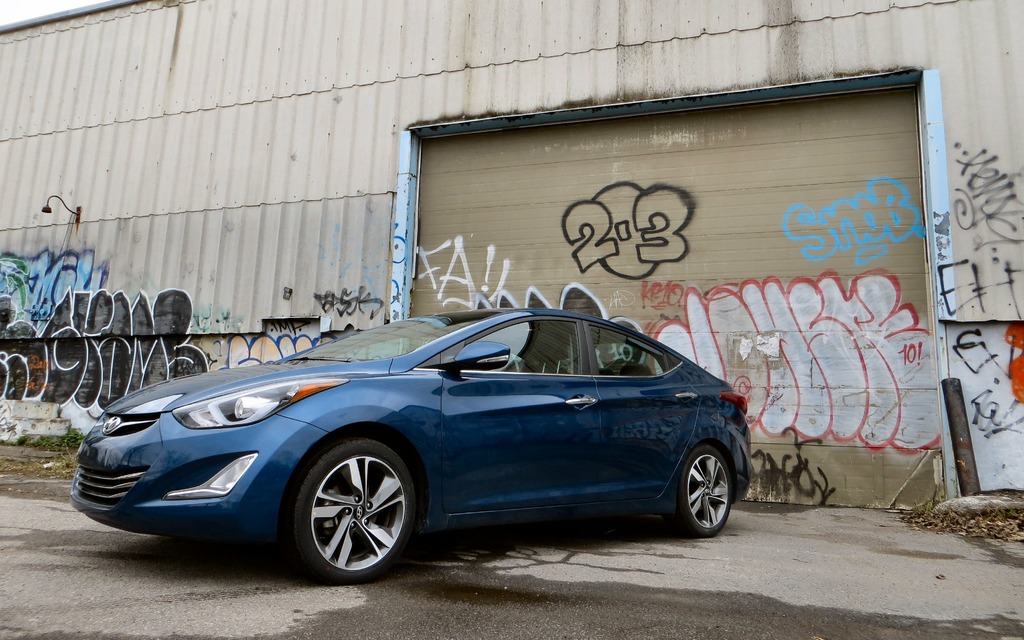 Strong points

Eye-catching styling
Roomy interior
Affordable pricing
Quiet ride
Strong equipment to dollars ratio
New 2.0-liter engine

Weak points

No active safety equipment available
Drivetrain rougher than competitors
Driver selectable steering doesn't offer a performance advantage
Fuel mileage not as lofty as certain rvials
Full report
The 2014 Hyundai Elantra is riding a long streak of being at the top of the Canadian sales charts, and with good reason: this compact sedan combines the key attributes of affordability, style, and fuel efficiency that are so important in our cold land of high gas prices and relentless taxation.  That being said, it's also true that there are cars out there that surpass the Elantra in each of these categories, yet don't seem to find the same audience.  I spent a week with the Hyundai – which has recently been given a host of upgrades to further tighten its grip on loyal fans – to see if I could figure out what makes the vehicle such a stand-out.
Easy On The Eyes
It starts with the 2014 Hyundai Elantra's sheet metal, which avoids the conservative tropes worn by cars like the Toyota Corolla and Volkswagen Jetta and instead allows the imaginations of its stylists to flow across its curves and valleys in a resplendent wave.  Every angle of the Elantra is pleasing, and this is made more true by the addition of LED headlight surrounds, LED tail lights, and new rims on the Limited trim model that I drove.  Small cars don't have to be boring to look at, no matter how modest their pricing, and the Elantra underlines that fact three times in red ink.
Belly of the Beast
There's also the matter of the Hyundai Elantra's passenger compartment, which stands alongside mid-size sedans in terms of overall interior volume.  This is a good thing for rear seat riders, as it means they have plenty of room to stretch out their arms and legs, and it also indicates that driver and front passenger won't be forced to slide their buckets too far forward to accommodate a full load.  In addition, the trunk of the Elantra is sufficiently large to accommodate family-sized cargo.
Presentation-wise, the Limited trim offers a mix of leather and plastic, with most crucial surfaces soft to the touch and a host of new sound-deadening measures taken to ensure that the Elantra is quieter than ever when at speed.  An LCD screen at the top of the reconfigured center stack is more widely available than in the past, and a larger unit that features navigation (and excellent voice command recognition) is available on the top-tier model.
Brand New Engine
The 2014 Hyundai Elantra carries over last year's 1.8-liter, four-cylinder engine as its base offering, and it generates a respectable 145 horsepower and 130 lb-ft of torque.  Should that not be adequate, you can now order the Elantra with a 2.0-liter four-cylinder motor that builds on the same architecture as the smaller mill while adding direct fuel injection in order to squeeze out more power without sacrificing much in the way of efficiency.  The 2.0-liter GDI motor is good for 172 horses and 154 lb-ft of twist, and this was the unit installed under the hood of my tester.
As with the 1.8-liter, the 2.0-liter can be matched with either a six-speed manual or six-speed automatic transmission.  I drove the latter, and found it to be quite competent at choosing the right gear for whatever situation I found myself in – so much so that I never felt the need to slap the console shifter over into Manual mode and run through the ratios myself.  Power off of the line, and when passing, felt above average when compared to more mild fare from Toyota and Honda, but while I liked the performance of the Elantra's engine I wasn't quite as enamoured with the slight shake of the drivetrain at idle – a lack of smoothness that is common to several of Hyundai's more affordable products.
Laudable Ride
Fortunately, the 2014 Hyundai Elantra's chassis displayed none of this subtle fraying at the edges, meaning that the car's willingness to absorb abuse in the form of speed bumps, potholes, and expansion joints was calm, cool, and collected at all times.  While certainly not sporty in its demeanour, the Elantra was never boring to drive, exhibiting patience when pushed too far into a corner and rewarding well-planned inputs with predictable changes in direction.  I played around with the car's driver-adjustable steering system, but other than increasing or decreasing the effort required to turn the wheel when moving from Comfort to Normal to Sport mode, there wasn't a tangible impact on the Hyundai's handling.  Although the Elantra has visual flair, it's not a performance-oriented sedan.  Temper your expectations accordingly and you won't be disappointed.
Is Synergy Really A Word?
Ultimately, it would seem that the 2014 Hyundai Elantra excels by doing its best in each of the important small car categories rather than attempting to overwhelm potential buyers with a virtuoso routine in any one area.  The one possible exception is with regard to value: the Elantra can be found with a surprisingly generous list of equipment given its entry-level pricing.  Whatever version of the Hyundai sedan you might deem appropriate for your own needs, you can get behind the wheel of this vehicle comfortable in the knowledge that perhaps more so than many of its competitors, the Elantra comes across as more than simply the sum of its parts.
Share on Facebook