2014 Infiniti QX70: Dare To Be Different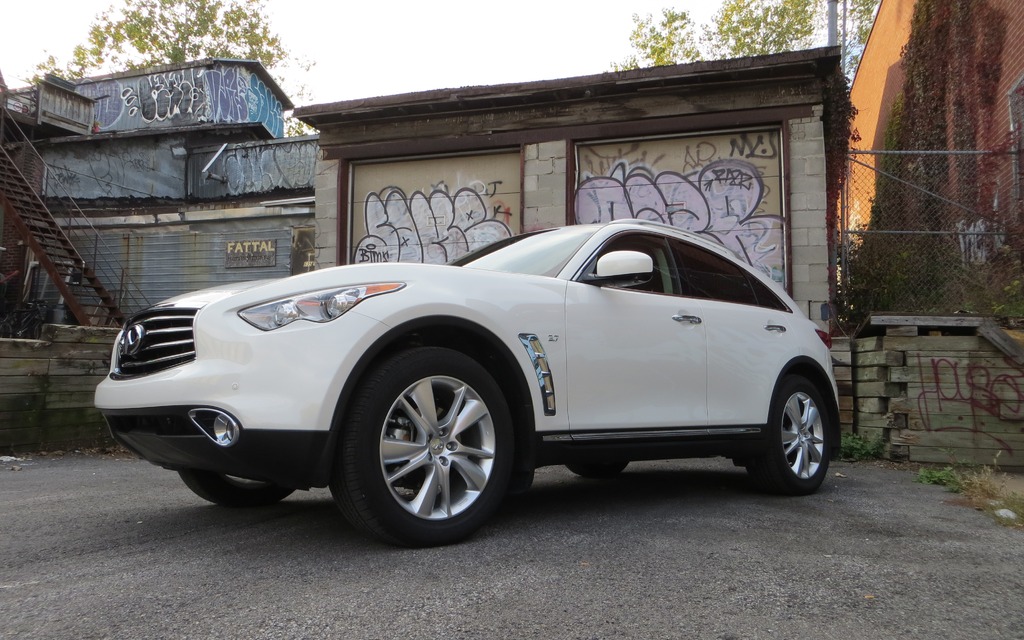 Strong points

Great-looking exterior styling
Advanced safety features
Well-designed infotainment interface
Powerful
Fun to drive
Standard all-wheel drive

Weak points

High fuel consumption
Small interior given its exterior dimensions
Not much room for rear seat passengers
Options can add significantly to base price
Full report
Nissan - and by extension, its luxury sub-brand, Infiniti - is an automaker that's willing to take risks.  Vehicles like the Nissan Cube, the Nissan Murano CrossCabriolet, and the Nissan GT-R are all perfect examples of models that went against the grain in terms of style, functionality, and tradition, and achieved no small amount of notoriety in the process.
The 2014 Infiniti QX70 (the new name for last year's Infiniti FX) is another such effort from the Japanese brand, a crossover vehicle that dares to put style and performance first rather than absolute utility or practicality.  This type of approach to the mid-size SUV formula isn't for everyone - but after driving the QX70, I'm certainly glad that Infiniti's building it.
Bionic Cheetah
That heading isn't a copy/paste from the script of an unproduced B-movie - the term 'Bionic Cheetah' is actually how Infiniti refers to the design aesthetic used to define the shape of the QX70.  Maybe they meant to say that the flowing, aggressive lines of the crossover represent the arrestation-in-metal of a cheetah leaping across the Serengeti at full speed.  Or maybe it just sounds really, really cool.  Either way, the 2014 Infiniti QX70 sports one of the boldest looks in its class, and from behind the wheel its front haunches serve to frame the road almost as though the driver is peering between a pair of steel fangs.
The QX70's passenger compartment isn't exactly reminiscent of any particular predatory mammal, as it mixes together Infiniti's typical plastics and leather across a surprisingly tight cabin.  I liked the cross-stitched hides on the front thrones, but I was a little put off by just how hard some of the touch surfaces seemed, particular on the dash and the door panels.  My tester also came with wood trim, which was most prominent on its center console.  Second-row comfort isn't up to par with the QX70's mid-size rivals due to a sloping roofline and a shortage of legroom, but it's fine for shorter trips.  Cargo space is also somewhat modest, and while you'll be able to haul a full load of groceries without tipping the rear seats forward, when it came time for me to transport a pair of 18-inch rims and tires I had to fold the rear accommodations out of the picture.
High Tech Safety
Infiniti has built a reputation as the purveyor of advanced safety technology, and the 2014 Infiniti QX70 certainly gets its fair share.  The model I drove was outfitted with the Tech Package (a $3,500 option), which included a system that not only detected when the crossover left its lane but also used the brakes to gently nudge it back into place.  The warning worked well, but I found that the braking system didn't engage long enough to truly muscle this big rig onto the straight and narrow once again.  The intelligent cruise control system's Distance Control Assist feature was more useful to me, especially in bumper-to-bumper traffic, as it automatically slowed the QX70 when a slow or stopped vehicle was detected in its path, even going so far as to completely halt the SUV.  This meant I didn't have to dance my right foot from brake pedal to accelerator every 10 to 15 seconds - I just concentrated on the gas and let the Infiniti apply the binders for me.
Fast And Fun
There are many who would decry the concept that a crossover as large and as heavy as the 2014 Infiniti QX70 could ever elicit a smile from its pilot.  The accepted wisdom is that any vehicle with a BMI of more than 4,000 lbs must be a chore to drive, but apparently no one thought to pass that pearl of wisdom on to the engineers at Infiniti.  The QX70 certainly doesn't turn on a dime, but at speed the vehicle's responsiveness to steering inputs and its body control are a cut above what one would expect from such a tall, weighty automobile.  At least part of its surefooted demeanour can be attributed to its standard all-wheel drive system, which works equally well in wet or dry weather, and for those who require even greater tarmac tenacity Infiniti also offers an optional adaptive suspension.
The Infiniti QX70 I drove was motivated by the brand's trusted 3.7-liter V6, which has been tuned to provide 325 horsepower and 267 lb-ft of torque under the hood of the crossover.  A more robust, 5.0-liter V8 is also available with the QX70, but after spending time with the entry-level mill I can honestly say that it provides more than enough forward thrust for the majority of drivers.  At no point during my week with the 3.7-liter model did I ever wish for more power, although I was a little surprised to see that the Infiniti's seven-speed automatic transmission lacked paddle shifters for manual engagement of each gear ratio.  I was also a bit shocked by how thirsty the six-cylinder unit turned out to be, giving me further impetus to avoid the V8 as a daily driver.
The Right SUV For The Right Driver
The 2014 Infiniti QX70 isn't about mass-market appeal: it's about matching its rambunctious and stylish personality with the kind of driver who can appreciate it for what it is rather than lament what it lacks.  Sure, it's smaller on the inside than most people would like, and it's maybe not quite as comfortable as other mid-size luxury SUVs, but it makes up for these perceived faults via its audacious good looks and excellent on-road performance.  Like its smaller QX50 sibling, the QX70 isn't necessarily a family hauler but rather a premium lifestyle accessory intended for a couple looking to step out of the sedan game for a little while and get behind the wheel of something with a lot more character.
Share on Facebook