2013 Lexus CT 200h F Sport: Begging For More Motor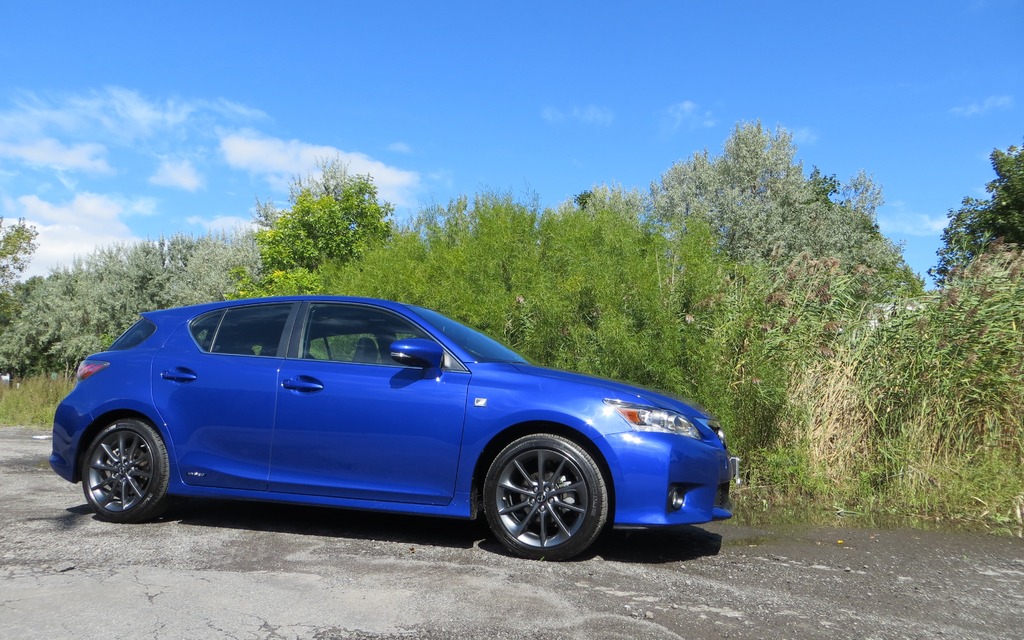 Strong points

Sharp-looking styling
Well-tuned chassis
Comfortable ride
Snug, but engaging cockpit
Excellent fuel mileage

Weak points

Small backseat
Slow acceleration at all speeds
Full report
If you ever needed proof that Lexus' F Sport line-up was more about image than substance, look no further than the 2013 Lexus CT 200h F Sport.  The audacity of sticking the F Sport label on not just a hybrid, but also the most affordable model in the luxury brand's stable is to be applauded.  Why?  Because in many ways, the Lexus CT 200h F Sport is a pretty good little car – one that's held back from being a great one by a battery-assisted drivetrain.  The F Sport package serves to further highlight what's fun about the compact hatchback, while simultaneously doing its best to mask its various weak spots.
Beyond Its Battery
Lexus has thrown the full weight of its marketing machine behind defining itself as a hybrid-first automaker, with gasoline/electric editions of almost every one of its models now available.  With this in mind, it would seem to make sense that the company's entry-level car would be a hybrid, too, only Lexus found out the hard way with the poorly-received and now-departed HS 250 that going green wasn't enough to attract premium shoppers looking for their first bonus-bought ride.  It turns out you have to actually deliver a solid car, too, as a complement to a drivetrain's high efficiency bragging rights.
The 2013 Lexus CT 200h now stands alone at the base of the Lexus corporate ladder, and it looks mighty fine doing it.  Even without the F Sport package installed the CT 200h is a sharp automobile and every bit the aesthetic match of its primary hatchback competitor, the Audi A3.  The F Sport edition sits lower than stock, and it also comes with special colours, unique 17-inch rims, a mesh grille, and a spoiler that extends out over the liftgate.
Inside there are a few other performance-inspired touches such as polished pedals and trim, and special seats, contributing to what is a tastefully minimalist cabin.  I enjoyed the fact that no matter where I chose to rest my arms or hands I was likely to encounter leather-like padding of some sort, and I even liked the anachronistically basic entertainment system that came with the car.   It just seemed to fit perfectly onto the center console, up under the dash, which itself offered just the required number of buttons to interact with the climate control system, and no more.  The CT 200h F Sport's front seats were grippy and comfortable, but the car's rear quarters were tight to the point of being unusable by taller adults.  Cargo space behind the seatback was good, although total interior hauling room lags behind that of several other hatchbacks.
Better Than Expected Handling
The 2013 Lexus CT 200h certainly looks the part of a luxury sports hatch, but as important as they are appearances don't fully define this class of vehicle.  Driving experience still counts for a lot, even amongst those who are intrigued by the CT 200h's frugal fuel consumption, and in this area the car gets it half-right.
I say half because the compact Lexus really isn't a chore to drive.  Unlike most hybrids, the CT 200h really seems to have been given special attention by its engineering team in the suspension department, with the F Sport package creating a chassis that is willing to turn in sharply without also rattling your bones.  I fully expected the automobile to display the same disconnected feel that is so prevalent in the car with which it shares much of its technology – the Toyota Prius – but I can safely report that in most driving situations the CT 200h is enjoyable and reliably sure-footed.
It's Really, Really Slow
Here comes the other half.  Usually, I would include something here about how the Lexus CT 200h performs when pushed to the limit – but the problem is, the hatchback's drivetrain makes reaching those limits an absolute impossibility.  Snatched directly from Prius land, the car's 1.8-liter, four-cylinder engine and dual electric motor setup sends 134 horsepower to the front wheels in the laziest possible manner via a continuously-variable automatic transmission.  Just so you don't think I'm being overly judgmental of the CT 200h's pokey character, I can give you some hard figures to go with my qualitative assessment of the car:  the car takes a full 10.5 seconds to reach 100 km/h.
But what about Sport mode, you ask?  Surely the F Sport package includes a Sport mode to go with the car's Eco and Normal modes?  Why, yes, yes it does – and in my testing it had absolutely no effect on the vehicle's ability to accelerate.  You see, Sport mode essentially provides heavier steering along with sharper throttle response, which means that the gas engine is easier to get involved when loafing down the highway.  It doesn't translate into more speed, really, but it does make the vehicle less frustrating to drive than the dialled-back attitude vested by Eco mode.  The car does sip gas at a rate that is impressively relaxed, but there's more to life than this.
A Promising, But Incomplete Package
It's really too bad that the 2013 Lexus CT 200h F Sport is let-down dynamically by its hybrid drivetrain, because the car has the potential to be more than just a niche competitor in the entry-level luxury game.  Give this hatchback the 200-horsepower four-cylinder engine that it deserves and it would instantly shoot up the charts in terms of both desirability and premium feel.  In fact, don't replace the hybrid model but make it complimentary to the gas-only motor so that existing CT 200h customers remain content and would-be yuppie-greenies still have something to aspire to.  I don't dislike the CT 200h F Sport – and it's hard to argue with its fuel efficiency – but I am sure that I would love it should Lexus embrace the idea that a small car can also be a fun car, and not just a battery delivery system.
Share on Facebook