Hello Hyundai
Santa Fe

XL, So Long Veracruz!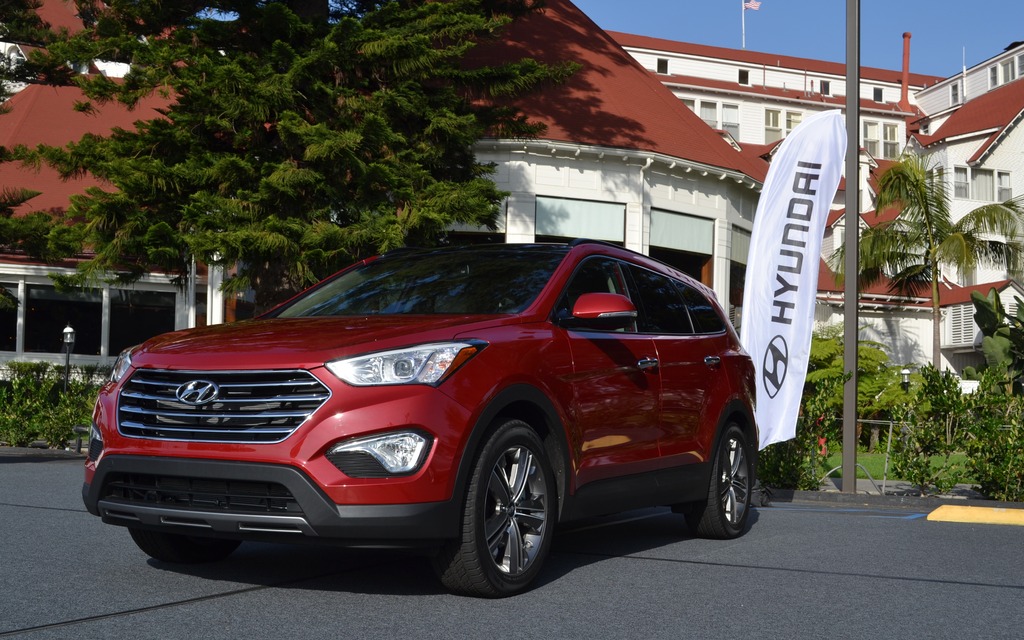 Strong points

Good equipment for the price
High-performance engine
Nice finish
Good towing capacity
Excellent warranty

Weak points

Only one engine offered
Steering is a little soft
Uncomfortable steering wheel
Full report
The Hyundai Santa Fe underwent a facelift last year to mark this model's third generation. Hyundai is betting heavily on its compact SUV, which also serves as the brand's ambassador. In fact, in 2012, the Santa Fe held no less than an 8.3% market share in its category while ranking tenth in Canadian sales of light pickup trucks. So, it's no surprise that the manufacturer is making such an effort.
Hyundai is killing two birds with one stone this year by growing the Santa Fe line and getting rid of a vehicle whose popularity was on the decline. Yes, you heard right! Hyundai's seven-seat Veracruz is no more. It's being replaced by a brand new model that, rather than going it alone, is simply being assigned to the Santa Fe line.
Name recognition
For 2013, the line-up is comprised of the five-passenger Santa Fe Sport and the Santa Fe XL, which is can seat up to seven passengers and is now the manufacturer's largest SUV. Why this changing of the guard? For starters, the Veracruz always had difficulty garnering the attention it deserved, while the Santa Fe has enjoyed a great deal of recognition for many years. So, why not take advantage of the Santa Fe's reputation? Moreover, by combining the sales of both vehicles, they get a larger share of the market – and, consequently, guaranteed smiles in Hyundai's Marketing Department.
Based on the Santa Fe Sport, this model's platform was lengthened slightly to make room for a third bench. The Santa Fe XL is 215 mm longer and its wheelbase has been stretched by 100 mm. There's also an additional 240 litres of cargo space. The Santa Fe XL targets drivers who probably need a pickup but want something different. Is the Santa Fe XL as practical as a pickup? Not exactly, but it does have many qualities in its favour, nonetheless.
More powerful than the competition
While there are two four-cylinder drivetrains available for the Santa Fe Sport, the XL is equipped with a brand-new 3.3-litre six-cylinder direct injection engine that develops 290 horsepower and 252 lbs.-ft. of torque. The only transmission available is a six-speed automatic. This engine, which is being used for the first time in Canada, can enter the competition with confidence, as most of the Santa Fe XL's rivals (Honda Pilot, Mazda CX-9, Ford Explorer and Toyota Highlander) have superior capacity and less power. In fact, only the Ford Explorer offers as much power. However, the Ford Explorer Sport has more power with its 365-hp V6 EcoBoost. But the Santa Fe costs a lot less. This powertrain gives the Santa Fe XL a 5,000-pound towing capacity, the highest of all the manufacturer's SUVs. This could very well be an attractive feature for drivers who tow snowmobiles, four-wheelers, boats or other vehicles.
The Santa Fe XL's style is copied from its five-passenger little brother. Overall, it's dynamic, fluid and nice. The only thing that really sets it apart is the shape of the lateral windows, which dip downward instead of up. Will your jaw drop when you see it? No. The Santa Fe features a much more anonymous style, like several of its Japanese competitors. Many people will have to really pay attention to recognize it. In any case, we like its beautiful optional 19-inch rims as well as the tail end and dual exhaust. In this car, you don't have to worry about attracting unwanted attention from radar-wielding police.
Five, six or seven passengers
The Santa Fe XL is offered in two configurations. The first can seat seven thanks to its three-seat rear bench and a third row that can accommodate two additional passengers. Some will prefer the Limited, as its two rear bucket seats offer a little more room and comfort but has one less seat. In any case, rear legroom is a tad tight, but it will suit the kids just fine.
The Santa Fe XL's passenger compartment is functional and nicely finished with a simple but efficient presentation. The instrumentation is prominent and illuminated in blue at night; that's also very nice. Only the steering wheel didn't seem terribly ergonomically sound. Its leather is slippery and its stitching poked at our hands. In keeping with Hyundai's ideology, the Santa Fe XL offers excellent standard equipment. You seem to get more bang for your buck, especially when the vehicle is equipped with a panoramic sunroof that extends practically all the way to the tail end.
On the road
When creating the Santa Fe, Hyundai decided to focus a little less on fuel economy in order to arm the vehicle with an adequate drivetrain. With its 290 horsepower and reduced weight (145 kg less than the Veracruz), the vehicle accelerates promptly with all the spirit and torque of the V6. During our test drive, it consumed a little more than 11 L/100 km, which is acceptable for a vehicle in this category. The Santa Fe comes with front-wheel drive, but for a few thousand extra dollars, you can get it with all-wheel drive – worth the investment, especially on stormy days.
Koreans aren't known for making very dynamic vehicles and the Santa Fe is no exception. Sure, this isn't the kind of vehicle you buy for the track, but it would have been nice if the steering was a little firmer, as this would enhance the driver's feeling of control. Fortunately, the suspension minimizes weight transfers well and gives the Santa Fe high marks for its ride.
In conclusion, the Santa Fe XL is no better and no worse than its competition on the road. But what people will really like about this vehicle are its extra seats and increased practicality. In this regard, the Santa Fe XL delivers.
Share on Facebook