2012 Hyundai Genesis 5.0 R-Spec: Sportiness and comfort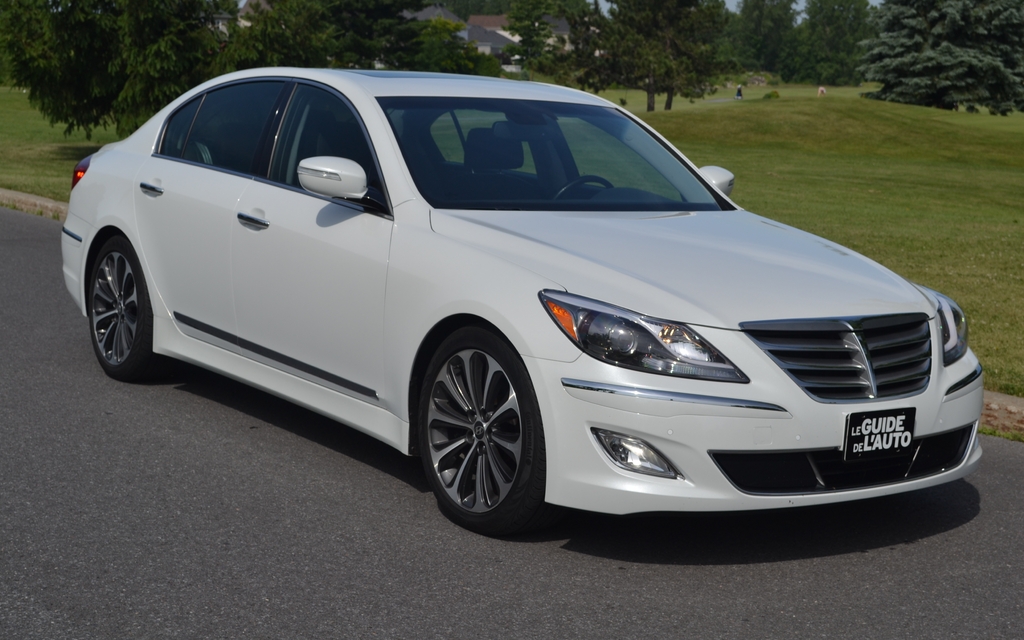 Strong points

Good equipment for the price
Excellent style
Interior space
Eight-speed gearbox

Weak points

Less-than-thrilling ride
No AWD
Seats aren't firm enough
Full report
Hyundai has come a long way since it arrived in Canada. Not only are its products on the verge of becoming the benchmark in certain segments, but the automaker has also managed to radically transform its image, leaving behind its humble beginnings as a manufacturer of inexpensive but poor quality models.
Buoyed by this success, Hyundai decided to aim even higher and to set a new goal for itself: to compete in the high-end car segment with the launch of the Genesis and the Equus. After several years, like many other manufacturers, Hyundai still hasn't managed to establish itself in the very competitive luxury car market. The Genesis has what it takes to win people over, but expectations still don't seem to have been met.
Image is everything
It isn't easy for a manufacturer to make a name for itself in the luxury category. Just ask Honda, which is moving heaven and earth to keep its Acura division alive, as are Nissan with Infiniti and Toyota with Lexus. The challenge seems even greater when a manufacturer tries to use its own banner rather than launching an independent luxury division. Volkswagen tried this with several models, including the Phaeton, and Mazda did the same with the Millenia, but the results weren't conclusive. Why? It's not only about the product – the Genesis isn't a bad car and has numerous obvious qualities. The problem is image. When someone decides to buy a luxury car, the prestige of the brand and the logo are often very important. As competitive a car as it may be, you're not going to create as much of a buzz arriving at a cocktail party at the wheel of a Hyundai — even it it's priced at more than $50,000 – as you would if you pulled up in a Mercedes-Benz, a BMW or an Audi. Reputation is important, it's without a doubt the hardest thing for an automaker to earn.
But if a car's name isn't your primary concern, the Genesis is an interesting choice. Introduced in 2008, this year it offers a few aesthetic changes, but nothing major. Rather, Hyundai concentrated on updating the drivetrains. Yet again, the base version has a 3.8-litre V6, but it now comes with direct fuel injection, which increases power by 43 horses, for a total of 333 horsepower. This power is sent to the rear wheels via a new eight-speed transmission. As a result you get more power, and more importantly, better fuel economy.
A 5.0-litre V8 for the R-Spec
To attempt to compete with certain sportier German models, Hyundai is offering its most powerful engine ever under the hood of the Genesis 5.0 R-Spec, namely a 5.0-litre V8 with fuel injection that develops 429 horses at 6,400 rpm and 376 lbs-ft of torque at 5,000 rpm. This engine's power per litre of capacity ratio is superior to the V8s of several rivals – which is quite a feat for Hyundai. Just like the V6, it's paired with a sole transmission, an eight-speed gearbox. Although a lot of luxury car buyers prefer all-wheel drive, the Genesis simply does not have it.
Style, you ask? You can't deny that the Genesis has character. This year, it has a more aggressive front end and all the lights are LED. These are just a few subtle touch-ups, but they make a difference. Naturally, the Genesis R-Spec has a more striking style, thanks mainly to its unique 19-inch rims. Beautiful rims aren't just for Germans anymore; now the Koreans know how to make them too.
We were delighted with the Genesis' luxurious interior, but many rivals offer more, especially in terms of gadgets. But overall, it's simple, well laid out and easy to understand. Moreover, the attention to detail is noticeable, in particular the bluish lighting for the instrumentation. As for ergonomics, we would have preferred a faster and simpler touch screen instead of the metallic scroll wheel (which gets very hot in summer) to control the navigation and sound systems.
In the back, there's a generous cargo area to transport your gear without a hitch and three adults can sit comfortably. Front passengers also get comfortable seats, but a little more firmness and support wouldn't have been a bad idea, especially in the sportier 5.0 R-Spec.
On the road
Once the wheels are in motion, the new 5.0-litre V8 has presence. Its power is linear and the car accelerates promptly, enough to surprise passers-by who don't think of the Genesis a sports car. The sound of the engine is lovely, but it's far from the Mustang's V8 in acceleration. Beyond its power, the Genesis 5.0 R-Spec handles a lot more like a touring sedan. Sure, the suspension is firmer and there's a larger stabilizer bar in the rear, but the car remains soft in sport conditions. On the other hand, this makes for a more comfortable ride: it's a question of personal preference. Same thing goes for the possibly over-assisted and at the very least artificial steering and for the none-too-sporty steering wheel.
Thanks to new technologies, fuel economy is comparable to that of the old V8 – about 13.1 L/100 km in town and 8.1 L/100 km on the highway.
With the Genesis 5.0 R-Spec, Hyundai is attempting a foray into the luxury sport sedan segment. But despite the 5.0-litre V8's power, it's missing several features to really challenge its rivals.
Share on Facebook