He said, she said: Test driving the Lexus CT200h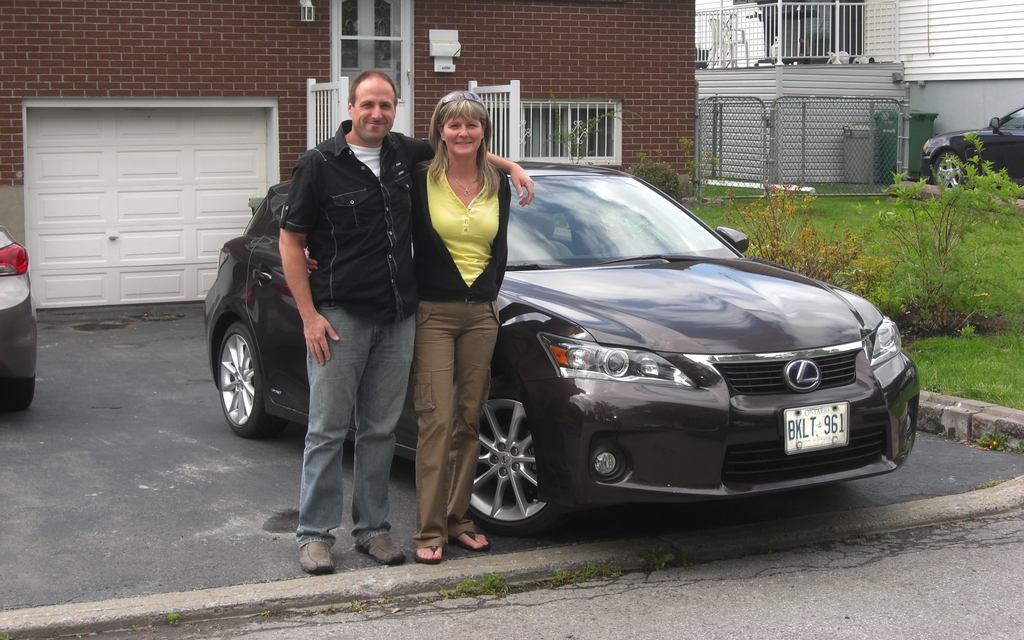 The premise of the He Said, She Said chronicle is simple: we lend a press vehicle to a couple to test drive extensively for two weeks and give the two participants one simple instruction: to take note of all of their impressions, both good and bad.
Each of the test drivers has to keep their opinions to themselves so as not to influence the other. Easier said than done, right?
This month, Céline Huneault and Martin Lessard agreed to test drive the hybrid Lexus CT200h for us. It features a 1.8-litre four-cylinder and electric motor with 134 horses controlled by a CVT gearbox. The sticker price for this version equipped with the Premium Package is $35,950. This includes dual-zone automatic climate control, driver seat memory, leather seat surfaces, backup camera and rain sensing wipers but not transport ($1,950) and taxes. Note that the base version of the Lexus CT200h starts at $30,950.
Here are their impressions:
He said
Martin Lessard
Age: 40
Resides: Pointe-aux-Trembles
Profession: Quality Department Head — Camoplast
Drives: 2004 Toyota Solara convertible
Our test driver, Martin Lessard, definitely wanted to test a hybrid car. His daily commute is 200 km round trip, often in the traffic of the busy Louis-Hippolyte Lafontaine tunnel, so he wanted to see if buying a hybrid would make sense for him.
The answer, at least in the case of the Lexus CT200h, is a resounding "yes."
"Once I understood how to get the most out of the electric mode, I managed to get 5.2 L/100 km – on a single tank. However, I didn't baby the car; you might even say I roughed it up a bit."
According to Martin, the hybrid incites you to drive that way. "The ride is fun and the handling is solid, even on winding roads. Except that the engine has a small capacity and you feel like you have to really push it to pick up speed." And that brings us to Martin Lessard's main complaint about the CT200h: the continuously variable transmission.
CVT? In town only
"In town, this CVT is smooth and I like the fact that it responds instantly. But we went to the mountainous Beauce region and that was a totally different story. I had to constantly push the accelerator to keep pace. And the sound isn't exactly what you'd call sporty — believe me, this is no orchestra."
Otherwise, Martin really liked the rain sensing wipers, which he found "very practical when the rain isn't constant," the satellite radio ("but I don't know if I'd subscribe") and especially, the smart key ("wonderful invention, the best thing ever!").
His personal favourite was the exterior design. "I really like Lexus' front ends and I don't mind their hatchbacks either. Yes, the CT200h we tested is very expensive at $35,900, but when you consider the luxury, trim, assembly and paint quality, it looks like a car that costs that much."
Basically, the Lexus hybrid won Martin over, despite its CVT. "With gas prices as they are, I would gladly accept this trade-off, provided I were living in the city. If I lived in a more mountainous region, I'd think twice about it. But in town, the CT200h is fun to drive, I's practical and it doesn't cost a lot at the pump."
She said
Céline Huneault
Age: 53
Resides: Pointe-aux-Trembles
Profession: Aeronautic Parts Laminator — Marquez Transtech
Drives: 2007 Toyota Matrix
If Céline Huneault had her way, there wouldn't be any car at all in her driveway. A motorcycle, yes, but not a car. "It takes me about three minutes to get work – on foot." But hey, life is complicated, so she agreed to take part in our test drive of the Lexus hybrid.
Her first impression? "The shape is really nice. In fact, it reminds me a bit of my Matrix – the size too – but it's obviously more attractive."
Since both she and her partner have drive Toyotas, the interior environment wasn't completely to Céline. Except: "There are too many buttons." What's more, although she found that the audio controls were located too low on the console to be safely adjusted while driving, she still chose not to use the audio controls on the steering wheel.
In any case, a few of the gadgets in the CT200h won her over. "I loved the backup camera and it was nice to be able to adjust the air conditioning in two zones. And thumbs up for the rain sensing wipers." She was satisfied with the comfort of the seats ("they are big"), but she found that the positioning of the armrests prevented her from resting her elbows on them. "It bothers me to no end to always have my arms on me."
As for performance, Céline agrees with Martin. "The car really holds in turns and brakes very well (surprisingly so at first).  And I liked the ride in Sport mode a great deal. But even then, you have to really floor it on hills to make it go – and that gets noisy."
Tight trunk and too many buttons
The main problem with the CT200h, in Céline's opinion, is the modest cargo volume. "The space is really small compared to that of my Matrix. To get everything we needed on board, we had to lower the seats – good thing we didn't have any passengers; we would have had to leave them on the side of the road."
So Céline, who admits that "a car's fuel consumption doesn't interest me," doesn't see the point of paying more for a hybrid. "It offers good quality for the price, but personally, I would look at something else before going for the Lexus CT200h. There are just too many buttons in this car!"
Share on Facebook