2012 BMW 650i Cabriolet - Grand Touring in the German Tradition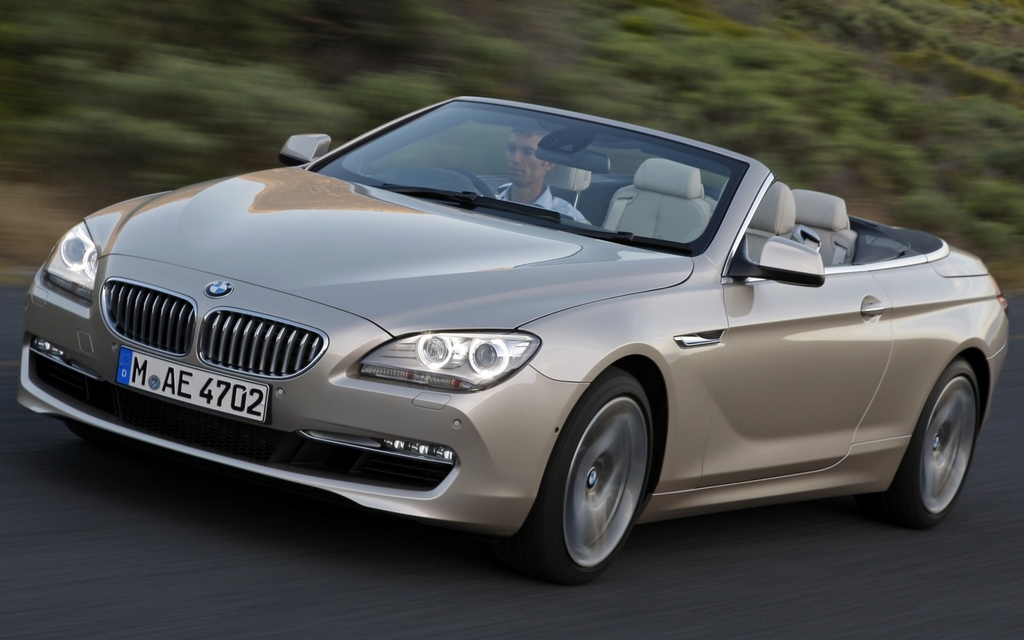 Strong points

Great ride
Lazy powerplant
Pretty good sized trunk
Cool features like hide away rear camera
Tons of tech

Weak points

It's heavy.
No seriously, it's really heavy.
Full report
When it comes to building big, comfortable, and eminently capable grand touring cars, no one can hold a candle to the cars that have come out of Germany. And how could they? With a long standing tradition of moving across their countryside unhindered by the obsessive convention of speed limits that manacles the rest of the world, Germans have spent decades perfecting the art of the high speed automobile. From the first Mercedes S, SS, and SSKs to the current crop of performance coupes like this from BMW, it's possible to trace a continued arc of evolution that's seen greater luxury, capability, and awe-inspiring speed than those early predecessors would have ever thought possible. 
And it's when viewed in just this light that the latest generation of BMW's 6-series looks best. Easily the best looking 6er to date (not that that is any real claim to fame, to be honest), it's low, long, and the very definition of lithe. Bringing the overall shape of the previous version into this decade, the car looks as if it's had the various wrinkles and creases left by Chris Bangle's pen ironed out, leaving a much cleaner and smoother shape overall. The twin kidney grill is flatter and more snub-nosed; shark-inspired according to BMW's own literature. Tracing back, the car's headlights sweep further back along the fenders and point the way towards the familiar, and still completely non-functioning fender vents that house some chrome trim and a turn signal repeater. Below, a crease evokes the contour of a 1936 BMW 328's front fender in the only homage to the 650i's heritage you're liable to find. Further aft, the drama of the front end tapers off, terminating with a thoroughly attractive tail that bears more than a passing resemblance to that of its smaller cousin; the 335i cabriolet. 
However, all one need do to ascertain the identity of the car they're gazing upon is look up. Whilst the cheaper 335i cabriolet makes out with an oft-lauded and extremely complex folding hardtop design, the 650i cabriolet continues with the tradition of using a spidery web of bows, canvas, and cables to form it's roof. And you know what? It's better for it. I personally have always found canvas tops to both look and feel like a more elegant solution to open-topped motoring, and the 650i cabriolet's top proves it. While the folding hardtops of both its smaller brother and many of its competitors bear the awkward lines of too many fitted panels, and seem to transfer quite a bit of wind noise and coldness through their hardened superstructures, the many-layered lined canvas of the 650i's top slides overhead like a blanket; letting nary a whisper of winter air penetrate the well-appointed cabin on even the coldest of days. And it looks better too. Artfully sculpted to incorporate the flying buttresses that have set the 6-series cabriolet apart since 2003, it flows down to the trunklid in precisely the same arc as does the hardtop coupe, at least when viewed in perfect silhouette. But while that's merely a nifty fact that's handy for impressing the onlookers at your next cocktail party, it houses a very real and very cool bonus: the heated rear window. Independently powered, the little rectangular pane of glass can be lowered and raised regardless of the top's position, allowing for a handy medium between top up and top down on warm days when you want some respite from the sun without sacrificing air flow, and provides a pretty decent built-in wind deflector when the roof is lowered. 
Of course, with a twin turbo V8 underhood producing 400 horsepower and 450 foot pounds of torque, there can be quite a bit of wind to deflect with even the slightest depression of the throttle. The same engine that can be found modified beneath the X5 and X6 M-variants, it produces gobs of lazy, low-end torque with a character that paired perfectly with the impressively smooth eight speed automatic fitted to my test vehicle. Vaulting from stoplight to street corner in great bounding leaps, the tachometer and accompanying noise level do little to belie the rate at which the car gain's speed; it's as if you're accelerating in a vacuum. But, accelerating you are, and quickly: 0-100 kph hits in just over four seconds, and it's just coming on song by then. Back off, and the double overdrive in the gearbox combines with the paltry 1,750 rpm required to produce all 450 foot pounds to make for a car that's extremely long of leg and longer still in stride. Be it at 50 or 150, the car never feels like it's even breathing remotely hard, and I'm sure it's electronically-instilled 210 kilometre per hour limit is almost boring. 
And of course, this being a BMW, the speed limiter is hardly the only electronic device you're likely to bump into. From the ridiculously adjustable optional seats with their plethora of controls to the many-functioned steering wheel to the almost obligatory ride and performance mode controls, the attractive interior of the 650i cabriolet resembles that of an extremely well appointed aircraft, in some ways. In fact, pilots might even find themselves quite at home in the big Bimmer, with such features as an available heads up display and a battery of radar sensors. But for us mere mortals, it can be a bit overwhelming at first. With the ability to tailor everything from the seat side bolsters to the damping rates to the throttle sensitivity and transmission shift points, it takes a few moments to get everything squared away when you first step aboard... but it all works beautifully thereafter. Planning a long trip over varied road surfaces? Select the comfort mode to provide a soft, cosseting ride and low shift points that make the most of the engine's flexibility in order to reward with excellent fuel  economy. Tired of that Porsche sitting six inches off your back bumper? Sport+ mode is just a couple switch flips away, and with it, perfectly firmed up suspension, more aggressive throttle mapping, and an eager transmission to match. 
But to be honest, as good as the 650i is when put on Defcon 5, spend a few hours playing with the beg car and you might find yourself limping back to simply Sport, or even Normal mode before too long. Weighing in at 4,532 pounds, there is simply no avoiding the fact that the 6-series is not a spry and lithe sports car, and cannot be made to satiate the appetites that BMW's smaller Z4 does. But, that's a far cry from a complaint. With a much more comfortable interior, greater noise and vibration isolation, more power, and a first-rate cabin, the 650i is to a Gulfstream as the Z4 is to a Pitts aerobatic plane. And just like the first grand touring cars ever created, the 650i expands upon the growing canon of first rate German grand touring cars by being both uncompromisingly luxurious, and yet breathtakingly fast. 
Share on Facebook