Ford Demonstrates Ecoboost V6's Reliability in Detroit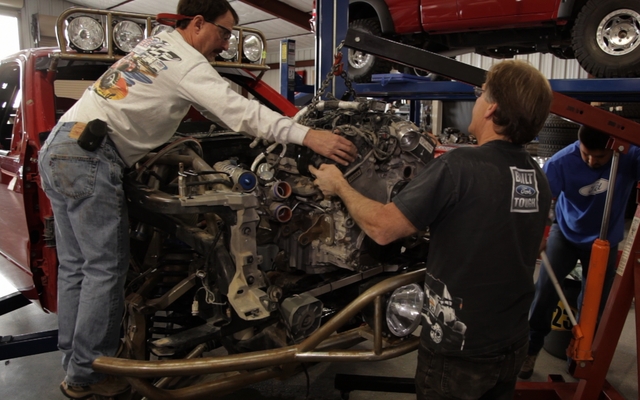 There's a lot to be said about the impact of putting a twin-turbo V6 between the fenders of Ford's venerable and best-loved workhorse; the F-150. Long thought of to be the property of high-end and temperamental performance cars, many have been skeptical about the implementation of such an engine in a rough and rugged pickup truck, so Ford promptly set about quelling those fears in the most logical way they could imagine: beat the ever loving snot out of one.
So, they took one Ecoboost-equipped F-150, and used it to do absolutely everything from towing 11,300 pounds at 82 miles per hour for 24 hours to skidding 110,000 pounds worth of logs to running the Baja 1000. Even more impressive is the fact that all that real-world testing came after hours of factory-borne endurance testing to simulate 150,000 miles of driving with some temperature changes from -20 degrees F to 235 degrees F as quickly as possible thrown in for good measure.  Engineers speculate that the engine has accrued enough hours to equate to six laps around the world.
But to prove the point even further, they put the engine on a dyno to test the horsepower output after all this abuse and found that even after all that, the engine cranked out 364 horsepower (one less than advertised) and 420 pound feet of torque. Then, the engine was tested and disassembled for the crowds at the Detroit auto show. During testing, the single weak link was found during a leakdown test when the mechanics discovered one cylinder demonstrated a 13% air loss. Of course, the carbon buildup was exactly as one would expect of an engine that had been so mistreated, but all other measurable wear components and tests remained within operation limits.
Share on Facebook