Mitsubishi Mirage
The Mirage is a city car propelled by a 1.2L three cylinder that generates 78 horsepower and 74 lb·ft of torque. A five-speed manual gearbox or continuously variable automatic transmission sends the modest output to the 14- or 15-inch wheels up front. In addition to the hatchback, there's a sedan called the Mirage G4, which includes has a conventional trunk. The Mirage comes in a rather extravagant range of colours and has an excellent warranty.
All Mitsubishi Mirage reviews
Mechanical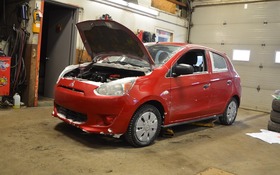 The Mitsubishi Mirage Under the Microscope
Since its North American debut, the Mitsubishi Mirage has been the subject of a lot talk—and heated debate! While its body shape is not unpleasant, a closer look reveals all the shortcuts the manufacturer took to produce the car at a low cost. Shortcuts like that are okay, but only …
First Drives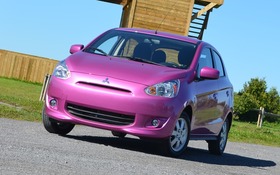 2014 Mitsubishi Mirage: Are Your Eyes Deceiving You?
Mitsubishi's North American line-up is nothing if not heterogeneous. Two compact SUVs (the Outlander and RVR), a rather ordinary sedan and wagon whose base versions become exceptional when called Ralliart or, especially, Evolution. There's also a little, 100% electric car called the iMiEV. And last week, we attended the launch …