Cadillac SRX
Unchanged from the 2014 version, the SRX is back this year with very modern lines. Although it's the same size as some of GM's crossovers, the SRX has a platform all its own. There's a dynamic 3.6L V6 engine purring under the hood, paired with a six-speed automatic transmission and optional all-wheel drive. The luxurious passenger compartment abounds with gadgets and driving aides.
All Cadillac SRX reviews
Test Drives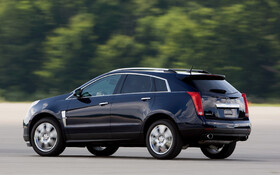 2010 Cadillac SRX: One Sexy Caddy!
It had certainly been a long time since I'd driven a Cadillac. With everyone focusing on the recent difficulties at GM specifically and the state of the automobile industry in general, most of us failed to notice the giant steps taken by the American luxury brands, including Cadillac. While its …
Test Drives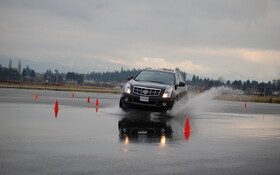 2010 Cadillac SRX: The Crossover Caddy, Corrected.
The Cadillac SRX was a stupid idea. Debuting in 2004, it was intended to offer buyers a smaller, sportier alternative to the Escalade, but with gas prices still climbing towards their zenith and GM pricing the SRX just a few bucks below the range-topping Escalade, most buyers found more value …