Cadillac SRX
Continuously improved throughout the years, the 2014 Cadillac SRX sports new IntelliBeam headlamps and adds a sport version. Whether you choose front-wheel drive or all-wheel drive, the SRX uses the same 3.6L V6 and six-speed transmission combination. The interior, in keeping with the Cadillac tradition, includes the CUE system as well as the usual electronic driving aids so dear to luxury vehicles of its class.
All Cadillac SRX reviews
Test Drives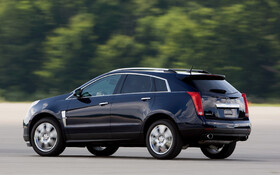 2010 Cadillac SRX: One Sexy Caddy!
It had certainly been a long time since I'd driven a Cadillac. With everyone focusing on the recent difficulties at GM specifically and the state of the automobile industry in general, most of us failed to notice the giant steps taken by the American luxury brands, including Cadillac. While its …
Test Drives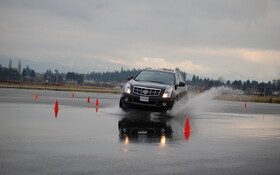 2010 Cadillac SRX: The Crossover Caddy, Corrected.
The Cadillac SRX was a stupid idea. Debuting in 2004, it was intended to offer buyers a smaller, sportier alternative to the Escalade, but with gas prices still climbing towards their zenith and GM pricing the SRX just a few bucks below the range-topping Escalade, most buyers found more value …