Audi e-tron
Audi's first fully electric vehicle, the e-tron quattro, is a five-passenger SUV that's equipped with two electric motors for a combined output of 402 horsepower. The manufacturer promises a 0-100 km/h sprint of 5.7 seconds and, thanks to the 95-kWh battery, driving range is estimated at 400 km. The e-tron quattro's cockpit is utterly sophisticated with fully digital information screens and a resolutely modern design.
All Audi videos
Sorry, no result for Audi e-tron. Here are results for Audi
Clips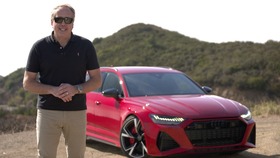 Gabriel Gélinas drives the 2020 Audi RS 6 Avant
Gabriel Gélinas drives the 2020 Audi RS 6 Avant in the beautiful region of Malibu, California.
Geneva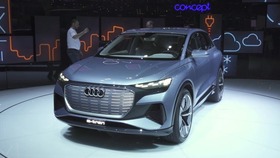 Audi Q4 e-tron concept
Smaller than the e-tron quattro , the new Q4 e-tron Concept features a long wheelbase that maximizes interior room. In terms of size, it stands at 4.59 metres long, 1.90 metres wide and 1.61 metres tall. During the press conference, Audi president and CEO Bram Schott announced that the Q4 …
Clips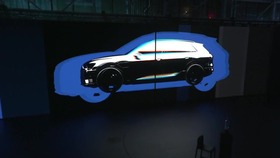 World premiere of the Audi e-tron: highlights
he Audi e-tron is the brand's first all-electric-drive production model. The company celebrated the historic world premiere of the sporty full-size SUV in San Francisco. Watch the highlights.
Episodes
Motoring TV 2000 Episode 23
Pontiac Aztek 2001 2000 Audi TT Roadster quick brake smell = trouble Mazda RX-Evolv concept oil change intervals Jim Kenzie on, yikes, Pontiac Aztek.
2001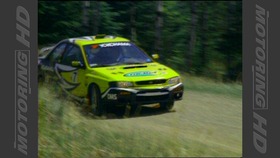 Motoring TV 2001 Episode 11
Success for Subaru rallying and in showroom 2001 Audi All-Road Quattro block heaters MotoringTV does radio pros and cons AWD Smart Car Jim Kenzie on rally driving.
Motoring TV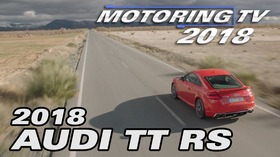 The 2018 Audi TT RS - Motoring TV
Another hard day at the office for our Russ Bond! For more stories about the Audi TT, hit the link - https://www.guideautoweb.com/en/makes/audi/tt/2018/ To watch all our most up to date content, check out our TV show schedule - https://www.guideautoweb.com/en/motoring-tv/schedule/ Check out our website for full episodes from our archives, more …