2010 Rolls-Royce Ghost: A dazzling follow-up that devours the road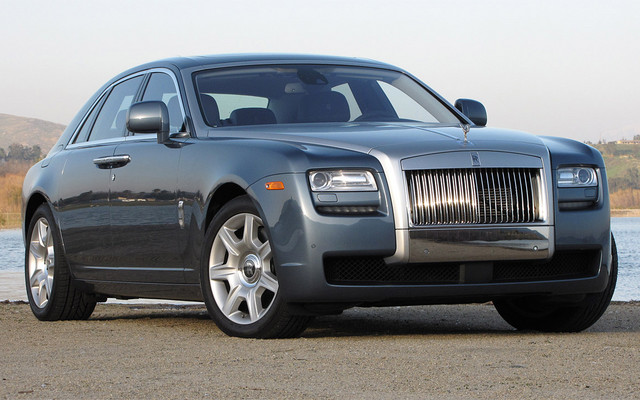 Strong points

Impressive handling and ride
Remarkably quiet and smooth
Very solid performance
Elegant, chic and imposing

Weak points

Huge exterior rearview mirrors
Confusing control menus
Astronomical price
Fuel consumption
Full report
Sir Winston Churchill would undoubtedly roll over in his grave to learn that Rolls-Royce and Bentley, the noblest of British luxury car brands, now belong to German manufacturers. The former is one of the BMW Group's brands, just like another British icon, the Mini. The latter is part of the large Volkswagen conglomerate.
Purists and jingoists alike have no reason to worry about these ownership changes since Rolls-Royce and Bentley, long-time twins, have been brought back to life and re-launched with vigour and an impressive respect for their traditions. Not to mention that they now benefit from the most advanced technology and German engineering and manufacturing know-how. So much for the often questionable and fuzzy quality and innovation that once undermined the reputation of English cars.
Of these two brands, by far the most prestigious and renowned is Rolls-Royce, which, more than any other, is associated with royalty and great wealth. With a still imposing silhouette and an immense Greek temple-like front grille crowned with the emblem of the Spirit of Ecstasy (a feminine figure with wings outstretched) you'd recognize a Rolls anywhere.
Act one: Starting from scratch
While the brand has existed since 1904, the current manufacturer came into being in 1998. After a bold move by the boss at the time, BMW ended up being the owner of the priceless name. And the rest is history. The Munich-based owners immediately founded Rolls-Royce Motor Cars, put teams together and built a plant in England – of course – near Goodwood. Five years later, a new Rolls-Royce, the spectacular Phantom, was being assembled there.
But since Rolls-Royce has always been more successful with two complementary series, the new Ghost will be the everyday Rolls. At 5.4 metres long, this new mega-sedan is still shorter than the Phantom sedan by 43.4 cm and a little narrower and lower too, on a wheelbase that is 27.6 cm shorter. But because the steel of the body is thinner than the Phantom's aluminium structure, the Ghost is also spacious. It weighs close to two and a half metric tonnes (2,469 kg), but that's still 160 kg less than its big sister.
The bodies are made in a special section of the large complex in Dingolfing in Germany where BMW also produces the 5- and 7-Series. They are then sent to the Goodwood plant. In total, each Ghost requires about 20 days of work to build and is done almost entirely by hand. The finished product is in the pure Rolls-Royce style with softer lines than the Phantom. It has a typical, but smaller front grille, and its roof's thinner rear upright lightens its silhouette. The Ghost is also more aerodynamic with an acceptable Cx of 0.33, compared to big sister's 0.38.
Rolls-Royces are developed in Bavaria, where the team takes advantage of BMW's tools, resources and state-of-the-art technology. Although the Ghost shares about 20% of the 7-Series' components, it's almost impossible to pick them out because they're so well integrated and their performance is in keeping with the style and philosophy of Rolls-Royce.
Like you're in your living room
The Ghost is spacious and the back seats, which are either the factory-standard bench or the optional individual seats, are accessed by doors that open toward the back at an 83-degree angle and that close with the push of a button. The front seats are also soft and offer surprising lateral support when the ride is rough. The driving position is superb, the settings are easy to access and their memory is available at all times. It has a classic Rolls-Royce steering wheel with its thin rim draped in smooth anthracite leather, a big round hub and chrome buttons for most of the secondary controls.
The most recognizable feature that the Ghost shares with the BMW 7-Series is the big, bright screen located in the middle of the dashboard. Concealed under a varnished wood cover, it only appears when needed. The menus are Rolls-Royce's version of BMW's iDrive system. They are complete but still too complex. To make up for it, there are round, black buttons circled by chrome rings and cylinders for the numberless climate control settings: blue means cold and red means hot.
Standard equipment already abounds and adds to unique features like incredibly thick carpets and Teflon-coated umbrellas tucked into the front doors. Much can be added if you peruse the list of options. In particular, there's a contrasting 'silver satin' bonnet finish, 20-inch alloy rims – nickel-plated or not – with a large Panorama sun roof, retractable blinds, a 600-watt audio system with 16 speakers and a 12.5-gigabyte hard drive with a USB port.
Among the optional systems, there's an infrared camera for night vision, headlights that automatically dim and an automatic cruise control that can immobilize the Ghost and start it up again, in addition to reducing its speed in turns and side cameras. The "theatre" option adds a 9.2-inch LCD screen for each passenger and a small lacquered wood foldaway table. Finally, the large 490-litre trunk and its thick carpet-covered surfaces and low loading height protected by a nice chrome wearing plate all get high marks.
Performance is king
Under the Ghost's long hood, you'll find a V12 with a double turbocharger and 6.6-litre fuel injection that generates 563 horses at 5,250 rpm and 575 lbs-ft or torque at only 1,500 rpm. These figures make it the most powerful Rolls-Royce to date. This new V12 is derived from the BMW 760 engine, but with a capacity increased by 600 cm3 and with the 4.4-litre V8's larger pistons. It's paired with a new 8-speed automatic transmission made by ZF.
Rolls-Royce swears that the Ghost, despite its weight, hits 100 km/hr in 5 seconds. The thrust is strong and continuous in flat-out acceleration, and it's accompanied by a delightful muffled cry. No worries for braking, since the new Rolls comes with the enormous discs that equip the 7-Series, but reinforced because of its weight. The front discs have a 409 mm diameter and the rear discs have a 401 mm diameter.
Smoothness and comfort are essential for a Rolls, so the Ghost comes with pneumatic springs and shocks that are adjusted every 2.5 thousandths of a second. The springs also help lower the car by almost 2.5 cm to improve access. On the road, it's as smooth as silk, except for the minimal shaking felt on a stretch of California highway during the launch, which is already a feat with run-flat tires mounted on 20-inch rims.
However, the Ghost is most impressive when you really push it on a very windy road. In spite of its substantial weight, it attacks turns with unprecedented confidence and balance. With its almost perfect weight distribution between the two axles and the grip of the optional 255/45R20 tires, there's almost no understeer. The pneumatic suspension also reduces the roll and brake dive to almost nothing. For its size and weight, the Ghost holds the road with extremely well and will put a great big smile on your face. Gone are the Rolls-Royces of old...
And Rolls-Royce's clientele isn't the same as it used to be either. First, eight of ten buyers are on their first Rolls and 90% drive it themselves. For the most part, they're very prosperous "entrepreneurs" of all ages who love cars. For them, the base price of $245,000 US is a detail and they won't raise an eyebrow at the $303,125 US that our test vehicle costs, options included. After all, it's much less than the Phantom's $380,000 US and the Ghost is a true Rolls. It's faster and undoubtedly the sports car of the family.
Share on Facebook