2010 Subaru Legacy: Engineering Excellence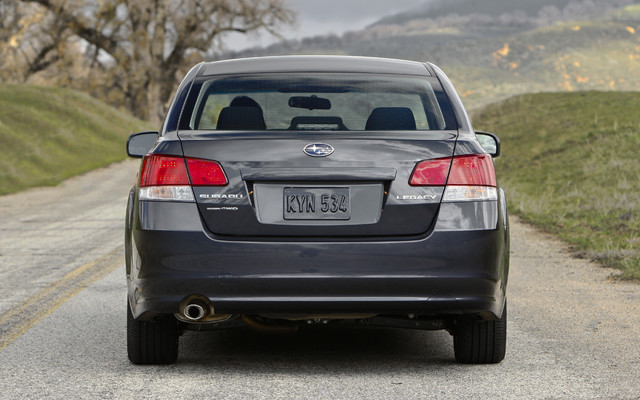 Strong points

Agile, Light Handling
Great AWD System
Grown-up Looks
Excellent Fuel Economy

Weak points

Interior Design (or lack thereof)
Full report
Should you ever have the good fortune of visiting one of the major manufacturers' development facilities, you're eye will no doubt wander over the various hulking forms hiding beneath shapeless sheets. Cast about like discarded toys, they can be found nearly everywhere; parked in neat lines outside nondescript hanger bays, alongside the in-house test track, and sitting in parking lots nestled amongst fields of lesser vehicles. But regardless of location, something binds them all together: they are engineers' cars.
Often fitted with various modifications or untested contrivances, these cars often represent the sort of automobiles any given automaker would happily provide us with... if money were no object. But sadly, accounting departments do exist, and as a result, many of those besheeted prototypes housed at Toyota, Honda, and others' facilities will never see the light of day.
But someone apparently forgot to tell Subaru. Historically known for providing drivers with some of the best engineered cars in the world, they have made a glorious habit out of producing cars that appear to have skipped the accounting department entirely. Uniquely engineered vehicles such as their beloved and now defunct SVX sports coupe and rally-ready WRXs and STIs, and now the all-new 2010 Legacy sedan, all provide provenance of the company's unparalleled devotion to engineering excellence.
And of course, any discussion of Subaru's engineering ability simply must begin their trademarked Symmetrical All-Wheel Drive platform. An evolution of Subaru's older selectable all-wheel drive system born in the early seventies, the modern full-time system differs from the majority thereof in both its design and operation, and is available in three variations within the 2010 Legacy lineup. As tested in 2.5i Lineartronic CVT-equipped form, the Legacy comes with an Active Torque Split version of the Symmetrical All-Wheel Drive system. Using an electronically controlled, continuously variable clutch system, the Active Torque Split system maintains a front-wheel drive bias until slippage occurs. Conversely, opting for the six speed transmission earns you Subaru's Continuous all-wheel drive which, with a static split of 50/50, utilizes a viscous coupling to redirect power from one axle to another as needed. Slightly more capable than the ATS system, even the Continuous system is overshadowed by the performance-oriented Variable Torque Distribution (VTD) system found on 3.6R models within the Legacy line. Similar to that found within the WRX and STI, this system uses a planetary center differential and an electronically controlled clutch pack to divert power from a rearward-biased static split, depending on the driving conditions.
But perhaps the biggest news for this year is the addition of the aforementioned continuously variable transmission, or CVT. Marking the first use of a longitudinally mounted CVT in an all-wheel drive car, this new transmission provides infinite variability between the lowest and highest available ratios with no discernable steps or shifts. This subsequently results in increased performance and better fuel economy as the transmission can essentially hold the engine at any given RPM, depending on the torque demand. For more sporting situations, any one of six "gears" can be called upon by pulling the obligatory shift paddles behind the steering wheel. Although that said, the transmission seemed to work best when left to its own devices. Although displacing only 2.5 litres, the powerplant produces a healthy 170 foot-pounds of torque at 4,000 rpm; a by-product of the engine's flat, "boxer" layout. This, combined with the CVT's ability to hold a given engine speed indefinitely, make for an excellent commuting package, as the Subaru makes short work of the cut and thrust of inner city traffic. However, out on the highway, the flat four is forced to spin at a relatively high speed to access the 170 horsepower, which in turn makes it feel as if the car's trying harder than it should have to in order to accomplish even the most modest of passing manoeuvres.
But there's little that is more demonstrative of the Legacy's impressive engineering budget than the interior. Looking like an amalgam of Nissan and Toyota products, it appears to have been designed entirely by a horde of engineers whose sense of style stopped at their pocket protectors. The lower-spec 2.5i tested was nearly bereft of luxurious styling touches, leaving the interior awash with shades of grey. However, its spartan nature doesn't detract from its practicality: it is supremely comfortable. The driving position is nearly perfect, with excellent visibility and a good reach to the adjustable steering wheel and fixed pedals. Likewise, this, the largest of Legacies, offered a surprising amount of rear seat legroom and a downright shocking amount of trunk space. With a cavernous hold and a low lift-over height, it was already useful enough, but the relocation of the now standard fitment 60/40 folding seat controls makes it even more so as the driver no longer needs to reach into the truck to release one or both of the rear seats. Tested on numerous trips to everything from military surplus stores to the local grocer to running a windshield frame to the galvanizing shop, the Subaru proved itself more than equal to many of its competitors in terms of simple practicality, and once again demonstrated the attention to detail Subaru's engineers obviously took with the interior layout, if not design.
Whilst a far cry from the blistering performance of its 3.6R cousin or any of Subaru's rally-inspired smaller sedans, the new Legacy does a fantastic job of exposing a new generation of customers to the engineering prowess that has typified Subaru cars for decades. With agile handling and a robust powertrain, it's a car that's perfectly suited to our Canadian climate, and offers buyers the security of all-wheel drive paired with practicality that's on par with the best of the segment.
Share on Facebook