2024 Toyota
Grand Highlander

: Go Grand or Go Home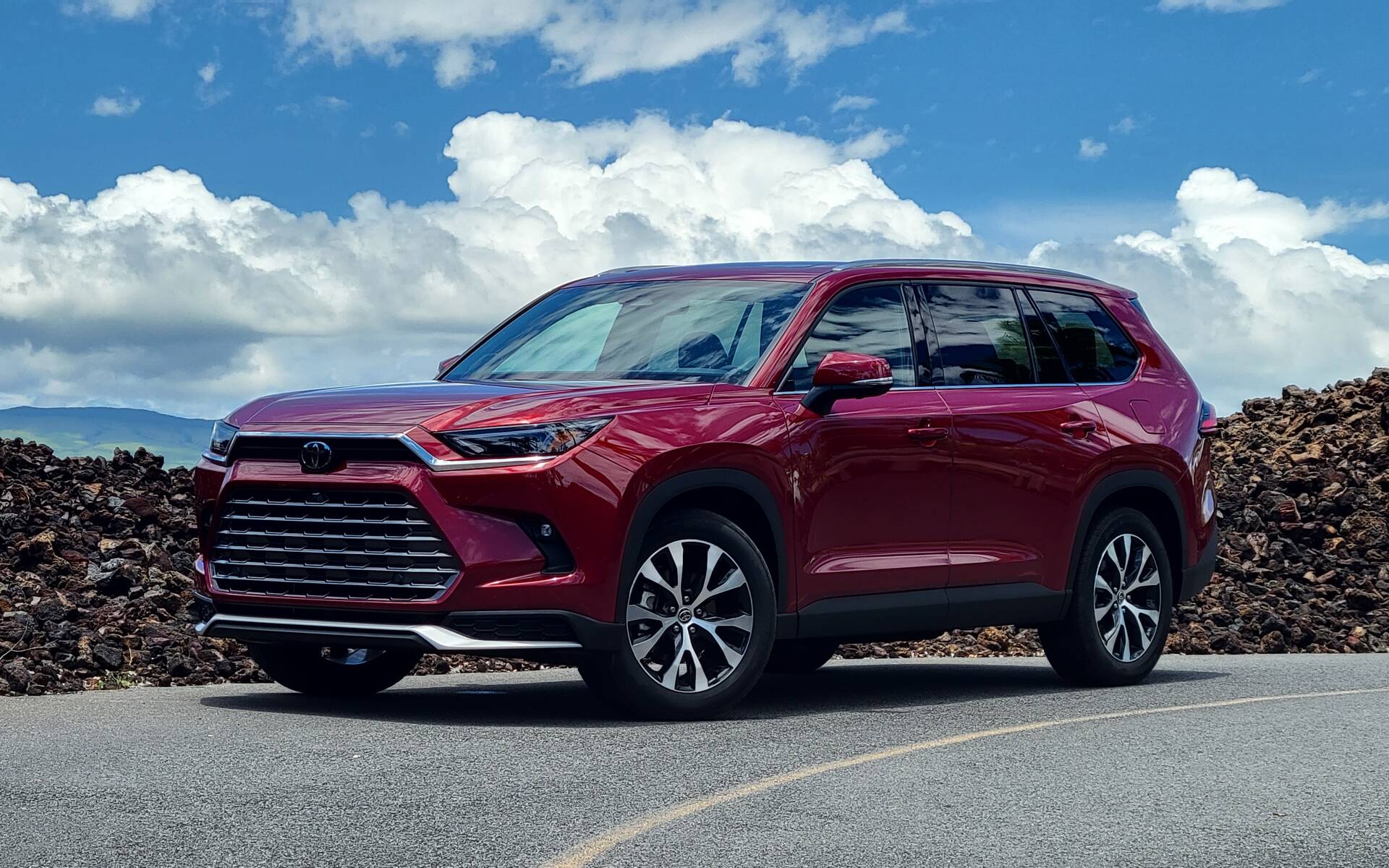 Strong points

Good performance (gas and Hybrid MAX)
Great level of comfort
Comfortable ride

Weak points

Hybrid MAX only available on Platinum
Roomier third row than Highlander, but it's still tight back there
Full report
Supersizing existing models to turn them into larger sub variants is nothing new, but this trend is picking up in the SUV segments. The recipe isn't secret: take a popular product and increase its size, sprinkle on more technology and convenience, more power, and voilà! Oh yes, bump up the price too, of course!
But while it may seem like a superfluous remodeling, supersizing isn't always a delusion of grandeur. For example, if your mid-size SUV is very useful for your family, but you'd rather live with its lack of cargo space than move up to a more fuel-hungry (and considerably more expensive) full-size SUV, this subsegment could be just what you're looking for.
And that's exactly what Toyota has done with its highly popular Highlander for 2024, an uninspiring SUV in its own right, but one whose versatility and reliability make it a low-risk choice. What's more, the Grand Highlander offers another opportunity for Toyota to demonstrate its latest technical prowess in the hybrid field - adding a little bold exterior styling at the same time.
The Car Guide travelled to Hawaii to put this new Toyota Grand Highlander 2024 through its paces and assess its strengths and weaknesses, but also to see what it offers over the Highlander.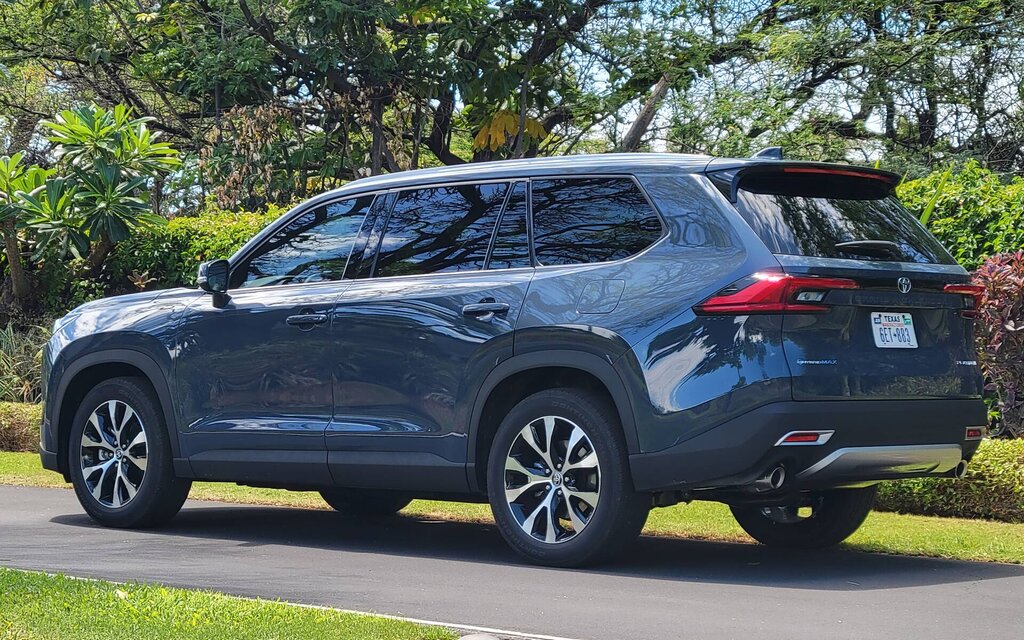 The Grand Highlander Pushes the Hybrid Envelope
This "normal" Highlander is offered with a choice of two powertrains. The first is a 2.4-litre turbocharged gas engine producing 265 hp and 310 lb-ft of torque, mated to an 8-speed automatic transmission. The second is a 245 horsepower tried-and-tested hybrid system at Toyota composed of a reliable 2.5-litre naturally aspirated gasoline engine paired with electric motors and a battery - a configuration found in many of the automaker's products.
The Grand Highlander is offered in XLE, Limited and Platinum variants, and features the same two powertrains that output roughly the same performance, but adds a third mill, the Hybrid MAX, which combines the 2.4-litre turbo engine with the two-motor hybrid system. The duo outputs 362 hp and 400 lb-ft of torque. All models are equipped with all-wheel drive (AWD) as standard.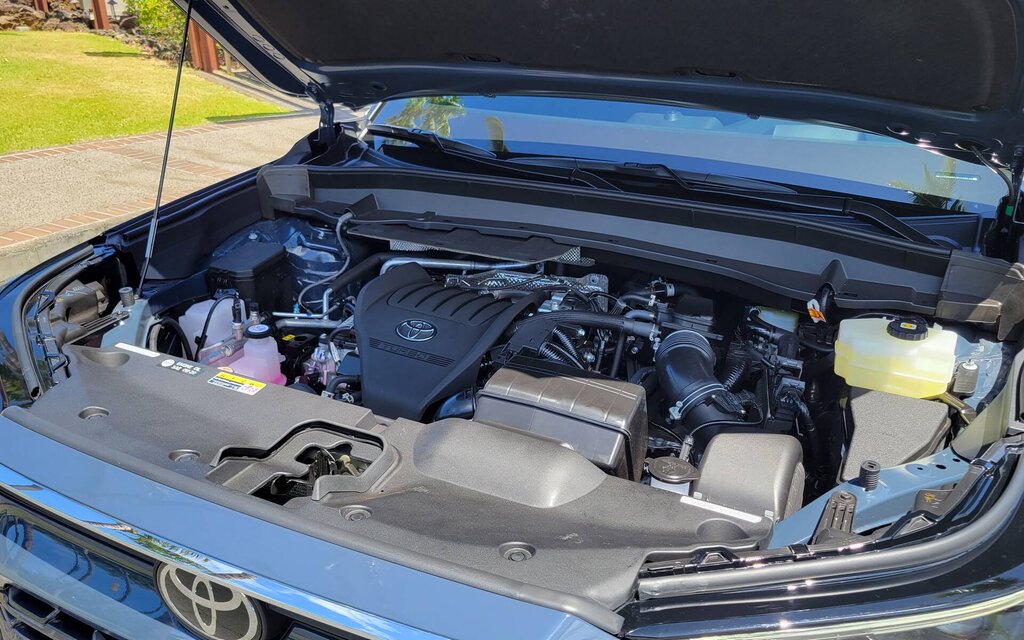 At first glance, we feared that the powertrains would lack power, considering that the Grand Highlander weighs between 100 and 400 pounds more than the Highlander depending on the model. While the first hybrid engine is not very powerful, even borderline, the Hybrid MAX engine delivers impressively, offering more capability to those who want it, while remaining quite efficient. The base gasoline engine also makes it happen, with prompt throttle response and linear power delivery. Driving dynamics are nothing exceptional, but the Grand Highlander has other priorities like comfort, for example, where it shines regardless of road conditions.
The Grand Highlander boasts an impressive array of drive modes and off-road features, most of which will only be used very occasionally by the average purchaser of this product. However, those who need to tow their toys will be delighted to know that the Grand Highlander can tow up to 6,000 lb with the Hybrid Max engine. Note that this engine is only available in the range-topping Platinum variant.
In terms of efficiency, the hybrid-powered Grand Highlander uses, according to Toyota, as little as 7.0 L/100 km in combined city/highway driving, which is slightly more than the Highlander Hybrid's 6.7 L/100 km. The Hybrid MAX powertrain is rated at 8.8 L/100 km, which is quite impressive considering its torque. Note that these ratings are only estimates at present; Environment Canada's official ratings should be published shortly.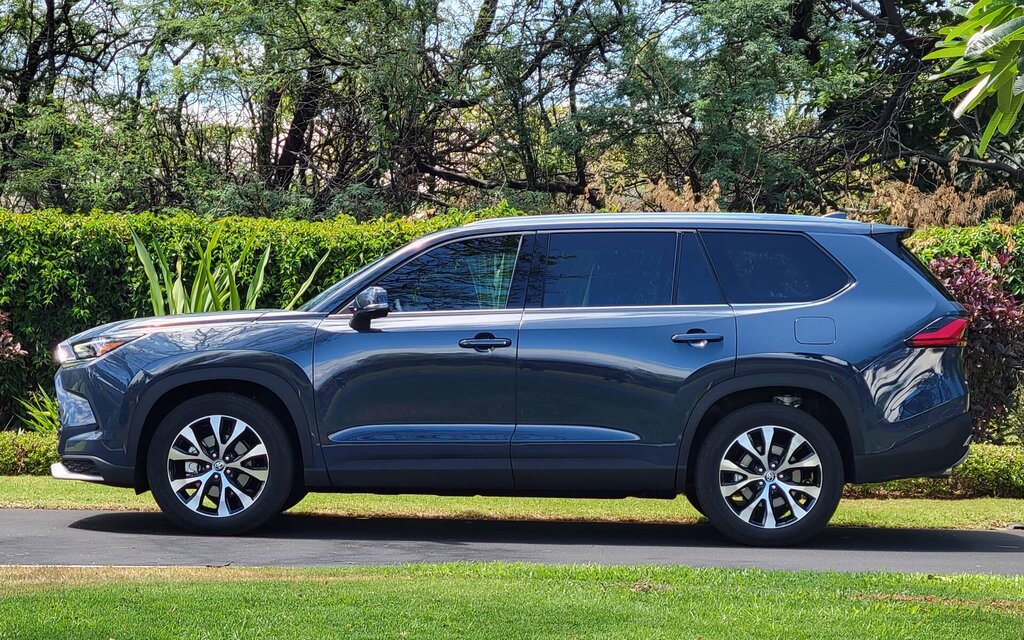 Cabin Extension
To meet the many needs of North American families, the Grand Highlander features no less than 13 cup holders, as well as 7 standard USB C ports for recharging every conceivable portable electronic device. Up front, Toyota has integrated a standard 12.3-inch touchscreen equipped with the latest Toyota interface - which is simplistic in design, but very easy to navigate. We also appreciate the fact that Toyota has left a generous strip of manual controls below this screen, limiting distracting interactions with the said display.
The Grand Highlander is 6 inches (152 mm) longer than the Highlander. This translates into improved passenger and cargo volume. Toyota claims that this third row deploys up to 33.5 inches (850 mm) of legroom, but this space is greatly diminished when there's an adult seated in the second row. We think Toyota could've taken further advantage of this opportunity to add more length. However, it's a good improvement compared to the oh-so restricted space in the third row of the Highlander. Cargo volume behind the third row sits at 583 litres, compared to 453 litres with the Highlander.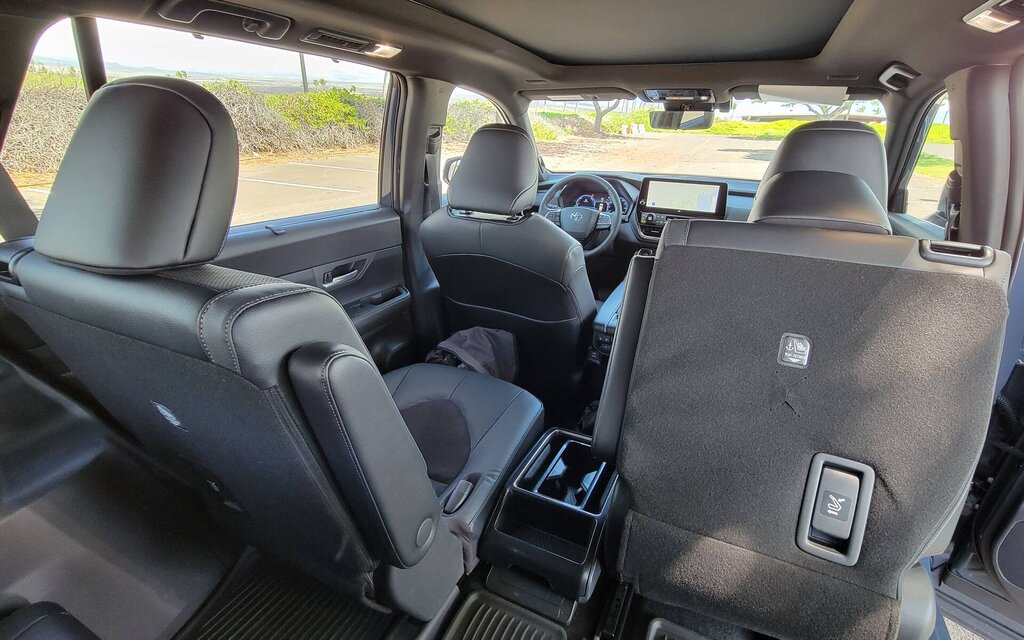 The Grand Highlander can accommodate up to 8 passengers, but only in the base XLE version - Limited and Platinum models feature captain seats in the second row.
The Final Word
In short, this Grand Highlander is more comfortable for everyday use, but also more suitable for longer journeys than the Highlander. The new Hybrid MAX engine is a powerful performer, and also opens the door to more towing possibilities. While the starting prices of the Highlander and Grand Highlander are not very different, at $48,594 compared with $50,490, the Grand Highlander's price rises to $65,450 for the Platinum variant. If the Highlander offers a more diversified range and the Grand Highlander more performance and convenience, it's up to each and every one of us to assess whether these improvements are worth the extra dime.
Share on Facebook