2024 Aston Martin DB12 Hailed as World's First "Super Tourer"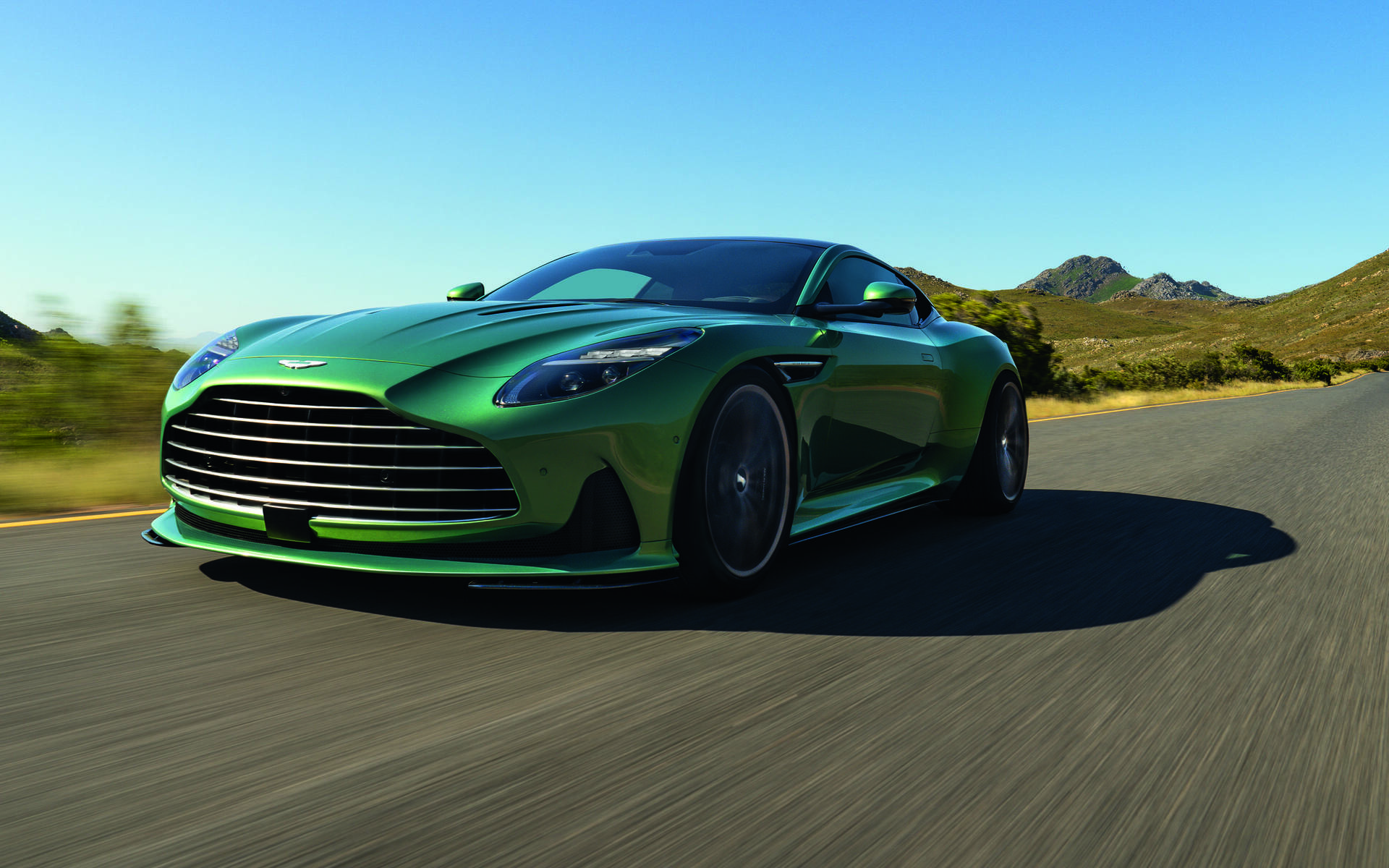 This year is a big one for Aston Martin, which is set to replace the DB11, DBS and Vantage. The first of these cars will become the DB12, and it debuted in a global premiere on Wednesday night.
The British automaker calls the new DB12 the world's first "super tourer"—because "grand tourer" apparently doesn't cut it anymore. What exactly does that mean? Read on.
The design is clearly more of an evolution than a revolution. The model is still instantly recognizable as a member of the Aston Martin family, but a timid departure from its predecessor. The enlarged grille looks almost disproportionate (seriously, it's all we see when viewed from the front), the headlights have a new lighting signature and the brand's updated logo appears for the first time on the hood of an Aston.
More V8 Power
The twin-turbocharged 4.0-litre V8 returns under said hood. It's still sourced from Mercedes-AMG, but Aston Martin engineers have managed to increase output from 528 horsepower to a whopping 671 horsepower (+143), outperforming the twin-turbocharged 5.2-litre V12 that's no longer available. Peak torque is now rated at 590 lb-ft. (+77) and can be accessed from 2,750-6,000 rpm.
Larger turbos, a revised compression ratio and improved cooling system make it all possible. An eight-speed automatic transmission continues to send power to the rear wheels only. Aston Martin claims 0-60 mph (97 km/h) acceleration is achieved in 3.5 seconds, which is about half a second quicker than before and quicker still than with the old V12.
An electronic rear differential is now part of the package, while the suspension has been upgraded with new intelligent adaptive dampers and stiffer sway bars. The 21-inch wheels are wrapped in specially developped Michelin Pilot Sport 5 S tires (the first OEM application for these tires). The electronic steering system is said to be recalibrated for improved feel.
Also notable are the 15.7-inch front and 14.2-inch rear cast-iron brake discs along with the new brake booster. Optional carbon-ceramic brakes deliver the ultimate stopping power while reducing the car's weight by 27 kg (60 lbs).
Super Interior
Looking at pictures of the new Aston Martin DB12, we can see that the interior is much more modern and seemingly more user-friendly, too. Aromatized and hand-stitched Bridge of Weir leather adorns most of the cabin. Of course, customers will have a ton of personalization options to choose from thanks to Aston Martin's Q program.
A number of physical controls remain on the redesigned centre stack, while the company's new infotainment system powers the 10.3-inch touchscreen. Wireless Apple CarPlay and Android Auto is available. The DB12 also marks the debut of Aston's new smartphone app, enabling remote control of certain vehicle functions and access to specific content.
Deliveries of the 2024 Aston Martin DB12 are scheduled to begin this summer. Canadian pricing will be announced at a later date. A DB12 Volante roadster should follow soon enough. One thing's for sure: whether you call it a grand tourer or super tourer, the DB12 is much better positioned to take on German and Italian rivals, particularly the Ferrari Roma.
Share on Facebook