2,600 km across the Arctic Circle in a smart: Not such an ordeal after all (part II)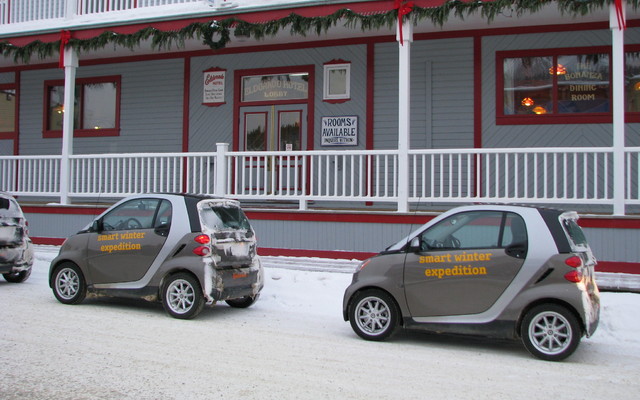 DAY 3: Our smarts take on an arctic storm
You know what? I don't really thing any of us knew what we were getting into when we decided to drive to Inuvik in smarts. We journalists certainly didn't, and the folks at smart/Mercedes probably didn't either. We hadn't really figured that getting there – and returning in one piece – would be such an adventure. But what a challenging day we had...
It's not easy trying to cover 780 km in an arctic storm. On this day, the Dempster highway showed us what it was made of by sending powder and jets of snow our way, reducing visibility to almost nil. Yesterday's final exit gave us all a scare when our smart's wheels got stuck in the compact snow on the shoulder. "I tried not to brake and to steer the car back onto the road, but then we hit something and found ourselves doing 360s across the Dempster."
The pair driving behind us must have been even more terrified, if that's possible. "We saw them spin into a cloud of white and thought: Damn, we're going to hit them full force and seriously injure them." How did we all manage to get through it unscathed? Luck, yes, but also the fact that the drivers were able to put into practice what we all learn at performance driving courses. "Whatever happens, do not stop driving."
From fear comes wisdom. The next day at breakfast, all twelve journalists agreed to ease off and go a little more slowly. Even though we had a long drive ahead of us, safety comes first and everyone wants to finish the trip in one piece. So, it's decided: no faster than 100 km/hr, and less if the conditions get tricky. In my ten years as an auto journalist, it's the first time I hear drivers express the desire to cut speed.
The road is long, long, long
And slow we went. The weather conditions, which can change on a dime in this area, served us up a cocktail of precipitation, forcing us to rapidly conclude that we wouldn't see Dawson before 10 p.m., if we did arrive at all.  By noon, when we stopped at Eagle Plains, the only hotel for hundreds of kilometers, we had only covered one third of the distance. Pangs of discourgement among the troops...
But Arctic solidarity being what it is, some kind souls soon came to our rescue. The Dempster's snow removal teams, which had been working tremendously hard over the past few days, took to their saddles once again and cleared the road for us. While our smarts were valiantly trudging onward without so much as a sign of fatigue, their low clearance made it tough to get through the deep snow nonetheless!
WITH THE ROADS CLEARED JUST FOR US, WE WERE ABLE TO REACH DAWSON BY EARLY EVENING. "HOME SWEET HOME," SAID MY COLLEAGUES WITH A SIGH OF RELIEF. SITTING AROUND A NICE MEAL, WE REHASHED THE DAY'S EVENTS AND PARTICULARLY THE MOMENT WHEN, IN THE AFTERNOON, A WOLF LITERALLY LEAPED IN FRONT OF OUR CONVOY. PICTURE IT: HE STARTED RUNNING ON THE HIGHWAY, IN FRONT OF THE CARS, AS THOUGH THE DEVIL HIMSELF WAS NIPPING AT HIS HEELS (WHICH IS NO DOUBT WHAT HE BELIEVED). LET ME TELL YOU, THAT WOLF COULD DO 55 KM/H!
TOMORROW IS THE LAST LEG OF THE TRIP, TAKING US TO WHITEHORSE. A SHORT 530 KM ON A VERY CIVILISED HIGHWAY. PIECE OF CAKE!
DAY 4: NOT SUCH AN ORDEAL
TODAY WE'RE OFF TO WHITEHORSE, WHERE OUR ARCTIC ADVENTURE ENDS. AND THOUGH OUR DELICATE POSTERIORS ARE STARTING TO HINT THAT THEY COULD USE A BREAK, OUR EYES ARE BUSY FEASTING ON THE STUNNING VISTAS.
A FAINT RAY OF SUNSHINE PIERCES THE CLOUDS AND THE LONG, SNOWY THREAD OF THE KLONDIKE, WHICH WILL LEAD US TO WHITEHORSE SOME 530 KM AHEAD, SHIMMERS IN GOLDEN LIGHT. ALL AROUND US, THE TALL PINES DROOP UNDER THE WEIGHT OF THE SNOW, FORMING GHOSTLY SILHOUETTES. THE STORM IS OVER AND THE DRIVE REQUIRES LESS ATTENTION (SOMEWHAT LESS), AND BY MID-AFTERNOON OUR CONVOY FINDS ITSELF JUST A FEW HOURS – AND 2596.6 KM – AWAY FROM OUR STARTING POINT.
WE MAKE THE MOST OF THESE LAST MOMENTS OF TRANQUILITY TO SLOWLY DIGEST WHAT WE'VE JUST EXPERIENCED. WE JUST CROSSED THE ARCTIC CIRCLE IN A SMART! AND, THE HEAD HONCHO AT MERCEDES-BENZ CANADA HAS ASKED US TO IMMORTALIZE THE TRIP... IN A POEM! SO, AS OUR ODOMETERS CLOCK THE DISTANCE, WE PONDER WHAT WORDS MIGHT RHYME WITH "ARCTIC." MAGESTIC? FANTASTIC?
HERE'S A WHAT OUR POETIC TALENTS CAME UP WITH...
2600 KM WITHOUT A PHONE, NOT SO HARD WHEN THE DAY IS DONE!
SMART OR NO SMART, IT'S A CRAZY PLAN,
TO DRIVE ACROSS THE ARTIC LAND.
AND IT'S EVEN A TOUGHER PLIGHT, IN A VEHICLE THAT'S SO LIGHT.
ADD TWELVE NUTTY JOURNALISTS TO THE STORY,
AND YOU'RE ASKING FOR A CATASTROPHE.
BUT A SAD STORY WILL NOT BE TOLD,
DESPITE THE SNOW, THE WIND, THE COLD.
THE DEMPSTER CHALLENGED US WITH JETS OF SNOW,
BUT OUR SMARTS WERE VALIANT, YOU KNOW.
AND YET A SCARE SENT US A-SHIVER,
AND THROUGH OUR GENTLE LIPS A-QUIVER,
WE AGREED TO SLOW IT DOWN
AND MAKE IT HOME, SAFE AND SOUND.
IN MY TEN YEARS ON THE JOB,
IT'S THE FIRST TIME I HEAR THESE SOB'S
ADMIT THEY WERE A LITTLE QUEASY
AND ENCOURAGE EACH OTHER TO TAKE IT EASY.
DRIVING 2,600 KILOMETERS WITHOUT MY BLACKBERRY,
WITHOUT SATELLITE RADIO, IN A FURIOUS FLURRY,
YOU MIGHT HAVE THOUGHT IT WOULD MAKE YOU DIZZY.
BUT NO!
THE WHITE DESERT THAT WE DID DISCOVER
WAS ENOUGH TO SEND OUR HEARTS A-FLUTTER.
OH, WHAT A DELIGHT IT WAS TO SEE
THE COUNTLESS SNOW-COVERED TREES
AND THE WHITE PEAKS JUTTING WAY UP,
AS THOUGH WE'D REACHED THE HIMALAYAS.
AND HOW WE DID BEGIN TO SQUEAL
WHEN A WOLF DARTED BEFORE OUR WHEELS.
HE SEEMED TO WANT TO SAY,
"I CAN RUN FASTER THAN YOU, ANY DAY."
WHO WOULD HAVE THOUGHT THAT IN THE ARCTIC,
THE WEATHER WOULD HAVE BEEN SO FANTASTIC?
BUT I HAVE TO SAY THE HEATED SEATS IN OUR SMARTS,
WARMED OUR BUNS AND OUR HEARTS.
YOU'D THINK THAT DRIVING PAST SO MANY MOUNTAINS AND PLAINS,
WOULD HAVE OUR BACKS SEIZE UP WITH PAIN.
AND YET, NONE OF US SUFFERED FROM SUCH AILMENTS
THANKS TO THE ROOMY PASSENGER COMPARTMENTS!
SURE, WE DID HAVE A SMALL WAR
TRYING TO CLOSE THE DRIVER DOOR.
AND DELICATE CONSTELLATIONS OF FROST
CAUSED SOME VISIBILITY TO BE LOST.
NEVER WILL THE WORDS "REDUCED VISIBILITY"
HAVE THE SAME MEANING TO ME
AS IT DID ON THIS 120KM/HR EXCURSION
ACROSS A LAND COMPLETELY FROZEN.
SMART WANTED TO IMPRESS
WITH A SINGLE DENTED BUMPER, NO MORE, NO LESS
AND TOLD US OUR NEXT JOURNEY WOULD COME SOON,
SO PACK YOUR BAGS FOR THE MOON!

Share on Facebook