2023 Mercedes-Benz
EQE SUV

: Third Electric SUV Joins the Lineup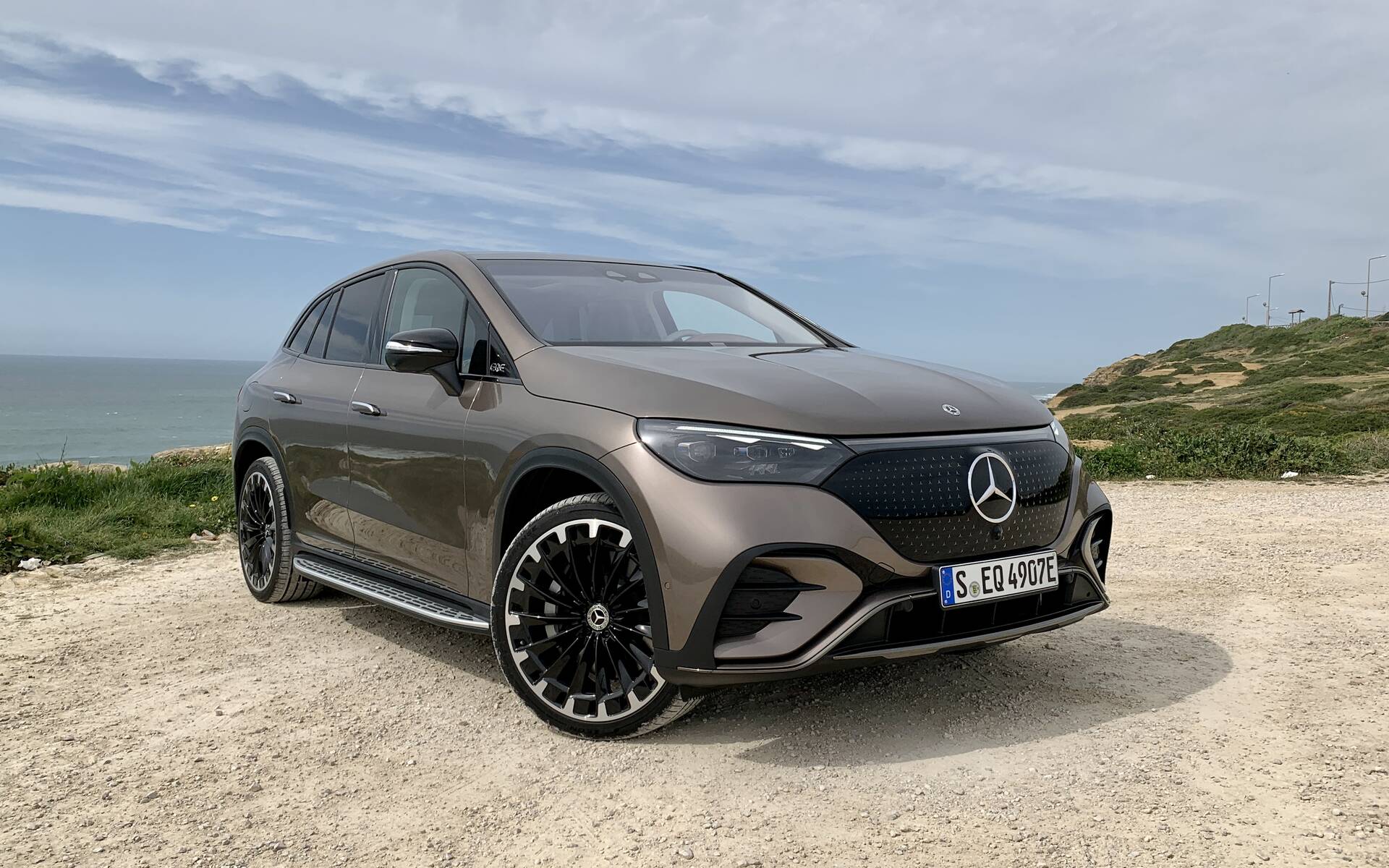 Strong points

Quiet interior
Amazing comfort
Lots of technology

Weak points

Pricing TBD
Heavy weight
Disappointing range
Full report
The 2023 model year is a critical one for Mercedes-Benz in North America. Over the past few months, the German automaker has added a pair of electric SUVs to an already stacked lineup. The EQS SUV (based on the EQS sedan) came first and was followed by the EQB, which is kind of like an electric variant of the GLB.
This spring, Mercedes-Benz will launch a third, namely the 2023 EQE SUV. The Car Guide was invited to Portugal along with other members of the global media to test drive this new model. Below are our first impressions.
While based on the EQE midsize sedan, the EQE SUV looks like a smaller EQS SUV, with a focus on maximizing aerodynamic performance. As you know, air resistance can negatively affect an electric car's range as much as weight. This one boasts a drag coefficient of just 0.25, which is pretty good.
One Battery, Two Output Levels
The 203 Mercedes-Benz EQE SUV is powered by two permanent-magnet electric motors offering two different output levels. The base EQE SUV 350 4MATIC delivers 288 horsepower and 564 lb-ft. of torque, which might sound good but is actually just enough to move its 2,556 kg (heavier than a Chevrolet Suburban). By all accounts, acceleration fails to impress. We can say the same thing about range, which barely tops the magic mark of 400 km (407 km to be exact).
The more upscale and more powerful EQE SUV 500 4MATIC generates 402 horsepower (now we're talking) and a whopping 633 lb-ft. of torque. Sprints are lively and satisfying, but at 2,570 kg, it still feels like you're driving a cargo ship, and range is only marginally longer at 433 km.
Both EQE SUV models feature a 90.6kWh high-voltage battery. Given that capacity, one would think that the range estimates could be better. Not only that, but fast charging capability is limited at 170kW. Clearly, Mercedes-Benz still has work to do to compete with the best EVs on the market.
As the names imply, 4MATIC all-wheel drive comes standard. It's an active system that can seamlessly disengage the front motor and axle to improve efficiency when extra grip is not required. The company also offers a single-motor, RWD-only variant in other markets but not in Canada.
With the two EQE SUV models we tested in Portugal, energy consumption turned out to be around 20 kWh/100 km. Natural Resources Canada has not yet rated the vehicle, by the way. Alas, we didn't get the opportunity to assess charging performance. The good news is that a heat pump will be included in every unit coming our way
All-wheel steering is optional on the EQE SUV 350 4MATIC and standard on the EQE SUV 500 4MATIC. With this technology, the rear wheels can pivot up to 10 degrees for a shorter turning radius and improved handling. Steering itself felt disconnected and low on feedback, however.  
Typical Mercedes-Benz Fit and Finish
Audi, BMW and Mercedes-Benz have all lost customers to Tesla in recent years because they were late to offer serious EV alternatives. But anyone who has ever sat in a Tesla knows that build quality and refinement are lacking. On the other hand, the EQE SUV delivers typical Mercedes-Benz fit and finish, even in base trim. The cabin looks and feels classy, with beautiful material selection and the definite impression that you're driving a luxury vehicle.
We particularly like the available two-tone interior, and Mercedes' new Hyperscreen is sure to amaze any passenger you bring along. However, we seriously question the need for having three separate displays in front of the driver. As far as we're concerned, the standard interface is more than enough.
Now, what about pricing? We're still missing this bit of information at the moment. If the Mercedes-Benz EQE SUV turns out to be significantly more expensive than the Tesla Model Y, our opinion about it will change, no matter how good it may be.
For the record, the EQB starts at $75,700, while the EQS VUS retails from $136,000, not counting the luxury tax. The Model Y undercuts the former with a new base price of $69,990. Needless to say, no EV rebates from the governments will apply in the case of the EQE SUV.
Mercedes-Benz is hoping to meet demand in North America by producing units at a plant in Tuscaloosa, Alabama. Not far from there is a giant battery R&D and manufacturing facility. Look for the first EQE SUVs to arrive in dealerships this spring.
Bottom Line
Mercedes' third electric SUV to hit the market is luxurious, comfortable and technologically advanced, but it's not a game-changing EV by any stretch. For one thing, we expected longer range. As mentioned just above, pricing will be critical to its success.
Watch: 2024 Mercedes-AMG EQE 4MATIC+ First Drive Review
Share on Facebook