2022 Hyundai
IONIQ 5

Preferred RWD (58 kWh): Well-Kept Secret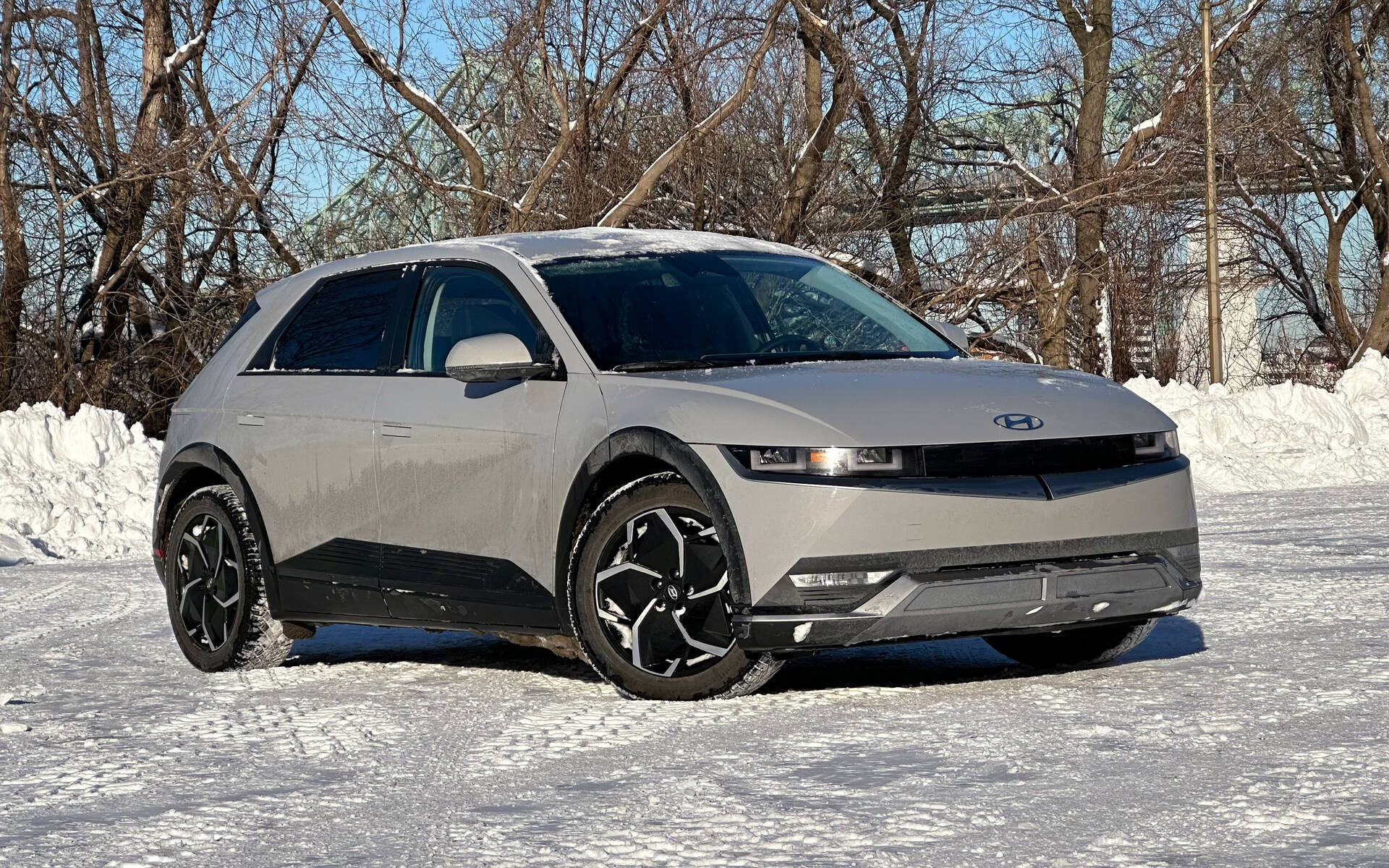 Strong points

Solid handling
Refined EV powertrain
Spacious and practical interior
Smooth and quiet ride

Weak points

Fairly limited range in winter
Not great on snow-covered inclines
Lack of a rear window wiper
Long delivery times
Full report
Hyundai hit one out of the park with the debut of the IONIQ 5. Based on its new Electric Global Modular Platform (e-GMP), this formidable vehicle ticks pretty much all the right boxes for electrification-minded customers. Just look at all the awards and accolades it has racked up so far, including The Car Guide's Best Buy award for 2023 in the electric car/crossover segment—in a tie with the Kia EV6, which uses the same architecture and powertrain.
The IONIQ 5 is off to a rousing start, except that demand far exceeds supply, resulting in extremely long delivery times. The pandemic and chip shortage are two reasons why. Having said that, in our exploration of the full IONIQ 5 lineup, we've discovered that one of the four models is more readily available than the others at the moment.
Don't Want to Wait? Here's a Solution
Customers may have to wait a year or two, maybe even three, to finally get their IONIQ 5. How ridiculous is that? Of course, it's no surprise that the dual-motor Preferred AWD models are the most sought after, not only in Canada but also in many other global markets.
Due to exceptionally strong demand and limited production, Hyundai Canada stopped taking orders for the IONIQ 5 in January 2022. Since then, units coming from South Korea have been reaching dealerships based on their sales volumes and handed over to customers starting with those at the top of the list of reservations.
Here's the thing: the entry-level, standard-range Preferred RWD model equipped with the 58kWh battery is both the cheapest and the easiest to get right now. In EV-obsessed Quebec, for instance, this model represented 13.2 percent of total IONIQ 5 sales last year, but it currently accounts for roughly half of dealer allocations.
Surprisingly Competent
After putting a couple of other IONIQ 5 models to the test in recent months, we rejoiced at the prospect of taking this one for a spin, too. Not only because of the low price, but more importantly because we wanted to see how a RWD-equipped IONIQ 5 would fare in the middle of winter. For good measure, Mother Nature dumped a bunch of snow on two separate occasions during our time with the vehicle.
Well, to tell you the truth, it did a surprisingly decent job, breezing through 25 centimetres of snow across an entire 30-metre-long driveway at one point. Remember, this electric crossover boasts just 15.5 centimetres of ground clearance. Obviously, it doesn't prove as feisty and capable as its AWD siblings in tougher conditions and has a hard time scaling snow-covered inclines. Keeping a small shovel in the trunk is a wise thing to do.
The quick response and perfect teamwork displayed by the stability/traction control systems and rear motor inspire much confidence behind the wheel of the RWD IONIQ 5 on slippery surfaces. The ultra-low centre of gravity and minimal overhangs add to its surefootedness. Freed from any driving duties, the front wheels accentuate the precision and responsiveness of the steering, which unnecessarily firms up in Sport mode.
Cold-Weather Reality Check
Inside, the IONIQ 5 Preferred RWD doesn't feel like a stripped-down model at all, especially with the lovely, matte leather-wrapped sport steering wheel. The driving position is impeccable and the comfortable cloth seats are both nicely sculpted and easy to adjust. Space is generous no matter where you sit, in part thanks to the perfectly flat floor, while multiple storage compartments throughout the cabin provide convenience. The large trunk can fit a lot of gear, as well.
Overall, the interior layout is modern, straightforward and functional. The dashboard is punctuated by a pair of 12.3-inch displays mounted side by side. The graphics are clear and the infotainment system is fairly easy to use despite the many controls that look very similar.  Physical buttons remain, and we found them beautifully finished. But why the redundant HVAC controls, Hyundai?
A major irritant with all IONIQ 5 models is the lack of a rear wiper, forcing you to keep the rear defroster on every time there's a bit of snow on the window. However, that's often not enough, and you must get out of the vehicle to clear the snow with a brush. To make matters worse, it's impossible to lift the long wipers up front to clear ice and snow from the base of the windshield. Hyundai engineers should really spend a winter here when developing their cars—or at least heed our advice.
Numbers You Need to Know
With a 125kW motor (168 hp) driving the rear wheels and moving nearly two tons of Korean engineering, the base IONIQ 5 is relatively slow. Our tester achieved 0-100 km/h acceleration in 8.36 seconds, 80-120 km/h in 6.65 seconds and a quarter-mile time of 16.3 seconds. By comparison, the 320-hp, dual-motor units are quick enough to post times of 5.15 seconds, 3.75 seconds and 13.65 seconds, respectively. The 258 lb-ft. of torque amply make up for the lack of power, though, at least in daily driving.
You'll need to plan your trips carefully in winter. The 58kWh battery provides an NRC-estimated range of 354 km, but the best we got was 241 km (or 268 km with the heater turned off) following a full level-2 charge at a temperature of -3° Celsius. For the record, Hyundai says the IONIQ 5's 800V architecture enables DC fast charging in 18 minutes when using a 350kW charger. The same operation with a 50kW charger requires 45 minutes.  
In the end, the Hyundai IONIQ 5 is a solid, practical and fun-to-drive crossover. It'll likely make an excellent used vehicle in a couple of years, too. But even then, you might have to be patient to get one.
Share on Facebook